napísal Khaled Hosseini, martinus, bookdepository
Táto kniha je opisovaná ako "nezabudnuteľný román o hľadaní strateného kúsku seba, ktorý v sebe nosí niekto iný". A je dobrá, veľmi dobrá. Ale nie až tak dobrá, ako Hosseiniho dve predchádzajúce knihy – Majster šarkanov a Tisíc žiarivých sĺnk.
Prečo? Hosseini píše krásne. Človek z toho má niekedy až pocit, akoby čítal poéziu a nie prózu.
No zabudnutie neprichádzalo. Pari sa vznášala, spontánne a samovoľne, na okraji Abdulláhovho videnia, kamkoľvek šiel. Bola ako prach, čo sa mu lepil na tričko. Bola v mlčaní, čo nastávalo u nich doma tak často. V tichu, čo sa nahrnulo medzi ich slová, niekedy chladné a prázdne, inokedy obťažkané všetkým, čo ostalo nevypovedané, ako mračno naplnené dažďom, čo nespadol.
…
Keď som bola dieťa, mali sme s otcom pravidelný večerný rituál. Len čo som dvadsaťjedenkrát odrecitovala verš Basmaly, uložil ma do postele, sadol si vedľa mňa a začal mi palcom a ukazovákom vytrhávať z hlavy zlé sny. Prechádzal mi ukazovákom z čela na sluchy, trpezlivo pátral za ušami i na zátylku a zakaždým vylúdil také "puk" – zvuk, ako keď sa odštopľuje fľaša – s každou vytrhnutou nočnou morou, od ktorej mi očistil mozog. Zlé sny hádzal jeden po druhom do neviditeľného vreca, čo mal na kolenách, a mocne ho zaviazal. Potom začal dôkladne prečesávať vzduch a hľadať šťastné sny, ktorými by nahradil tie, čo vyhodil. Sledovala som, ako mierne napriamuje hlavu, mračí sa, oči mu blúdia sem a tam, akoby sa úporne snažil zachytiť akúsi vzdialenú melódiu. Zadržiavala som dych a čakala, kedy sa otcova tvár konečne rozostrie do úsmevu a on zaspieva: Aha, tu je jeden, zloží ruky do tvaru misky a dovolí, aby mu sen pristál na dlaniach ako kvetný lupienok pomaly, padáčikovito krúžiaci zo stromu. A potom jemne, prejemne – môj otec tvrdil, že všetky dobré veci v živote sú krehké a dajú sa ľahko stratiť – zodvihne ruky k mojej tvári, pretrie mi dlaňami po čele a vmasíruje do hlavy – šťastie.
A ak pri čítaní jeho kníh nevyroníte slzu, tak si nie som istá, či máte srdce. Ale nie je to len smutná kniha, dá sa pri nej pousmiať, sme vtiahnutí do deja zdanlivo úplne bez námahy. Koniec nie je očakávaný, ani prvoplánový, nie je to klasický happyend, ale tak to už v živote chodí…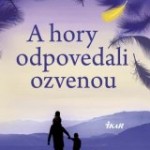 Ale tie predchádzajúce knihy mali každá po dve hlavné postavy a okolo nich sa krútil dej. Áno, skladala sa skladačka, ale bolo to celé také nejaké… celistvé? V tejto knihe nie. Na začiatku nás chytí za dušu jedna rodina a potom zrazu skok, dívame sa zrazu na iný svet, očami úplne inej postavy. A ďalšej. A ďalšej. Áno, aj tí boli zaujímaví a áno, aj to môže byť dobré rozprávanie – viď Hru o tróny, ale tam je úplne iný rozsah a ešte stále je šanca, že jednotlivé zápletky sa dokľukatia k svojim záverom. Tu mi príbehy mnohých postáv pripadali nedokončené, neukončené, napísané zbytočne na úkor "hlavného deja", na ktorý tým pádom neostalo až toľko priestoru.
No a potom, preklad. Na rozdiel od prvých dvoch, ktoré som čítala po anglicky, túto som kúpila za vianočnú poukážku v slovenskom kníhkupectve. Okrem slovných spojení, ktoré v slovenčine znejú trochu zvláštne, ale ich anglický preklad dáva známu frázu, človek natrafí aj na zaujímavosti typu "vnútorné lekárstvo" (predpokladám, že to bolo internal medicine) a podobne. Takže prekladu veľa hviezdičiek nedávam.
tl;dr Kniha stojí za prečítanie, ale nie je to najlepšia z trojice.