Toto je case study, ktorú som na jeseň posielala Human Rights in Childbirth:
Tri najväčšie problémy Slovenského pôrodného systému sú
1. porušovanie ľudských práv žien a detí pred pôrodom, počas pôrodu a v šestonedelí
2. používanie rutinných a/alebo škodlivých intervencií počas starostlivosti o tehotné a rodiace ženy a ich deti
3. normalizácia násilia na ženách a deťoch – vrátane skreslenej verejnej mienky o tom, čo je "normálne"
Prakticky všetky pôrody na Slovensku prebiehajú v nemocnici pod dohľadom lekára-pôrodníka. Napriek tomu, že podľa platnej legislatívy môžu pôrodné asistentky samostatne odvádzať fyziologické pôrody (v nemocničnom prostredí), v praxi sa tak deje len veľmi zriedka. Väčšinou asistujú lekárom a laická verejnosť ich obyčajne považuje za zdravotné sestry. Napriek tomu, že Svetová zdravotnícka organizácia odporúča, aby pri nekomplikovanom tehotenstve poskytovali starostlivosť pôrodné asistentky, v našej krajine sa k nim ženy veľmi zriedka dostanú, aj v prípadoch, keď sa o to aktívne snažia. Dôvody, prečo je to tak, sú:
primárna starostlivosť poskytovaná pôrodnými asistentkami u nás neexistuje.
rozpor medzi teoretickými a praktickými kompetenciami pôrodných asistentiek
nedostatočná atraktivita tejto profesie (či už finančná alebo spoločenská)
Porušovanie ľudských práv
Ženám tak ostáva jediná možnosť – rodiť v nemocniciach s pôrodníkom. Často prichádzajú k pôrodom so svojimi pôrodným plánmi alebo pôrodnými želaniami, ktoré sú niekedy dopredu odsúhlasené, ale častejšie značne zredukované primármi pôrodníckych a novorodeneckých oddelení. Napriek týmto plánom, ženy nie sú rešpektované a často sú dokonca zneužívané. Nie je zriedkavé stretnúť sa v slovenských pôrodniciach s
fyzickým násilím (Kristellerova expresia, zašívanie bez anestézy, rutinný nástrih hrádze, manuálne rozťahovanie krčka maternice bez zdravotnej indikácie na urýchlenie pôrodu …)
chýbajúcim informovaným súhlasom (ženy sú informované, že nemôžu odmietnuť intervencie, lekárske zásahy sú vykonané aj keď ich ženy odmietli, súhlas je získaný pod nátlakom alebo po poskytnutí nepravdivých informácií; informovaný súhlas nie je správne získaný pred sterilizáciou…)
s tým, že nie je rešpektované súkromie a intimita (aj fyzicky, aj čo sa týka osobných informácií)
s psychologickým a emocionálnym zneužívaním (smiech na účet ženy, manipulácia, vyhrážanie sa, nerešpektujúce správanie…)
so separáciou zdravých matiek a ich zdravých detí (rutinné odsávanie, kontroly, balenie detí; matky často nevidia svoje zdravé deti celé hodiny po narodení)
a inými škodlivými praktikami.
Celkovo, za všetkými týmito porušeniami práv vidíme zakorenené a rozšírené správanie väčšiny slovenských zdravotníckych pracovníkov: akonáhle rodiaca žena prekročí prah pôrodnice, správajú sa, akoby jej telo a pôrodný proces boli ich vlastníctvom (napríklad je bežné dotýkať sa, vykonávať vaginálne vyšetrenia a iné procedúry na rodiacej žene bez akejkoľvek snahy dopredu si vypýtať súhlas alebo aspoň slovne oznámiť zámer). Toto správanie je tak zakorenené, že sa väčšinou deje automaticky a je považované za normálne aj z pohľadu zdravotníkov aj z pohľadu mnohých rodiacich žien.
Niektoré ženy, ktoré chcú aktívne chrániť svoje práva, sa rozhodnú pre pôrod v zahraničí. Vidíme napríklad rastúci trend v západnej časti Slovenska, kde ženy chodia rodiť na kliniku v rakúskom Hainburgu alebo do českých nemocníc, ktoré sú blízko hraníc a sú známe prirodzenejším prístupom k pôrodom. Toto je, samozrejme, rozhodnutie iba privilegovanej skupiny žien, ktoré si to môžu finančne aj logisticky dovoliť.
Iná skupina žien, keď cíti, že nemá inú možnosť, sa rozhodne pre pôrod doma. Toto nie je ideálne rozhodnutie obzvlášť vzhľadom na spomínanú chýbajúcu starostlivosť pôrodných asistentiek v domácom prostredí a chýbajúce protokoly pre prípady, keď je potrebný transfer do nemocnice. Toto všetko by malo vyvolať vážne zamyslenie a zmeny nielen v slovenských nemocniciach ale aj vo verejnej mienke.
Škodlivé/rutinné intervencie
Vo všeobecnosti je postup slovenského zdravotníctva smerom k starostlivosti založenej na vedeckých poznatkoch veľmi pomalý. Spomenieme len niektoré príklady:
Chýba včasný bonding – novorodencov položia matkám na hruď len na malú chvíľku (ak vôbec) a potom ich rýchlo berú preč aj v prípadoch, že matky chcú mať svoje deti pri sebe a napriek tomu, že stále sa ukazuje viac a viac dôkazov, že kontakt koža na kožu po pôrode je prospešný aj pre matku aj pre dieťa.
Nástrihy hrádze – Slovenskí pôrodníci stále tvrdia, že nástrih hrádzu chráni a zabraňuje neskorším problémom s únikom moču a stolice. Sú nemocnice, ktoré majú vyše 90% mieru nástrihov; priemer je 67% (svetová zdravotnícka organizácia odporúča 10%, Slovenské dáta sú z Regionálnej analýzy Slovenských pôrodníc za rok 2011).
Zvyšovanie počtu cisárskych rezov – Podiel pôrodov cisárskym rezom síce nie je v absolútnych číslach taký vysoký, ako v niektorých iných krajinách sveta (Grácko, Brazília), ale rýchlo stúpa – z 19.2 % v roku 2004 na 29.4% v roku 2010, čo je najväčší nárast za toto obdobie zo všetkých krajín Európskej únie (zdroj: EU 2010 Peristat report).
Ak zvážime tieto dve intervencie spolu, žena rodiaca na Slovensku má len veľmi malú šancu, že z nemocnice odíde bez chirurgického zákroku.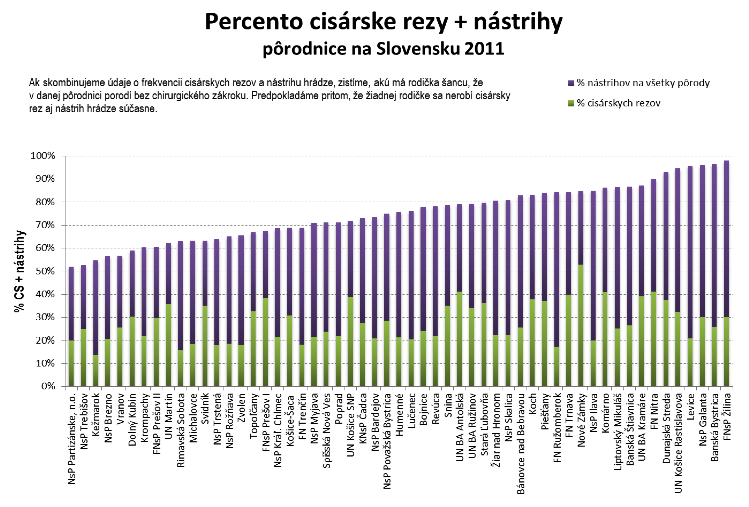 Smerovanie k zdravotnej starostlivosti založenej na vedeckých poznatkoch je navyše komplikované faktom, že zber a reportovanie dát je veľmi problematické. Nemáme niektoré základné údaje na úrovni pôrodníc a aj poskytnuté dáta sú často nepresné. To sa premieta aj v správe Europeristat 2010, kde veľa ukazovateľov za Slovensko chýba.
Normalizácia násilia
V predchádzajúcich dvoch častiach sme sa zaoberali tým, čo sa deje za dverami pôrodníc, ale problém je aj mimo nich. V slovenskej spoločnosti panuje názor, že pôrod ako taký je nepríjemná a bolestivá záležitosť, že trvá pár hodín a čo sa za tých pár hodín stane, treba pretrpieť a rýchlo na to zabudnúť.
Takže keď ženy odchádzajú z pôrodníc, vedia, že niečo nie je v poriadku. Ale spoločnosť im povie, že takto to chodí. Ich jazvy po cisárskych rezoch a nástrihoch môžu chvíľu bolieť, ale majú zdravé dieťa a za to majú byť vďačné. Takýmto spôsobom sa zlá situácia normalizuje a je veľmi ťažké ju zmeniť.
Prípad pani Jany
Aj v prípadoch, keď je jasné, že niekomu sa ublížilo, je veľký problém s tým niečo urobiť.
Prvé dieťa pani Jany (meno je zmenené) sa narodilo cisárskym rezom. Druhé porodila vaginálne pred dvoma rokmi. Tento druhý pôrod bol rýchly, bez komplikácií a zdravotníci aj tak použili Kristellerovu expresiu (silný tlak na brucho). Pani Jana má fotky modrín, ktoré jej po zákroku ostali, nafotené hneď po pôrode. Lekárka vykonala aj nástrih hrádze bez informovaného súhlasu a zašívanie bolo bez dostatočnej anestézy napriek aktívnym protestom matky.
Pani Jana podala sťažnosť na Úrad pre dohľad nad zdravotnou starostlivosťou. Úrad jej sťažnosť zamietol s tvrdením, že poskytnutá zdravotná starostlivosť bola podľa zdravotnej dokumentácie a písomných výpovedí zdravotníkov v poriadku. Odvolala sa a doplnila odvolanie konkrétnymi otázkami týkajúcimi sa informovaného súhlasu a práva na odmietnutie zdravotnej starostlivosti. Sťažnosť bola opäť zamietnutá, bez možnosti ďalšieho odvolania a jej otázky ostali bez odpovedí.
A ona je len jedna z mnohých.
Potreba zmeny
Súčasná situácia v slovenskom pôrodníctve je neakceptovateľná aj z pohľadu starostlivosti založenej na vedeckých poznatkoch (evidence based medicine), aj z pohľadu rešpektovania ľudských práv.
Je pravda, že čoraz viac tehotných žien sa informuje aj prirodzenom pôrode, o svojich právach a aktívne si žiadajú rešpektujúcu zdravotnú starostlivosť. Aj informácie o prístupe založenom na vedeckých poznatkoch sú omnoho dostupnejšie ako ešte pred pár rokmi – aj vďaka neziskových organizáciám, ako je tá naša, alebo Slovenské duly a Mamila.
Avšak, ako vidno aj podľa posledných vyjadrení Ministerstva zdravotníctva (v tlačených médiách a odpovediach na jednotlivé žiadosti žien), Slovenská vláda neakceptovala rozhodnutie Európskeho súdu pre ľudské práva, že žena má právo zvoliť si okolnosti svojho pôrodu: "MZ SR v najbližšom období neplánuje legislatívne opatrenia umožňujúce odvádzanie pôrodov v domácom prostredí, avšak je pripravené na vecnú a odbornú diskusiu, ktorá by mala smerovať k vytvoreniu podmienok optimálneho prostredia v zdravotníckych zariadeniach a humanizácii starostlivosti pri pôrode. Ak sa žena rozhodne pre plánovaný pôrod v jej prirodzenom sociálnom prostredí a odrodí sama alebo v prítomnosti inej osoby je to jej slobodné rozhodnutie s plnou trestnoprávnou zodpovednosťou."
Ešte máme pred sebou veľa práce.