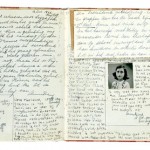 Táto kniha ma vo viacerých ohľadoch prekvapila.
– Prekvapilo ma, že sa skrývali v Amsterdame. Mala som predstavu, že to bolo niekde v Nemecku.
– Prekvapilo ma, ako dlho sa skrývali – 2 roky.
– Prekvapilo ma, kde sa skrývali. Toto nebola nejaká diera vyhrabaná pod skriňou. Ale relatívne funkčný a pomerne veľký súbor miestností. (Neprekvapilo ma, že mali pomoc zvonku. Bez toho by to asi naozaj nešlo.)
– Prekvapilo ma, že sa to celkom dalo čítať. Áno, miestami sú to síce sentimentálne a/alebo naivné výlevy, ale pomerne často sú to zaujímavé postrehy o ľuďoch a situáciách.
– Prekvapilo ma, že ešte aj v takejto knihe sa človek dočíta niečo aj na feministické tému a o to mi nedá nepodeliť sa (píše 14-ročné dievča v roku 1944):
Jednou z mnohých otázok, ktoré ma často vnútorne znepokojujú, je to, prečo mala kedysi u národov žena oveľa nižšie postavenie ako muž, a prečo ho má často dodnes. Každý môže povedať, že je to nespravodlivé, ale mne to nestačí, rada by som poznala príčinu tejto veľkej nespravodlivosti!

Možno predpokladať, že muž od samého začiatku vládol nad ženou vďaka svojej väčšej telesnej sile; muž, ktorý zará­ba, muž, ktorý plodí deti, muž, ktorý všetko smie… Bolo hlú­pe od všetkých tých žien, že donedávna svoj osud znášali bez slova, lebo čím viac storočí to pravidlo prežívalo, tým sil­nejšie sa zakoreňovalo. Našťastie sa ženám v školách, v prá­ci a vďaka vývinu trochu otvorili oči. V mnohých krajinách získali rovnoprávnosť; mnohí ľudia, najmä ženy, ale aj muži pochopili, aké zvrátené bolo dlhý čas takéto rozdelenie vo svete, a moderné ženy požadujú právo na svoju úplnú ne­závislosť!

Ale to nie je všetko, ženy si musia vybojovať aj uznanie! Vo všeobecnosti sa vo všetkých častiach sveta veľmi vysoko uzná­va muž, tak prečo by nemali na prvom mieste zo všetkých uznávať ženu? Ľudia si uctievajú a oslavujú vojakov a vojno­vých hrdinov, objaviteľov zahŕňajú nehynúcou slávou, modlia sa k mučeníkom, no aká časť ľudstva sa díva na ženu rovnako ako na vojaka?

V knihe Bojovníci so smrťou je niečo, čo ma veľmi upútalo, píše sa tam totiž zhruba to, že ženy vo všeobecnosti už len vďaka tomu, že rodia deti, prekonávajú viac bolestí, chorôb a biedy než akýkoľvek vojnový hrdina. A čoho sa dočká žena, keď úspešne zvládne všetky tieto bolesti? Odstrčia ju do kúta, akoby bola od narodenia zmrzačená, veľmi rýchlo jej presta­nú patriť jej vlastné deti, stratí sa jej krása.