Už od septembra sa chystám napísať aspoň kúsok o tom, ako sa mláďatám darí, čo všetci porábame, ako žijeme… ale stále nie a nie sa k tomu dostať. Takže asi nikoho neprekvapím, keď poviem, že sa máme celkom rušno.
Kika a Kubo chodia obaja do tej istej škôlky, ktorú máme kúsok pešo od domu. Ideálna situácia, ktorú sa snažíme vychutnať si, kým trvá. Nebude to dlho, pretože Kika od budúceho septembra pôjde do školy a aj keď ešte zatiaľ nevieme do ktorej, už teraz je takmer isté, že to nebude ani jedna z tých dvoch, do ktorých by od nás mohla chodiť po svojich. Kubinov nástup do škôlky bol úplne bezproblémový, už to tam poznal z toho, ako sme chodili spolu pre Kiku a aj jeho už učiteľky poznali po mene. Takže nemal pocit, že začína niečo drasticky nové. Nechodia síce do tej istej triedy, ale stretávajú sa tam občas (keď majú divadlo, poobede, keď sa združujú triedy), a veľkým zážitkom boli minulotýždňové jesenné prázdniny, lebo škôlka mala obmedzenú prevádzku a tak boli spolu v jednej triede obidva dni.
Kika má priamo v škôlke zumbu (= jašenie s muzikou a občasným pokrikom "zumba") a chodí aj na rozmýšľací-matematický krúžok na Záriečie. Keď je Mišo preč, tak ideme na Záriečie aj s Kubom. Kým bolo pekne a svetlo, tak sa počas krúžku hrával vonku na ihrisku, ale minule už bola tma a zima, tak sme vyskúšali tvorivú dielňu, ktorú tam majú. Určite to nebolo poslednýkrát.
A obaja spolu chodia ešte na športovú prípravku. S tou prípravkou to bolo náročné. Do tejto telocvične sme pred dvoma rokmi chodili na cvičenia rodičov s deťmi, boli sme veľmi spokojní, ale vtedy ešte športovú prípravku nemali a ku nám sa nedostala informácia, že ju otvorili. Minulý rok sme to nejako zanedbali, ale koncom tohto leta sme si povedali, že už musíme niečo nájsť, lebo Kubo je vyslovene živý a potrebuje sa vybehať a Kika stále bojuje s hrubou motorikou, veľmi jej prospieva skupinové cvičenie a tá polhodinka zumby za týždeň je málo. Bolo treba tri iterácie, aby sme nakoniec zakončili tam, kde nám už pred dvoma rokmi bolo dobre…
Škôlka ešte ponúka aj plávanie, ale tam nám teraz nechodí nikto. Minulý rok Kika chvíľu chodila, ale potom už nechcela ("keď tá teta chce, aby som bez kolesa plávala za tými hračkami a mňa tá voda tak nedrží") a učiteľka povedala, že nechce ani vojsť do bazéna. Tak sme to stopli a začali viac chodiť plávať všetci štyria spolu (viac u nás znamená 1-2krát za mesiac; a osvedčilo sa nám tu – dospelí si síce nezaplávajú a šatne majú mizerne riešené, ale je tam voda akurát pre deti a nie je tam nikdy nátresk). Kike sa to páči viac ako škôlkárske plávanie. Kubo? Ten je ako ryba. Jeho nerozhodí, keď je dolu hlavou do pol pása vo vode a trčia mu iba nohy. Skáče, metá sa na všetky strany, rehoce sa. Ten si podľa mňa onedlho zapláva aj sám. A jeho by sme na to škôlkárske plávanie veľmi radi dali, ale bolo nám povedané, že až budúci rok, lebo prváčikov neberú. Tak si musí počkať.
A obaja rastú. Kubo sa ešte nedávno postojačky zmestil pod barový pultík, čo máme doma, teraz si už oškiera hlavu. Keď je hore, tak je to riadny šibal. Jedine keď spí, tak ešte vyzerá ako bábo (cesta domov z výletu, ktorý ho zmohol, historickým vláčikom):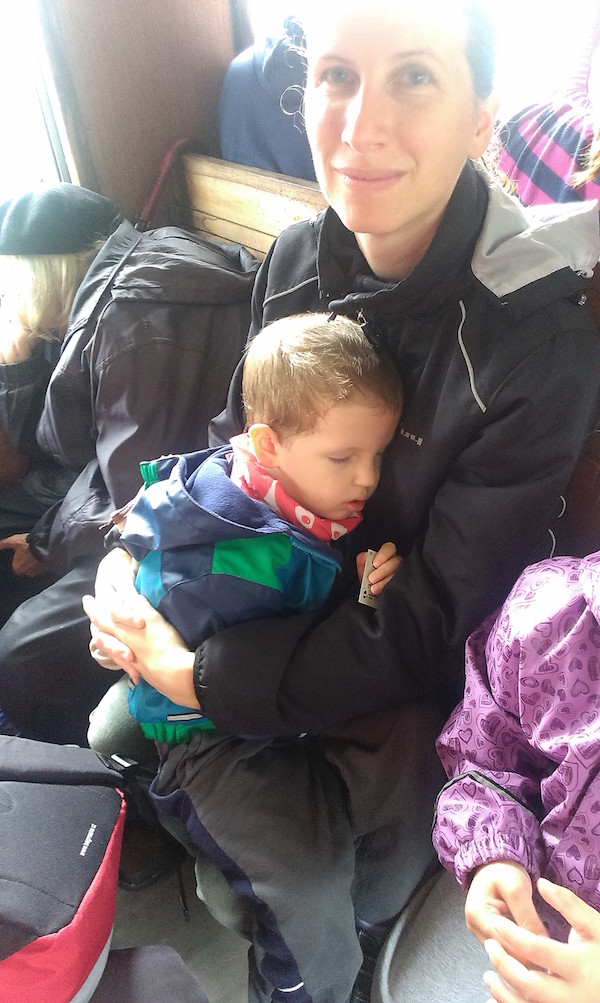 Kika stále všetko komentuje a nad všetkým špekuluje. A už je presne v tom veku, keď si treba trochu dávať pozor, čo hovoríme, lebo jednak nikdy nie je jasné, ku komu sa daná informácia dostane a ani to, že v akej forme po všetkých tých transformáciách, ktoré sa dejú v jej hlave. Veľmi rada spieva a v škôlke na besiedke pre starých rodičov ju bolo najviac počuť: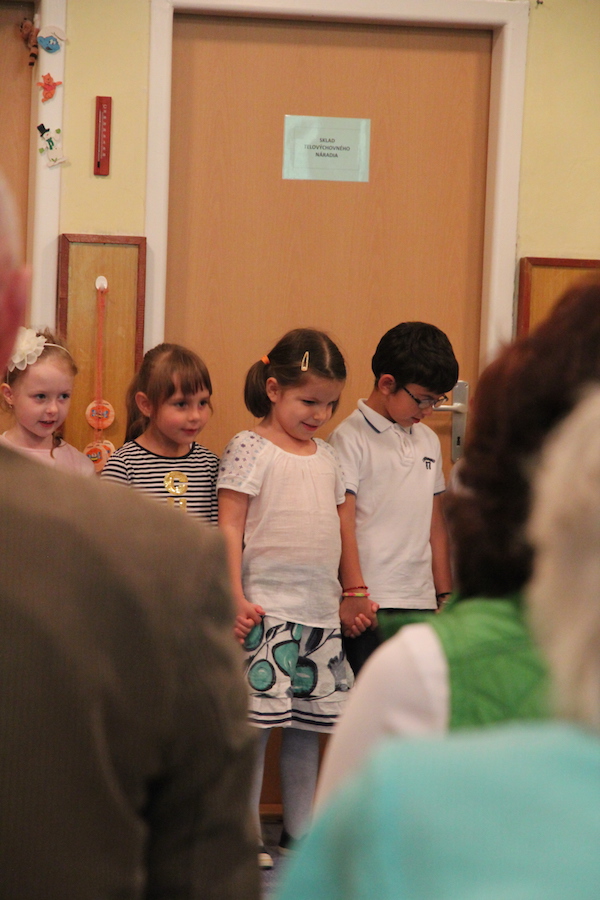 A veľkáči? Mišo občas lietava do Berlína, Bukurešti a Ankary. Teraz sa črtá nejaký Kazachstan (ale ak tomu správne rozumiem, tak až od budúceho roka). Častejšie, než sa mu páči, má pocit, že ide hlavou proti múru, väčšinou to berie celkom s humorom. Naposledy dnes, keď riešil nabúrané dvere na aute. Jááj, to som nespomínala. Máme nabúrané pravé predné dvere na aute. Kika by vám hneď porozprávala s patričnou gestikuláciou "tato cúval z garáže takto a tá červená škoda cúvala v jednosmerke takto a potom do nás nabúrala a potom sme čakali a tato si dal takú vestu ako máme my, keď sme v škôlke predná služba a potom prišli policajti a teraz máme auto v oprave". Nikomu sa nič nestalo, auto bolo stále pojazdné, ale dvere bolo treba vymeniť. Čo znamená opletačky so znalcom, s poisťovňou, so servisom, ktorý si naúčtoval viac ako znalec odhadol a auto nevráti, kým to poisťovňa nepreplatí.
A my máme deadline budúci utorok, kedy by some na ňom chceli odfrčať preč. Aha, to som tiež nespomínala. Ideme na chvíľu vypnúť. Úplne od všetkého. Pre mňa to bude taký posledný hlboký nádych pred záverečným šprintom (maratónom?). Na konci apríla mám odovzdať dizertačku a už teraz vidno, že to písanie nebude práve zábava. Obzvlášť po tom, čo som bola minulý týždeň sfúknutá na prezentačných dňoch doktorandov, že to čo robím teda ale naozaj nie je výskum.
Okrem toho, že nerobím výskum, ešte robím kadečo iné. V škole som napríklad mala prípravnú prednášku pre stredoškolákov k matematickej olympiáde (ak poznáte nejakých stredoškolákov v okolí Žiliny, ktorých by takáto informácia zaujala, tak im dajte vedieť, lebo kolegovia ešte spravia dve ďalšie), v Labyrinte pomohla zorganizovať prednášku o bondingu, prekladala oficiálne titulky k filmu, ktorý nedávno získal ocenenie na festivale v Prahe, podala na konci septembra grant, na ktorého výsledok s palcami v pästiach čakáme… a tak. Hýbať sa snažím dvakrát do týždňa, ale nie vždy to vyjde. Raz chodím na Body Beat tréning (chodievala som na vonkajšie, ale teraz keď sa už ochladilo a je skoršie tma, tak chodím do divadla) a raz na plaváreň.
Ale takmer nečítam. 🙁 To, že prakticky nepozeráme telku (ktorú teda stále nemáme – občasný film si pozrieme na počítači, alebo ak sa zadarí požičať projektor, tak na stene) mi nevadí, ale to, že poslednú knihu (ak nerátam čítanie s deťmi pred spaním a to čo čítam v škole) som prečítala cez leto, ma škrie. A ešte viac to, že nie je veľmi predpoklad, že by sa to nejako v najbližších mesiacoch zmenilo. Okrem tej dovolenky čo nás čaká, ale tam tiež budú iné veci na práci a limitovaná hmotnosť batožiny (čítačka to istí).
Ono to tak síce možno nevyzerá, ale v poslednej dobe čoraz viac vecí odmietam. Posielam (slušne) ľudí do hája. Nesľubujem, že "keď budem mať čas, tak … spravím". Zistila som, že omnoho lepšie fungujem s filozofiou "complete or kill". Buď to fakt idem robiť a vtedy to treba robiť naplno, bez zbytočných odkladov a až kým to nie je urobené. Alebo sa dopredu rozhodnúť, že toto už nie a bez milosti to stopnúť (alebo ani nezačať). Dobre, priznávam, nie úplne vždy sa mi to takto podarí, ale lepší sa to. A nájde sa aj čas na návštevy kamarátov a rodiny, oslavu skončených kolegov, koláče na rôzne príležitosti a víkendové výlety. Máme sa fajn.
Toľko ku mesiace starým novinkám. Asi to bol skôr taký brain dump/snapshot súčasného stavu pre mňa do budúcnosti, ale aj tak…