prvá časť rozhovoru, ktorý som na jeseň robila s Austrálčankou Hannah Dahlen
Why you should tell your children how much you make – tanto článok (prišiel s ním Mišo) pred pár dňami inšpiroval zaujímavú debatu u nás doma
Vo štvrtok večer som sa s kolegami kúsok pred vypršaním časového limitu dostala z The Room (síce bez nápovedy, ale nie úplne štandardným spôsobom… zážitok odporúčam). A zhodou okolností sa ku mne dostal aj článok na podobnú tému.
equality doesn't mean justice: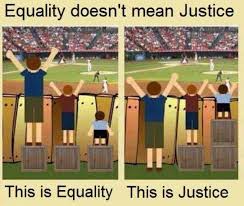 pred dnešnou lyžovačkou (áno, aj s deťmi; áno, deti išli aj na vleku; áno, traja dospelí mali čo robiť) sme včera motivačne pozerali tento film (Bol síce divný, ale zábery kopcov boli pekné a komentáre obecenstva vtipné, takže sa to dalo pozrieť.):
https://www.youtube.com/watch?v=3nTJIc_e6Ns
A ten dôvod, prečo tu nestíham písať nič iné, ako tieto linky? Lebo sa plácam niekde v piatej kapitole.