Kika nám začala chodiť do prvej triedy. Má pána učiteľa, 17 spolužiakov a zatiaľ ohromné nadšenie – dúfam, že jej vydrží čo najdlhšie a veľmi si prajem, nech jej tam je dobre.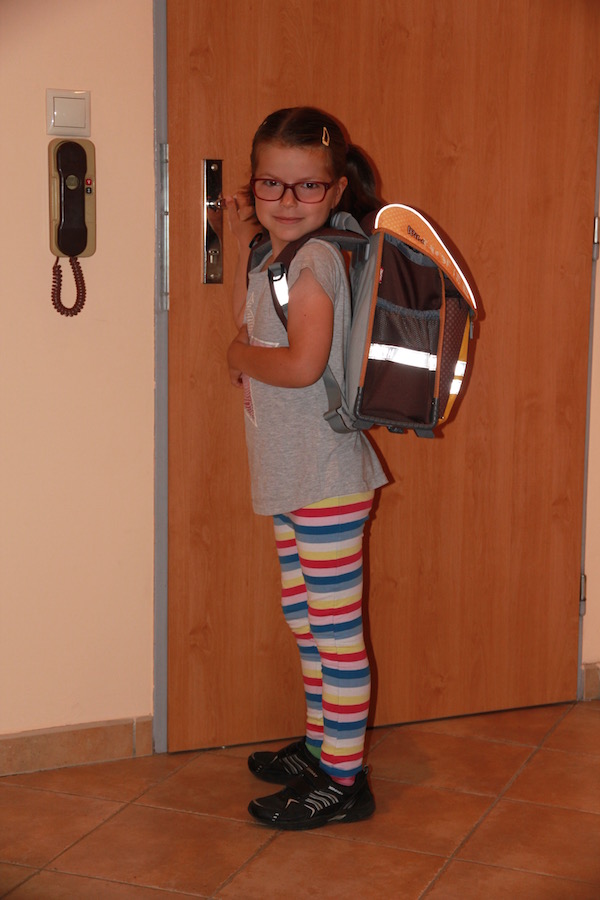 Nie je to úplne ideálny set-up, lebo školu nemáme v pešej vzdialenosti. Ale už sme našli aj iných rodičov, ktorí bývajú pomerne blízko nás, ktorí z rovnakých dôvodov namiesto spádovej školy zvolili túto, tak si hovorím, že hádam nie sme úplne strelení, že sme sa na takéto dali. A ja to mám po ceste na fakultu. Takže baby v našej rodine dochádzajú a chlapi chodia pešo.
Čas ukáže, či to bol dobrý nápad.
PS "Mami, a dnes sme sa učili, že Ty máš toľko krvi, koľko je v piatich krabiciach mlieka a ja mám asi toľko, koľko je v troch." "A to je veľa či málo?" "No, to je akurát."