– Namiesto ranného zvonenia im hrá Europe: The final countdown.
– Kika po mesiaci zmenila triedu.
– Včera nemali klasické vyučovanie ale jesenné tvorivé dielne a tu sú výtvory: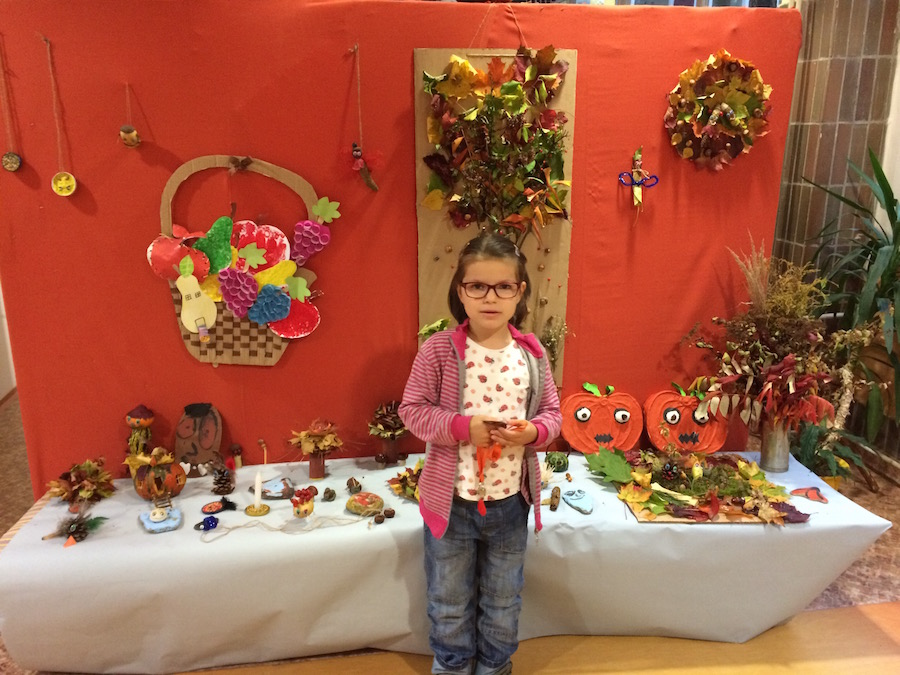 – Dnes boli v knižnici na besede o dinosauroch (cez víkend sme mali rodinnú úlohu, v rámci ktorej Kika najprv odhadovala odpovede na otázky typu Koľko mal hadrosaurus zubov? a potom sme mali zisťovať skutočné odpovede na internete) a Kika, ktorá je už pár mesiacov hrdá držiteľka čitateľského preukazu, samozrejme doniesla knižku o dinosauroch.
– Učia sa písať tlačené písmená, písané vraj priberú v druhom polroku.
– Kika sa prihlásila na tri poobedné krúžky, ktoré bežia v rámci družiny: judo, varenie a výtvarná kreativita. Na to judo tak nejako bez toho, aby o tom rodičia vedeli (lebo v oficiálnom zozname, ktorý sa dostal domov, ani nebolo). A výtvarná je náhrada za lego krúžok, ktorý sa zrušil. Na varení zatiaľ uvarili šalát. Najbližšie vraj bude polievka.
– V triede ich je 13 a lavice vrátane učiteľskej katedry majú usporiadané do kruhu.
– Dvakrát do týždňa majú angličtinu, raz informatiku (za počítačmi; zatiaľ neviem, čo tam robia).
– Deti si navzájom dávajú vypracovávať rôzne papiere s úlohami a potom si ich navzájom opravujú.
– Čo je naozaj nanič, je úzka sídlisková cesta s autami po oboch stranách a parkovanie pri škole. Tam je len otázka času, kedy do niekoho ťuknem alebo niekto do nás. Ale okrem toho je spokojné aj dieťa aj rodičia.