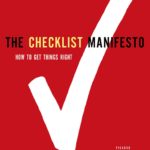 Atul Gawande: Checklist Manifesto: How to Get Things Right (moja knižka dokonca s autogramom autora)
Tak takto. To, že som divná sme vedeli. Ale že až natoľko, že budem čítať knihu o kontrolných(?) zoznamoch(!)… to neviem, či sme vedeli. A hmm… celkom sa mi to páčilo(?!).
Ono ale povedzme si rovno: nejako veľa času tejto knihe venovať netreba (jedno nedeľné popoludnie)… predsalen, koľko sa dá napísať o zoznamoch? Ale pointa je, že Gawande vás dokáže presvedčiť, ako veľmi môžu byť zoznamy užitočné. Nie preto, že by na nich boli veci, ktoré nevieme, ale preto, že robíme komplexné veci a zabúdame. Pre pilotov sú napríklad takéto zoznamy užitočné pred odletom, pre chirurgov pred operáciou (na príprave tohto operačného sa Gawande podieľal):
Checklist distilled down to 19 steps, 7 before anesthesia, 7 after anesthesia, and 5 after the procedure/operation… Checklist was then tested using limited WHO budget with baseline collected beforehand at 4 major developing world and 4 developed world hospitals. In implementation, they were careful not to force usage… Major complications for surgical patients fell by 36 percent after introduction, deaths fell by 47 percent.
Zúčastnení sa z checklistu nedozvedeli nové veci, ale menej sa zabúdalo a vyjasnili sa nejasnosti. Veľmi fascinujúce, ako môže mať takáto "nemedicínska" intervencia, taký veľký dopad. Odvtedy tento zoznam prijalo aj niekoľko krajín do svojich zdravotníckych smerníc.
Človeka samozrejme napadne, kde inde by sa dali takéto zoznamy použiť a ja som sa hneď nechala aj inšpirovať a začala vyrábať checklist na niečo, v čom sa opakovane mýlim v práci. Nemám síce zozbierané exaktné "before" dáta, ale aspoň pocitovo vyskúšam, či bude nejaký rozdiel.
Od tohto pána, ktorého som stretla aj osobne, som ešte kedysi dávnejšie čítala aj knihu Better a tá bola tiež celkom zaujímavá.