Túto knihu som si kúpila, pretože sľubovala, že
bola poňatá ako multižánrová antológia, v ktorej sa miešajú všetky možné druhy fikcie a tak […] požiadali autorov všetkých možných žánrov – sci-fi, fantasy, mystery, historického hororu, paranormálnej romance, mužov i ženy – aby sa s témou "nebezpečné ženy" vysporiadali každý po svojom. … Nenájdete tu žiadne neštastné obete, ktoré stonajú strachom zatiaľčo mužský hrdina bojuje s monštrom…
Ale očakávala som viac ako som dostala. Každá antológia má lepšie a horšie kúsky, to asi čitateľov neprekvapí. Tu som však mala pocit, že niektorí autori a autorky nepochopili zadanie. Napríklad poviedka Zápas s Ježišom, ktorá je celá o troch chlapoch. Áno, je tam jedna femme fatale, ktorá takmer neprehovorí a o ktorú sa dvaja z nich bijú, ale o nej sa na 27 stranách dozvieme menej ako o ktoromkoľvek z tých troch.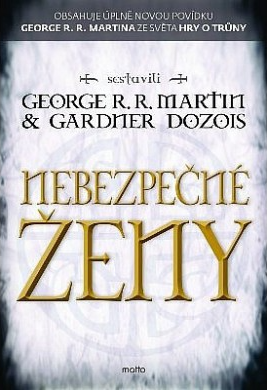 Alebo Panici od Diany Gabaldon. Áno to je tá, ktorá napísala Outlander, a aj teraz si vybrala tie isté reálie a postavy. Má k dispozícii hlavnú hrdinku Claire, o ktorej mohla napísať nejakú vedľajšiu story. Alebo sme sa mohli dozvedieť viac o malej a silnej  Jane, ktorá takto hovorila o tehotenstve. Ale nie, čítame o dvoch chlapoch a ich problémoch…
G. R. R. Martin sa tiež mohol trochu viac posnažiť. Do svojej novely Princezná a kráľovná napchal toľko postáv a miest, že by vystačili aj na rozsiahlejší román, ale kráľovná nie je vôbec akčná a princezná síce trochu áno, ale pri tom výpočte všetkých ostatných udalostí to akosi zaniká.
Takže snaha sa cení, ale hromadne sa chváliť nedá. Individuálne si to však zaslúži Brandon Sanderson (ktorý písal o silnej žene Vin aj vo svojej výbornej trilógii Mistborn). Tu je to poviedka Tiene pre Silence v lesoch pekla. Na malom kúsku nás nenálsilne ale veľmi chytľavo vovedie do úplne iného sveta, kde staršia hrdinka používa striebro na boj s tieňmi. (Zaujímavé, že v Mistborn knihách je práve striebro na rozdiel od ostatných kovov nanič.)
Feministické sci-fi a fantasy (alebo aspoň feminist-friendly) je naozaj zriedkavý tovar.