Jedného dňa k nám prišiel prespať môj brat Mireček a okrem troch balíkov lokší, na ktorých sme si pochutili, doniesol penu na holenie. Už si nepamätám, kde ju zobral, ale že on také nepoužíva. My síce tiež nie, ale Kika mala mať o pár dní v škole deň pokusov a kúziel, tak som povedala, nech nám ju nechá a hľadala na nete, aké kid-friendly experimenty sa dajú robiť s penou na holenie. (Ale teda, iba mne sa zdá divné, že spojili pokusy a kúzla do jedného? Oblečení mali tiež prísť buď ako vedci alebo ako kúzelníci. Kika išla v mojom tričku z minuloročnej Noci výskumníkov. Má na hrudi nápis "Som vedec, pýtajte sa ma.")
Anyway, pokus, ktorý sme potom robili vyzeral takto: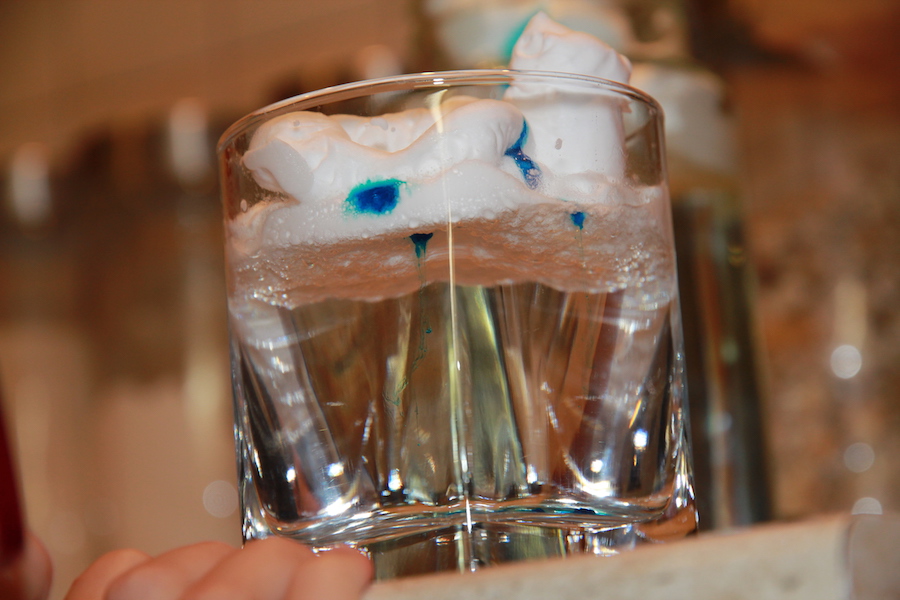 Naliali sme do pohára vodu, navrch napenili penu a potom sme chceli robiť dážď. Kúpila som na to potravinársku farbu. Ale na rozdiel od tých, ktoré som mala kedysi na plastelínu, táto bola nejaká gelová a hneď sa zhrudkavila a cez penové oblaky skoro vôbec neprešla. Chvíľu sme to potom skúšali s lekvárom, tiež nič moc. Nakoniec zafungoval atrament a s ním potom Kika pokus predvádzala aj v škole. Malo to úspech.
A potom boli besiedky. Kubova hviezdičkovo-snehuliaková bola zlatá, len sme z nej s Kikou zmeškali kúsok začiatku, lebo ju posunuli na skôr.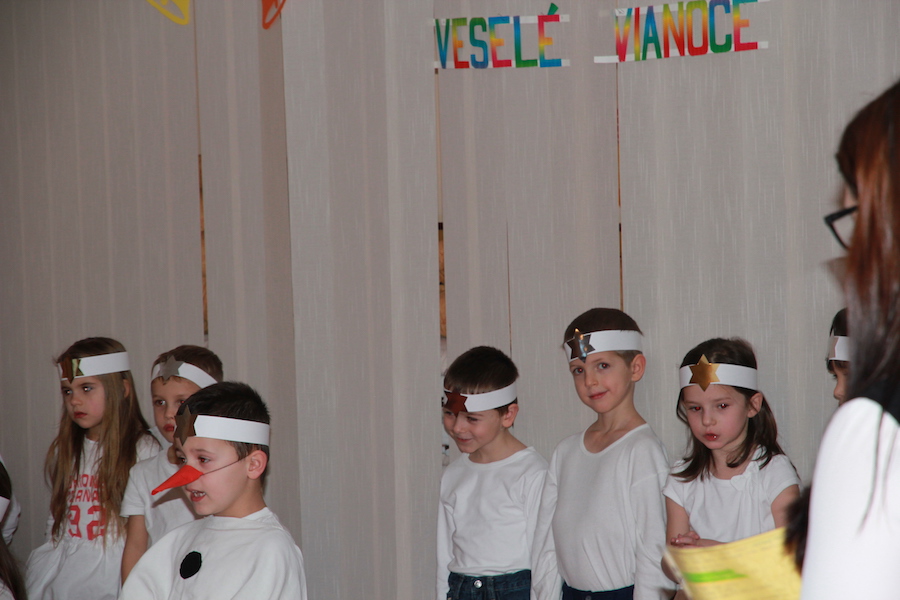 Kika so spolužiakmi boli v krojoch tiež zlatí a tu bol zase Kubo netrpezlivý, lebo sa začalo neskôr.
Na rozdiel od minulého roku, keď sa besiedky trafili na ten istý čas, teraz si obaja mohli užiť obe.