Z rušného turistického mestečka Ao Nang sme sa po novom roku vybrali na ostrov Koh Libong. Nie je ďaleko od pevniny a tak nás prekvapilo, keď nám asi v polovici cesty motorovým člnom povedali, že máme prestúpiť. Začudovane sme pozerali, ako nám a ďalším pár ľuďom prekladajú batožinu do drevenej long tail boat, ktorá nás čakala pri dohodnutej bójke. Kompa ďalej bez nás pokračovala na iný ostrov.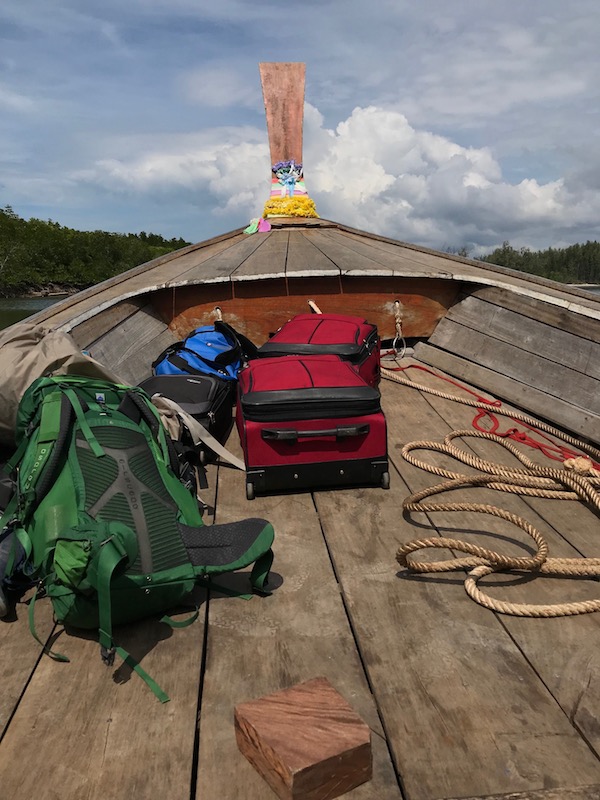 Vysvetlenia sme sa nedočkali, ale usúdili sme, že to bolo asi kvôli odlivu. Ten bol na tomto ostrove ešte výraznejší ako v Ao Nang. Na miestach, kde sa počas odlivu dalo chodiť bosou nohou (a domáci tam chodili zbierať krabov a mušle), bolo v čase prílivu toľko vody, že ani Mišo tam nedočiahol, keď sa postavil. Na malý ostrovček, ktorý bol asi kilometer od našej pláže sa počas odlivu dalo tiež prísť pešo. Bol veľmi fotogenický, tak sme ho fotili na rôzne spôsoby.
Ďalšia pozoruhodná vec bola, že aj keď tam bývali aj iní ľudia okrem nás, neviem, čo robili, lebo väčšinou sme mali celú pláž a celé more pre seba. A to bola voda teplá ako vo vani.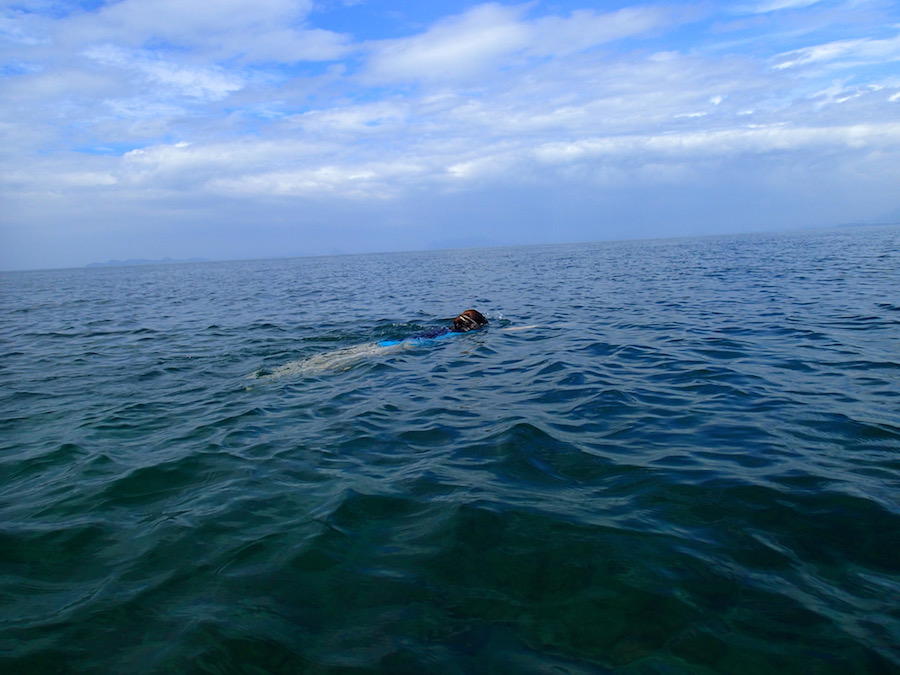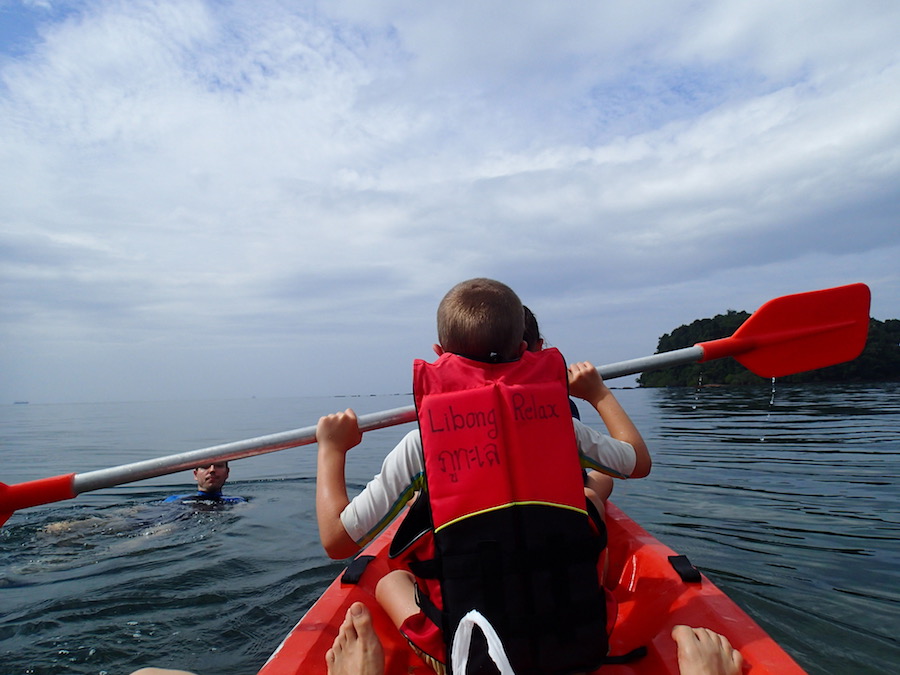 A keď sa nedalo plávať, tak deti obťažovali miestnych krabov. Cupitalo ich tam veľmi veľa, aj pomalých s domčekami, aj rýchlych bez domčekov, a tak im stavali prekážkové dráhy a "bazény".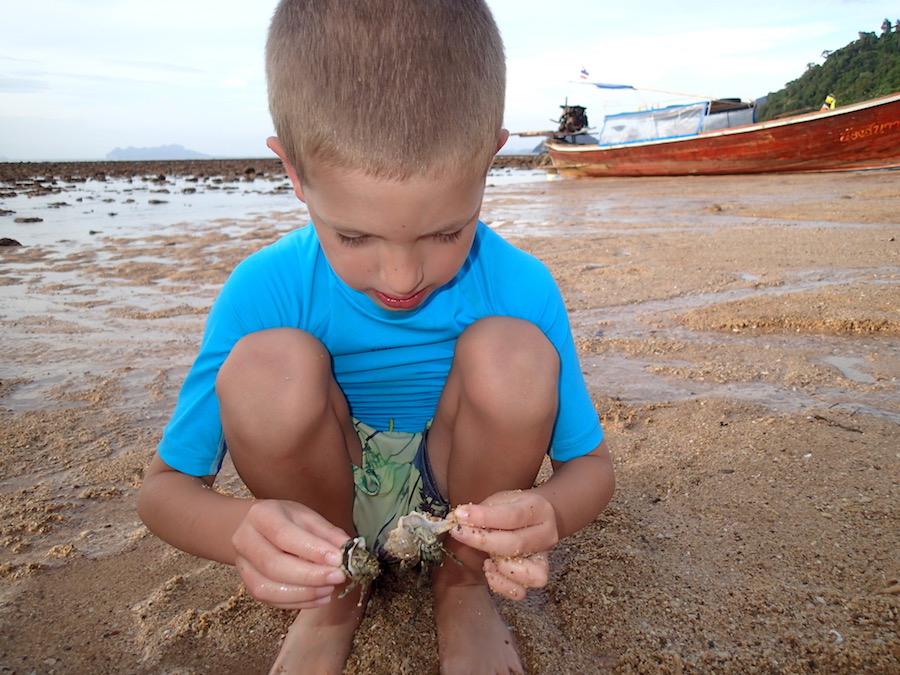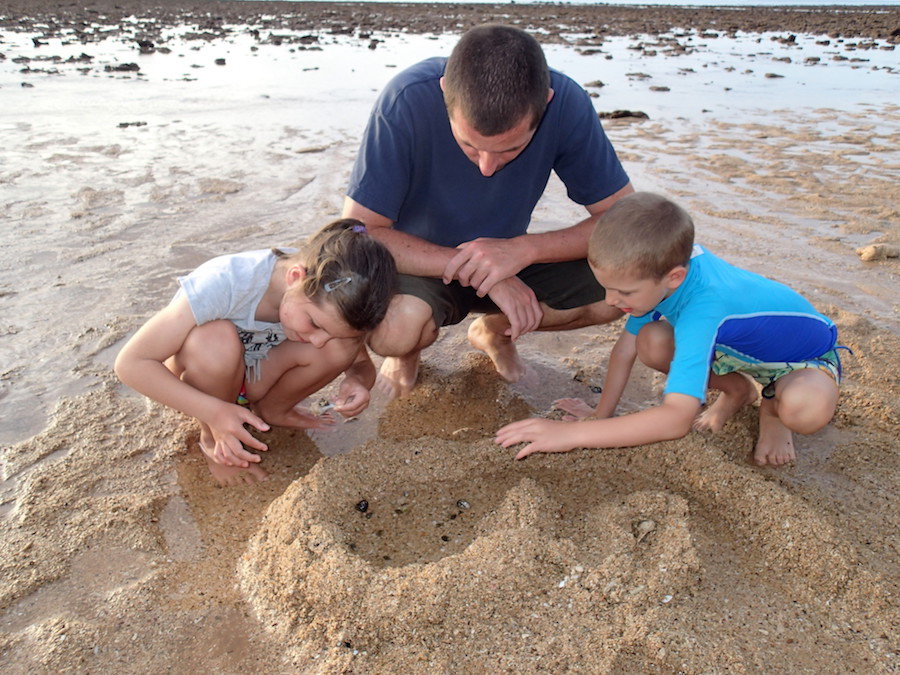 V mori rybky, ježkovia, slimáky veľké ako uhorky, mušle a chobotničkohviezdice. Miesto, kde to žije.
No a musíme sa priznať, že tu sme nejakých krabov aj zjedli. Nie veľa, lebo s tým bola veľká robota, ale predsa.