Ani nejdem začínať od začiatku, ani nejdem písať nejako súvisle, len zopár postrehov, skôr než ich zase vytlačí niečo iné.
Mikuláš nechal Kubovi parádny odkaz spolu s balíčkom v čižme: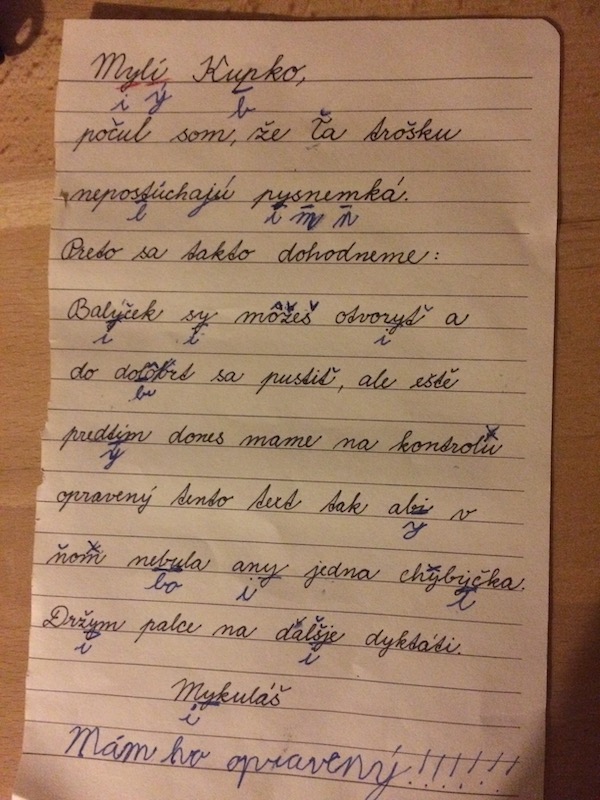 Čižmy umýval asi trikrát, lebo vždy keď uschli, sa mu zdali šmuhaté a nechcel riskovať. Šmuhy na tvári (od čerta) mu vadili oveľa menej:
Okrem toho sme doma vyrábali zasnežený strom. To je kostým do vianočnej rozprávky. Neviem sa rozhodnúť, či je to pokrok od minuloročného kráľovského radcu.
Kika bola prvýkrát ako regulárna účastníčka na matematickom sústredení (jednodňový Sezamko u nás na fakulte) a veľmi ju to potešilo.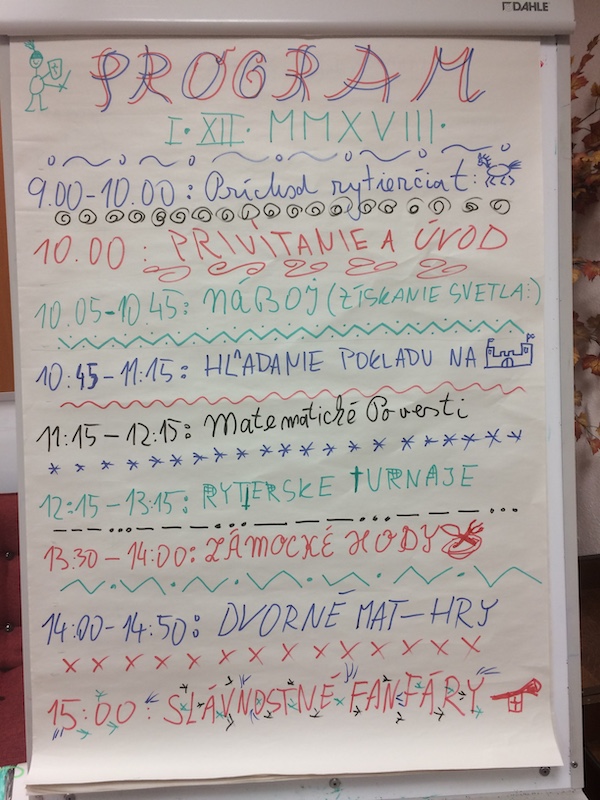 Okrem toho išla so spolužiakmi a spolužiačkami na bowling (že vraj lepšie ako kino).
Už sme v cieľovej rovinke, čo sa týka semestra, vypisujem skúškové termíny, chystám si poslednú prednášku. Popri tom s deťmi vymieňam malé lyže za väčšie a pečieme medovníky a s ostatnými rodinnými príslušníkmi dohadujeme vianoce bez darčekových stresov. Uvidíme, ako to dopadne.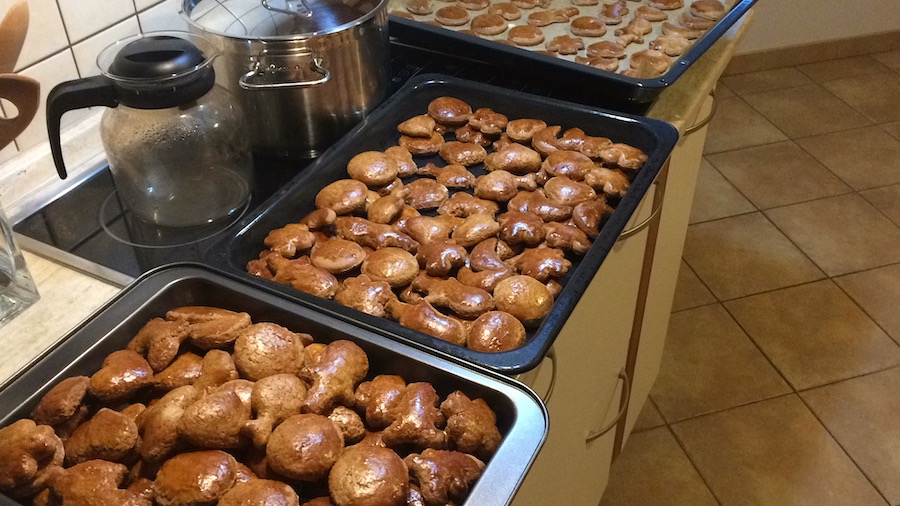 Na pozadí tohto celého kniha, sľúbená prednáška v januári, deadline na príspevok na konferenciu, ktorý som ešte ani nezačala robiť, traja viac-či-menej samostatní diplomanti, jóga, na ktorú som prestala chodiť, plaváreň, na ktorú sa doplazím raz do týždňa, nech by čo bolo, Kikine telefonáty z neštandardných situácií, do ktorých sa dostáva pri dochádzaní na plaváreň a jazykovku, plánovanie najbližšieho cestovania. A tak. Nenudíme sa.
Ale keby ten časovrat, ktorý Kika našla v Mikulášskom balíčku, naozaj fungoval, určite by sme vedeli, ako ho využiť.
I mark the hours, every one,
Nor have I yet outrun the Sun.
My use and value, unto you,
Are gauged by what you have to do.