Konferencia CMBE bola v meste Sendai. Nikdy som o ňom predtým nepočula, ale ukázalo sa, že má vyše milión obyvateľov. Veľa som z neho nevidela, lebo som väčšinu času strávila na univerzite, ale zato Mišo si ho stihol prebehnúť: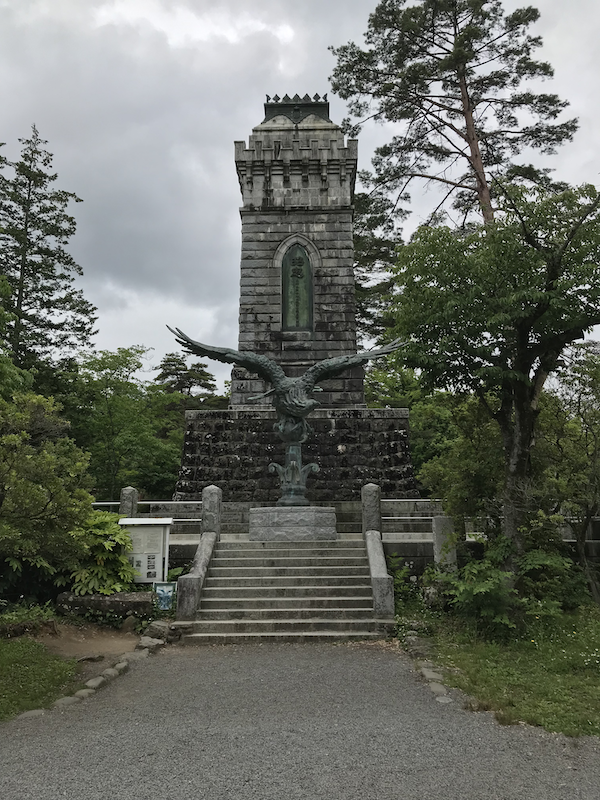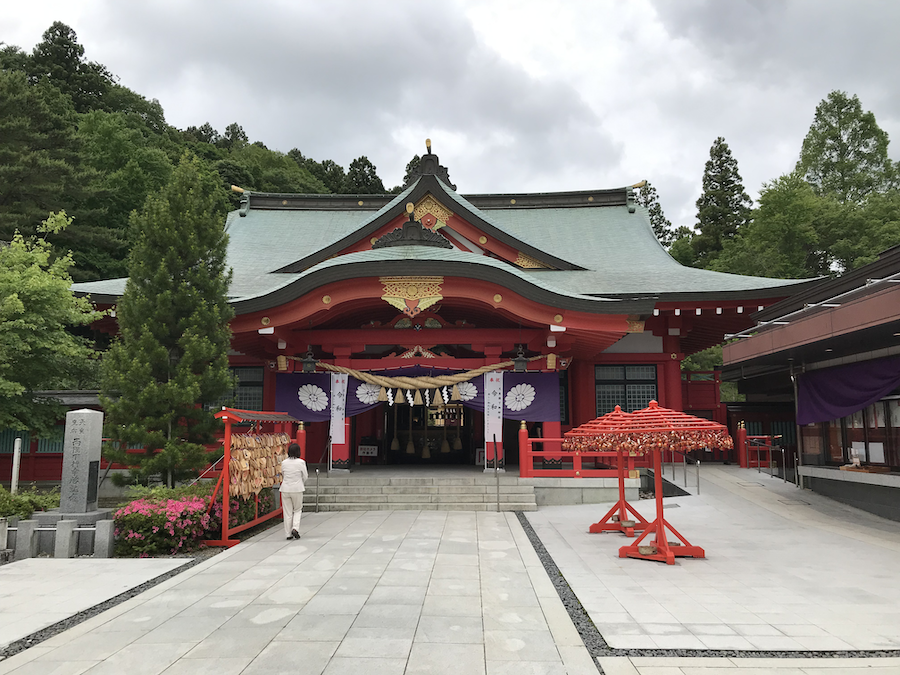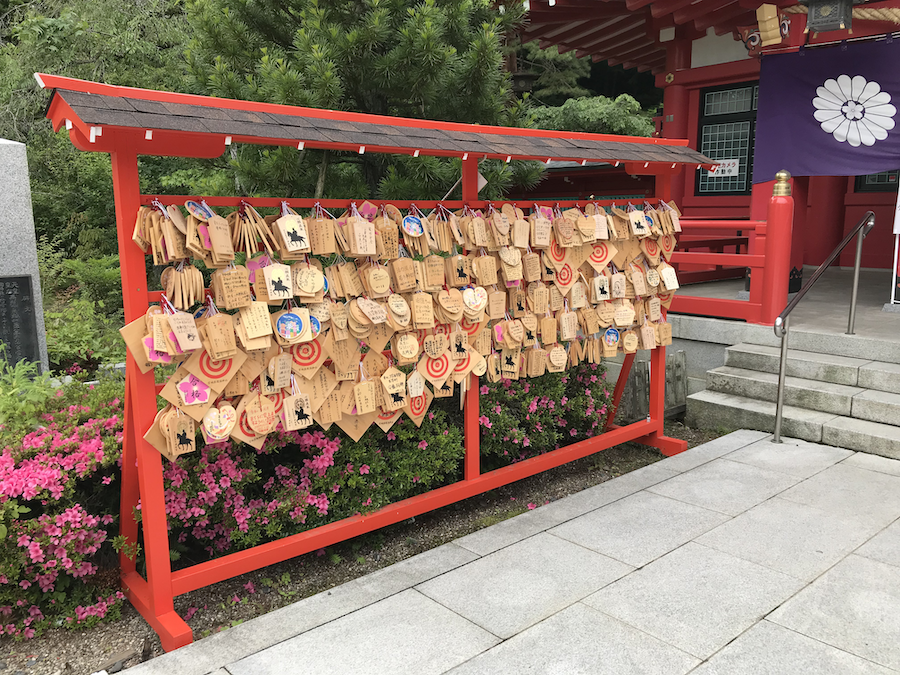 Ja som sa v rámci konferenčnej večere dostala do akvária: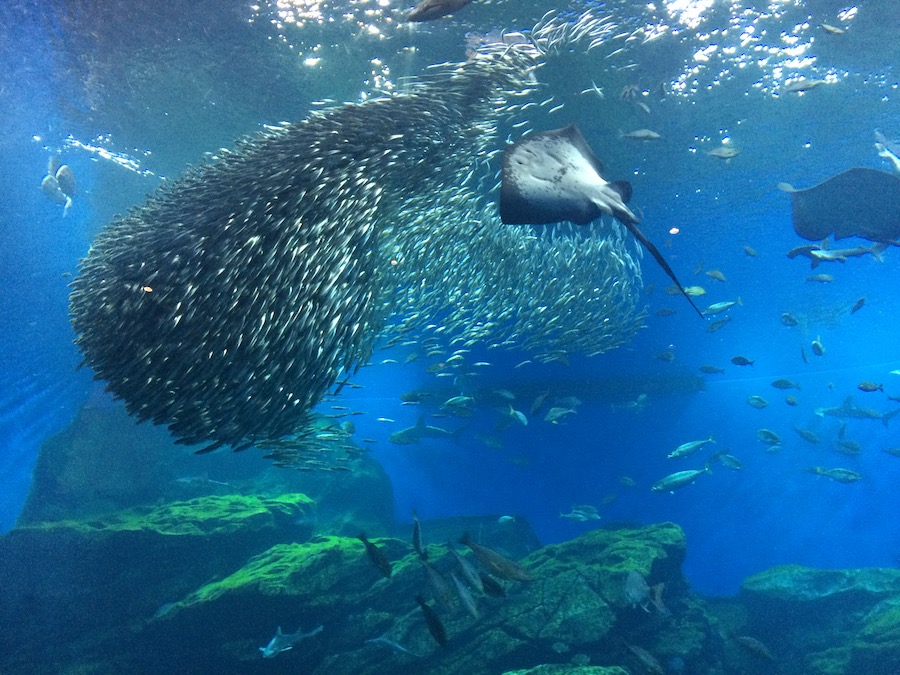 Ako si tam tak s kolegyňou sedíme a všeličo ochutnávame, zrazu len zbadáme čupiaceho ninju za stĺpom. Keď si všimol, že si ho fotíme, tak začal robiť pózy a potom na akýsi pokyn, ktorý sme nepostrehli, vybehol na pódium. Z iných smerov sa pripojili ďalší a spolu nám predviedli ukážky bojových umení a tradičných zbraní. Okrem účastníkov konferencie zaujali aj bodkovaného tuleňa, ktorý pozoroval, čo sa na pódiu pri jeho akvárku deje.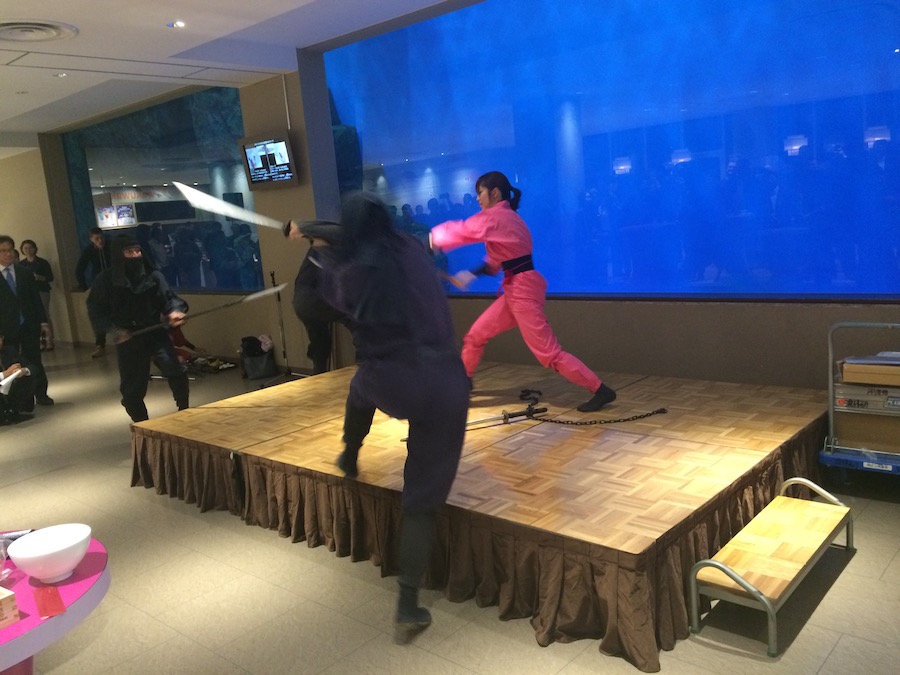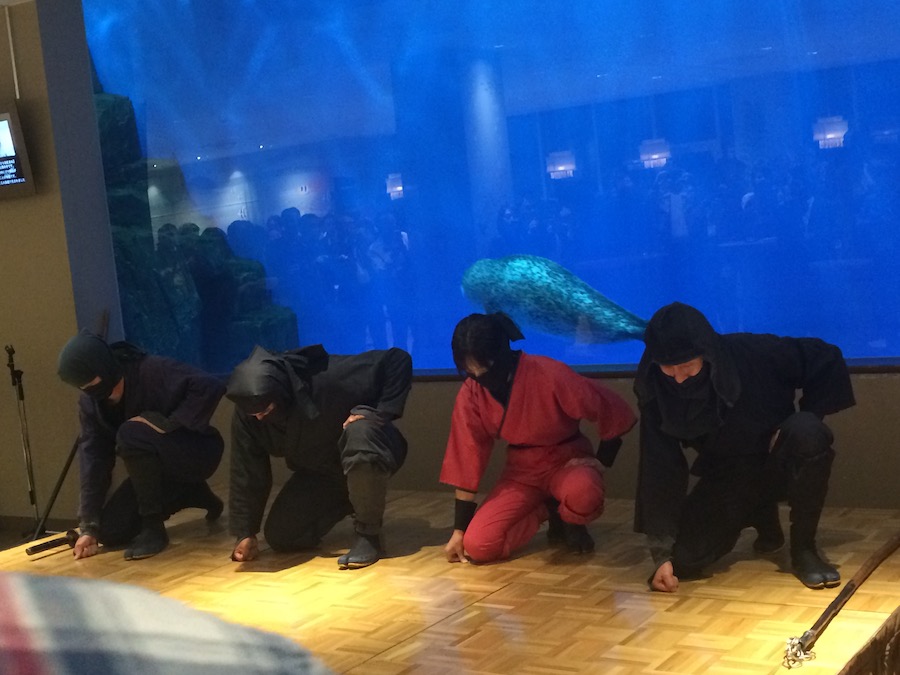 Konferencia bola dobrá: dosť bunkových vecí, trochu neurónových sietí, kopu iných zaujímavostí. Jeden večer bol aj women's event – na ktorý boli pozvaní aj chlapi (zopár prišlo). Najprv tri profesorky – jedna z Ameriky, jedna z Francúzska a jedna z Japonska – porozprávali o svojich kariérach, work-life balance, problémoch, s ktorými sa stretávajú, mentoringu… a potom bola otvorená diskusia. Bolo to dobré, mohlo by sa robiť aj častejšie v rôznych set-upoch. Snažilo sa to byť povzbudivé pre mladé začínajúce vedkyne (pozvali aj grad študentky z univerzity, ktoré neboli na konferencii), ale dosť to zaklincovala japonská profesorka, keď rozprávala, aké to mala ťažké a čím všetkým prešla. Akurát by tomu určite pomohla aj perspektíva "obyčajnejších" ľudí, ktorí okrem výskumu musia veľa učiť, nemajú platené sabbaticals a podobne. Keď porozprávajú ženy, ktoré sú top na svete, veľa z ich pohľadov na vec a dostupných riešení nie je prenositeľné na naše reálie. Ale celkovo veľmi thought-provoking.
Tiež na zamyslenie, ale úplne z iného súdka, sú záchody, s ktorými sme sa v Japonsku stretávali. Všetky bez výnimky – aj verejné – boli s elektronickým ovládacím panelom. Tie menej sofistikované mali tak zo päť gombíkov. Tie namakané oveľa viac. Najväčšie tlačidlo samozrejme na spláchnutie, ale tie ostatné sa dali použiť na veľa iných vecí: umývanie spredu, zozadu (a nastavenie príslušnej teploty, intenzity, smeru), sušenie po umytí, vyhrievanie dosky, maskovacie zvuky (vtáčiky, potôčik, …), ktoré prekryjú prípadné zvuky, ktoré na toalete vydávate vy. Tlačidlá boli väčšinou s piktogramami a po japonsky, málokedy po anglicky, takže nie všetky funkcie sa mi podarilo odhaliť. Už pred pár rokmi som sa zamýšľala nad tým, ako musia naše záchody pripadať týmto východným národom humusácke.
A keď už sme pri takýchto kúpeľňových veciach, tak ešte pár slov k onsen. To sú verejné kúpele. Vedela som dopredu, že ich chcem vyskúšať a ukázalo sa, že priamo náš hotel jedny mal. Je to niečo na spôsob sauny, akurát namokro. Sú oddelené dámske a pánske kúpele. U nás tie pánske boli priamo prístupné, dámske na inom poschodí, iba na pin kód. Otvorené sú takmer celý deň, až do druhej nad ránom. Ľudia do nich prichádzali väčšinou v pyžamkách, ktoré boli nachystané na izbách. (Malinkých izbách… Takých malinkých, že sa do nich zmestila posteľ, jedna stolička, jeden stolík a kufor. Nič viac. Samozrejme stačilo, keďže sme v nich netrávili veľa času.)
Pri príchode do onsen si pyžamko odložíte do skrinky a vojdete nahí do kúpeľňovej časti. Tam sú kóje so sprchami a stolčekmi. Sprchuje sa po sediačky a sprchuje sa dôkladne. Sú tam nachystané fľaštičky s mydlami, šampónmi, kondicionérmi, odličovacími mliekami, všetkým, čo by ste mohli potrebovať na vydrhnutie sa dočista. Krásne umytí a umyté si potom idete sadnúť do horúceho bazénika. Niektoré to dali na viac cyklov so studenou sprchou medzi potením sa vo vode. Taký tichý relax. Ale po ňom, v predsienke so zrkadlami, fénmi a krémikmi sa – už opäť v pyžamkách – veselo trkoce. Dobré to bolo. Treba skúsiť.