V prvom rade, veľa mištičiek. V každej niečo iné. V niektorých z tých najmenších sú takzvané palate cleansers, ktoré sa dávajú medzi jednotlivými chodmi, aby sa nemiešali chute.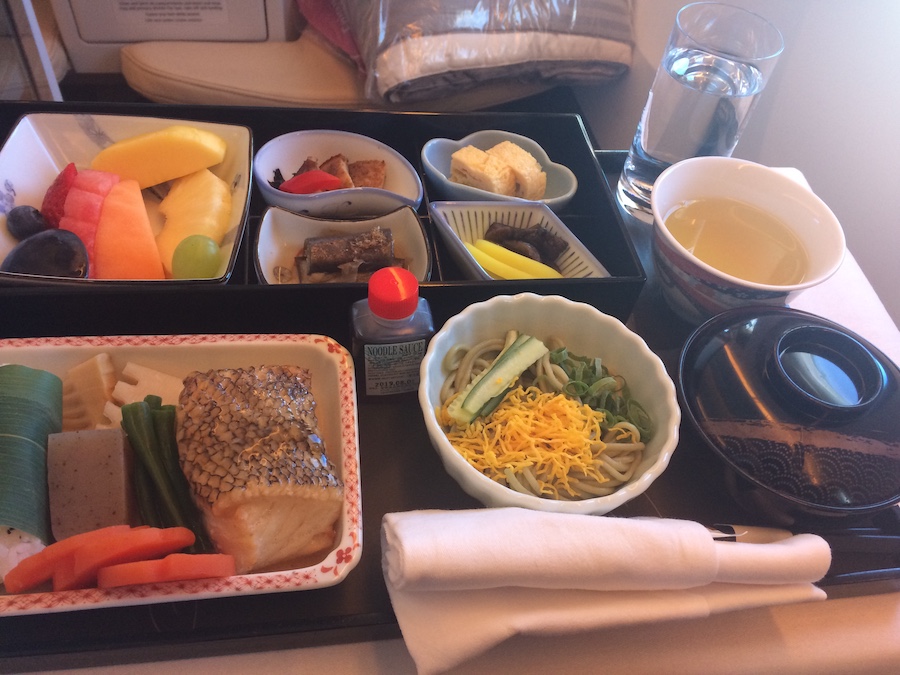 Začína sa miso polievkou, ktorá sa pije.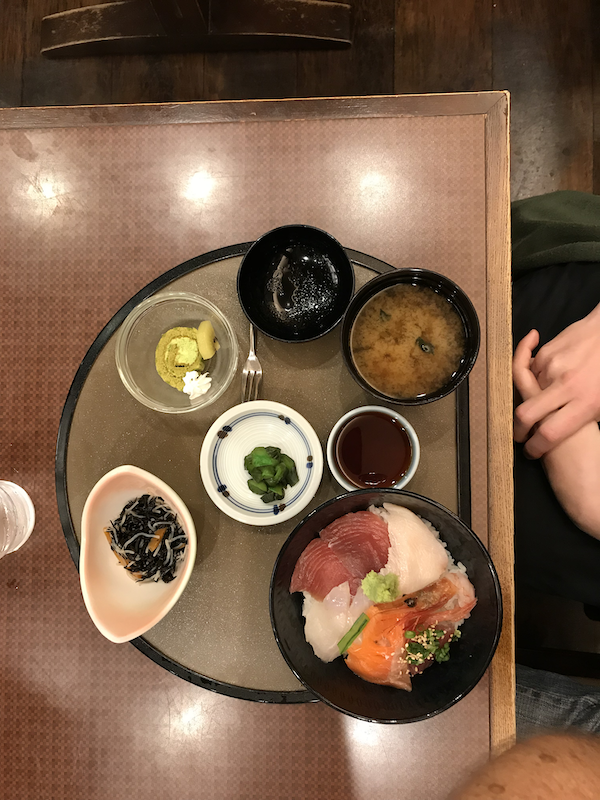 Konferenčné obedy boli síce v krabici a bez polievky, ale mištičiek mali tiež dosť. Dobré na tom je, že ak sa v niektorej nádobke nachádza niečo nie úplne jedlé, tak človek má ešte veľa iných možností, z ktorých sa dá najesť. Taký japonec u nás, keď dostane tanier halušiek, tak len binárne, buď to pôjde alebo nie.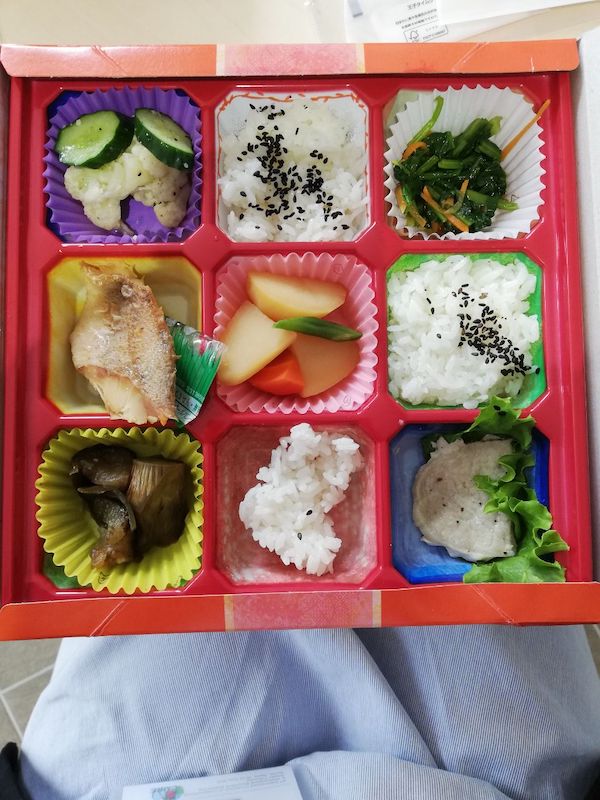 Ten kvietok v strede dolu je prierez koreňom lotosa. Trochu pripomínal reďkovku.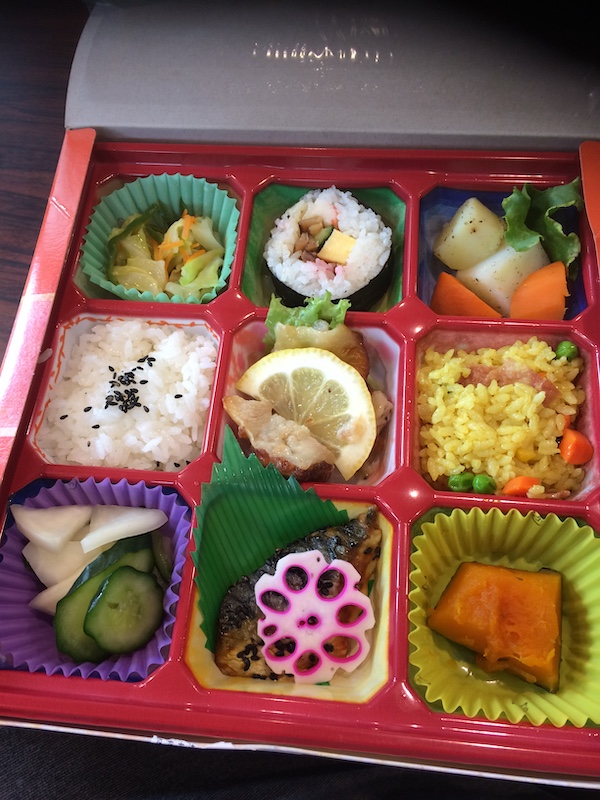 Museli sme ísť samozrejme na sushi. Toto je v Tokyu kúsok od rybieho trhu. Ľudia sedia dookola, majstri pripravujú sushi na tanieriky, ktoré krúžia a keď vám ide niečo zaujímavé okolo, môžete si to zobrať a zjesť.
Platí sa podľa tanierikov a tie majú roznu cenu. Podľa toho na ne sushi majstri nakladajú. Ak už nejakú chvíľu nejde okolo nič, čo by ste chceli, môžete si vybrať z lístka a poprosiť ich, aby vám spravili niečo na želanie. Oni urobia pre vás a ešte zopár tanierikov navyše, ktoré dajú krúžiť.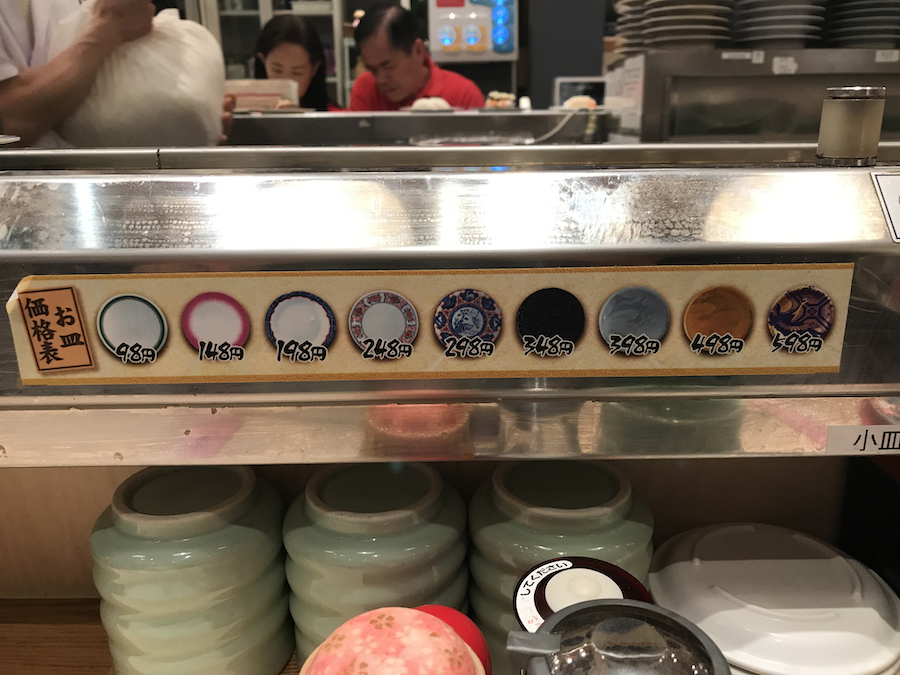 Na konci pri vašom mieste ostane kopa farebných tanierikov. Tie zdola hore prešla slečna s čítačkou, rozpoznalo to tanieriky podľa druhu a hneď vyhodilo sumu, ktorú bolo treba zaplatiť. (To by bola pekná aplikácia aj na cvičenie pre našich študentov…)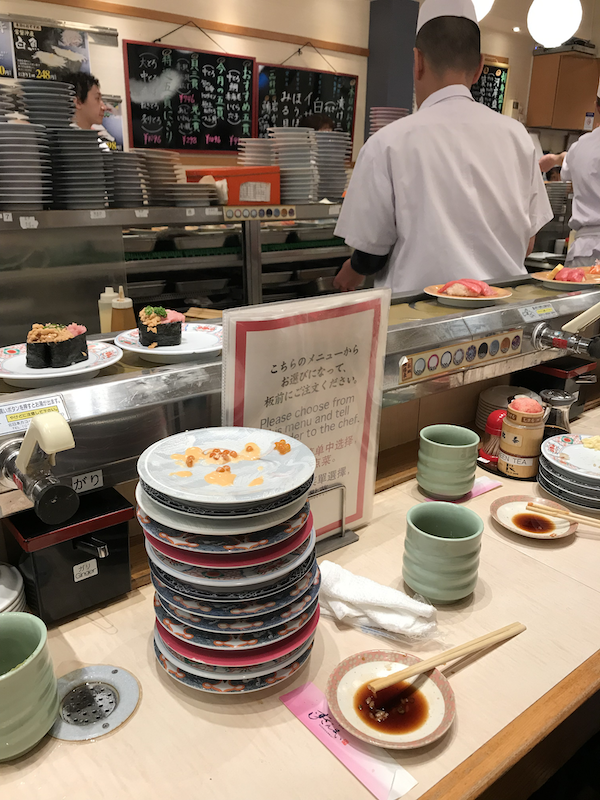 S objednávaním inde to bolo také z extrému do extrému. Veľmi populárne sú výklady s plastovým jedlom, ktoré je naaranžované presne tak, ako ho dostanete, takže sa dá vybrať naozaj len ukazovaním prstom. (Videli sme aj obchody, kde sa všetky tie plastové súčiastky dajú kúpiť a jedlo z nich vyskladať. Nie, žiadne suveníry odtiaľ nemáme. Ale predsalen sme si na pamiatku v kuchárskej ulici Kappabashi Dōgugai kúpili niečo, čo súvisí s jedlom – nože.)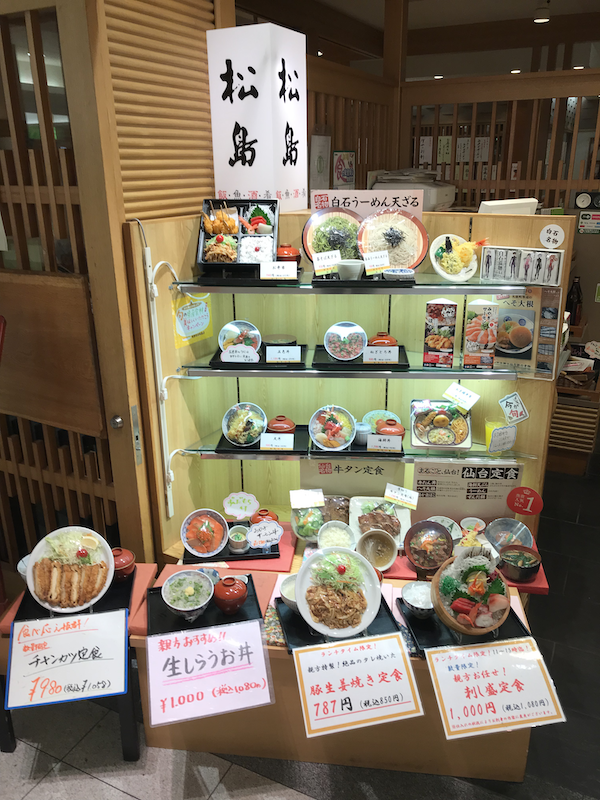 Na druhom konci spektra boli reštaurácie, kde nehovorili po anglicky, nemali anglické menu, zlyhával aj prekladač v telefóne… tam to mohli zachrániť len obrázky alebo náhoda.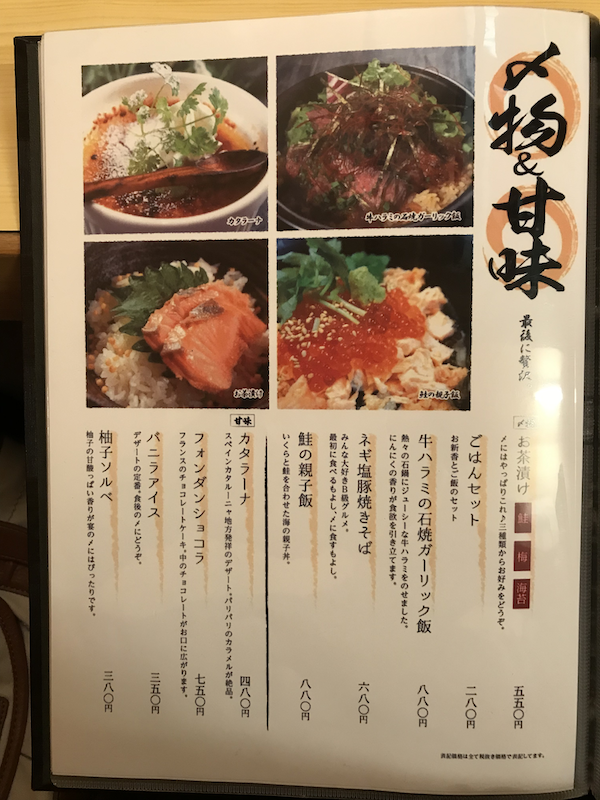 Len jedenkrát sme dostali niečo, čo sme neboli schopní zjesť. Doniesli nám to ako (neobjednané) predjedlo. Kúsky mäsa v akejsi huspenine s nakladaným zázvorom. Asi. (A ja som si ešte raz pri raňajkách naložila na ochutnanie akési čudné tofu, ktoré teda naozaj nešlo…)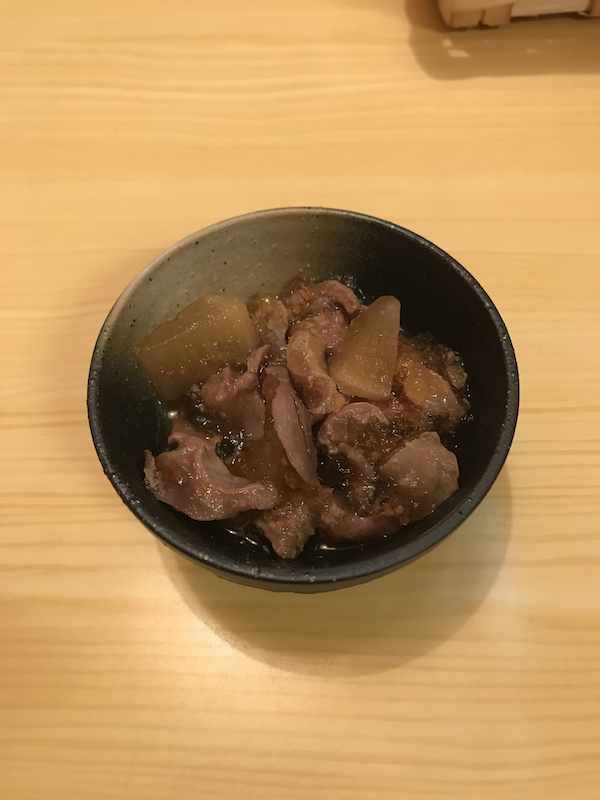 Sedeli sme aj pri nízkych stolíkoch na zemi, aj pri takých, čo mali ešte pod stolíkom dieru, že nohy dali vložiť dolu.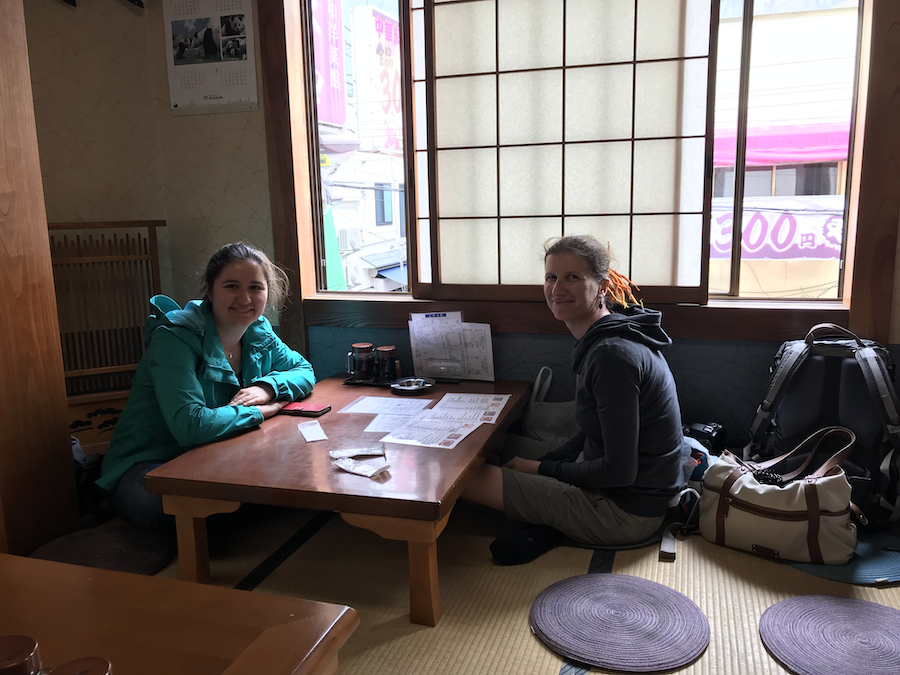 Druhé tradičné jedlo po sushi, ktoré bolo treba vyskúšať boli ramen rezance.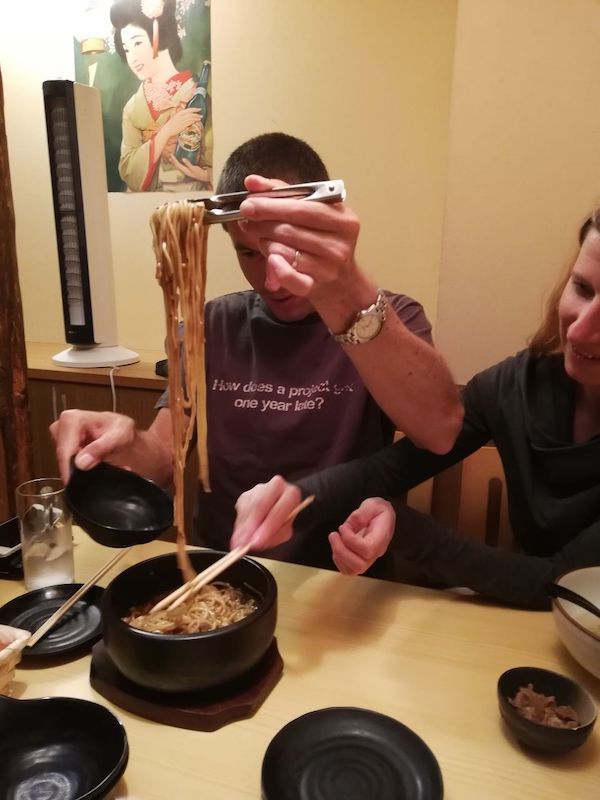 Tie sme si raz objednali aj v automate. Aj keď bez angličtiny, celkom úspešne.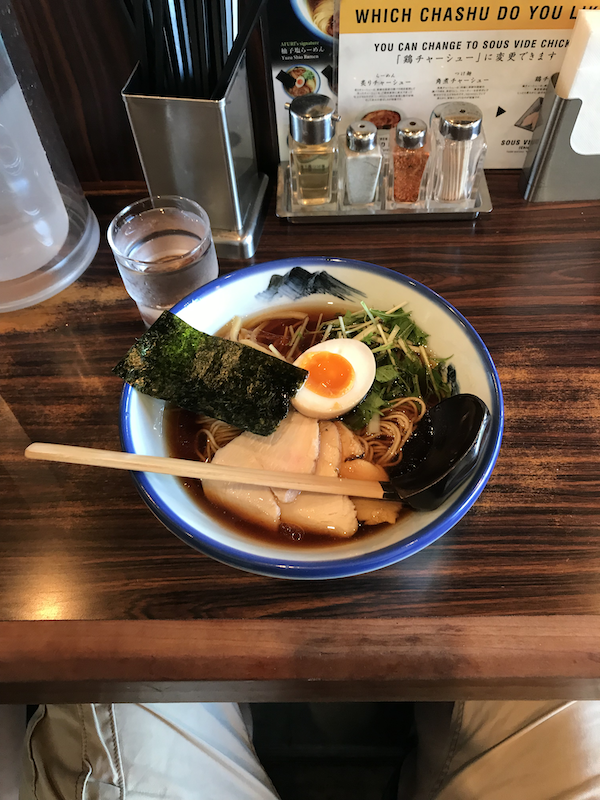 A ako sa doručuje obedové menu? Takéhoto bicyklistu sme stretli na ulici: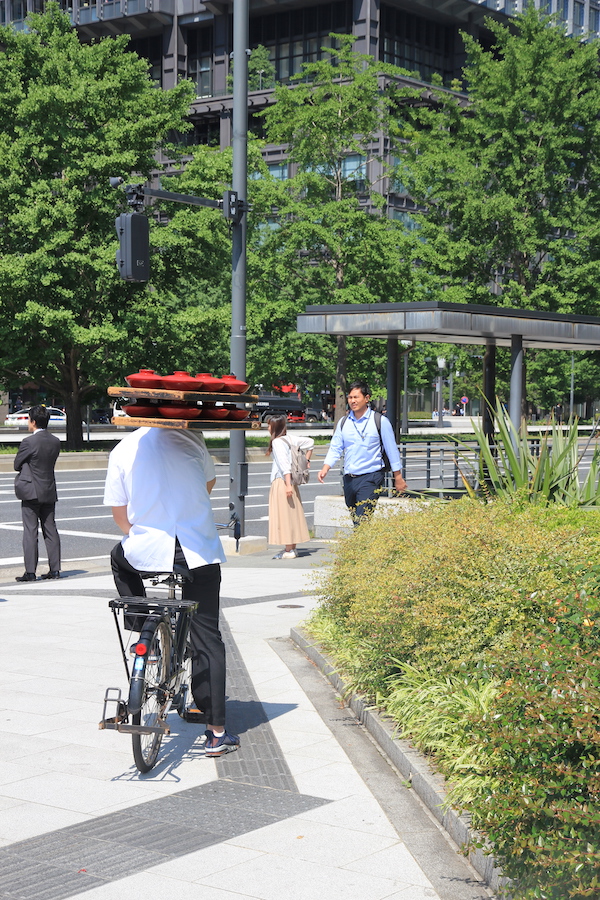 Japonská strava je ľahká a celkovo veľmi fajn. Rybky by som vydržala jesť na rôzne spôsoby dosť dlho, hlavne tie v sushi/sashimi/maki formáte. Ale zaujímavé je, že vpodstate aj na raňajky, aj na obed, aj na večeru je to isté. Nemusíte si vždy vybrať to isté, ale aj ku raňajkám je možnosť mať miso polievku, ryžu, rybu či už surovú alebo pečenú, zeleninu v sójovej omáčke, žraločie plutvy… (chlebovité veci len pre zúfalých turistov).
Trochu ma sklamal čaj. Asi je to tou oblasťou, kde sme boli, ktorá je známa čajom matcha. Ten je síce zelený ale práškový a s veľmi svojskou chuťou. Bol prakticky všade. Ešte kde-tu bolo vidno sáčkový, ale dobrý listový zelený čaj, na ktorý som sa tešila, sa až tak často nekonal. Nejaké som kúpila pri odchode (bolo treba silno hľadať, lebo všade len matcha), tak uvidíme, či dobre.
A nekonečno rôznych sladkostí. Veľa z nich bolo zelených (či už od matcha alebo od zelených fazúľ, tie boli celkom dobré), ale aj všetkých možných iných druhov a farieb. Japonci si ich nosia ako suveníry z výletov, takže sú často lokálne špecifické, ale aj ako kuriozitky, takže sa často objavujú rôzne netradičné, ktoré majú len chvíľu a potom zase vymyslia iné nové úplne besné kombinácie chutí. Zírali sme a niečo doniesli deťom na ochutnávku.