Zase sme sa zabudli odfotiť doma a spomenuli si až pred garážou. Kika začína na druhom stupni, tak sme zvedaví na zmeny.
Kubko začal novú sezónu aj v novom futbalovom drese. Trénuje so staršou prípravkou a futbal hráva aj s kamarátmi každý deň po škole v školskom klube.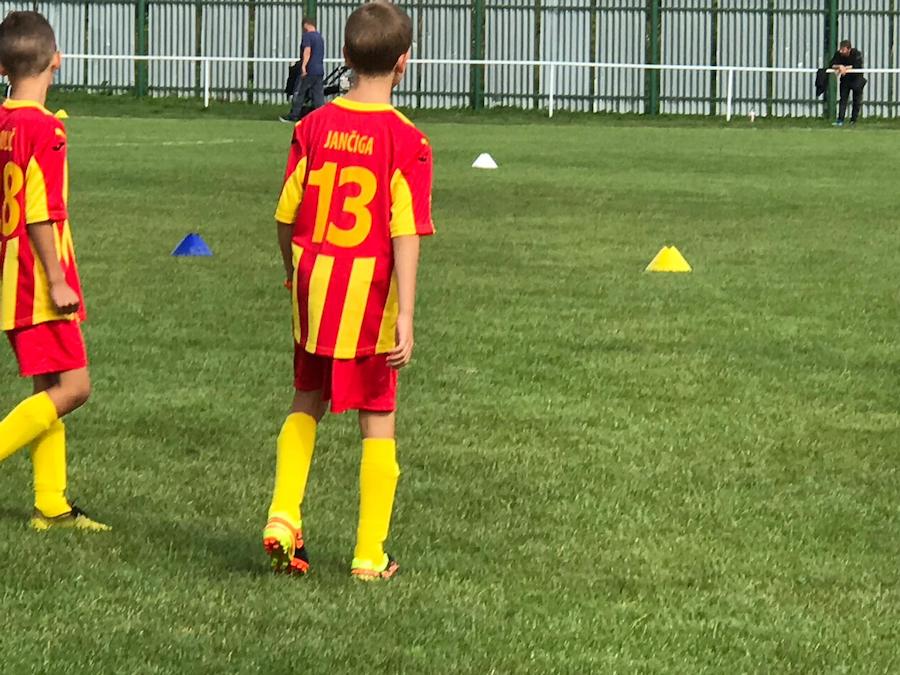 S Kikinými krúžkami je väčší problém. Chcela som, aby športovala. Hocičo, len nech je to dvakrát do týždňa na hodinku v skoršom poobedí, nech ju to aspoň trochu baví, nech sa pri tom aspoň trochu spotí, nech sa tam vie sama dostať zo školy (na druhom stupni už nemajú školský klub) a nech to nie je príliš súťaživé (tým pádom asi nie tímové). Plávannie, na ktoré chodila posledných pár rokov, sa mi zdalo úplne ideálne, trénerka bola výborná, akurát tam už Kika chodiť nechce.
Boli sme vyskúšať tréning sebaobrany. Nebolo to ono. Rozprávali sme sa trénerom športovej prípravky, ukázalo sa, že je to prípravka na volejbal, v tretej vete začal o turnajoch. Atletika je až neskoršie večer. Orientačný beh je len raz do týždňa a to práve vtedy, keď má angličtinu. Na loďky by sa jej blbo chodilo samej a komunikácia s trénerom chaosná. Florbal vraj ani nemáme skúšať, keď ho doteraz nehrala, lebo kobylky sú veľmi vyberavé.
Ja neviem. Asi som divná. Príliš veľa kritérií? Áno. A niektoré sú objektívne, časové, ale ukazuje sa, že to nie je najväčší kameň úrazu. Prečo sa nemôže športovať "len tak"? Čo robia desať a viacroční, ktorí chcú začať so športom, ktorý doteraz nerobili? Nie súťažne, len si zašportovať, naučiť sa zopár fintičiek. Veľa krúžkov sme odpísali na tom, že to v Kikinej vekovej kategórii už berú "príliš vážne".
Nakoniec sme sa boli zapísať na tanečnú… moderné tance, hip-hop. Začína od októbra. Neviem. Keby si Kika za niečím pevne stála, aspoň tak ako Kubo za futbalom, bolo by to o kus jednoduchšie, časovo by sme to vyriešili, jej motivácia by vyvážila prípadné pochybnosti o kompetitívnosti, podporovali by sme ju, aj keby sa nedarilo. Ale ona sa do ničoho nehrnie, takže hľadáme niečo, voči čomu aspoň nebudú námietky a dúfame, že ju to chytí. Naivne.
Je mi jasné, že to nie je takto dobre. Ale bojím sa sa na to vykašľať. Z našej rodiny sa najviac treba hýbať práve Kike a keď to necháme na ňu, tak sa hýbať nebude. Ako sa toto robí?