Nájsť pre Kiku vhodné krúžky nebolo ľahké ani na Slovensku. Počas pandémie v USA? Boli sme vďačné za online knižný klub a dúfali, že časom sa to vylepší. Kika hovorila, že by skúsila girl scouts, tak som sa pár mesiacov pokúšala ju prihlásiť. Na to, ako tvrdia, že zháňajú nové členky, bolo prekvapujúco netriviálne obtiažne nechať sa naverbovať, ale nakoniec sa podarilo.
Kike sa zatiaľ bola na online programe s Michelle Obama. Trochu bola sklamaná, že bolo len päť dopredu vybratých dievčat, ktoré mali zapnuté video a mohli sa pýtať otázky, ostatní sme len pozerali a počúvali. Ale bolo to fajn, motivačné tak akurát, aj Kike sa páčilo a inšpirovalo ju to požičať si z knižnice knižku Becoming me (verziu pre mladých čitateľov a čitateľky). Nakoniec ju čítame po večeroch nahlas, lebo to zaujalo aj Kuba.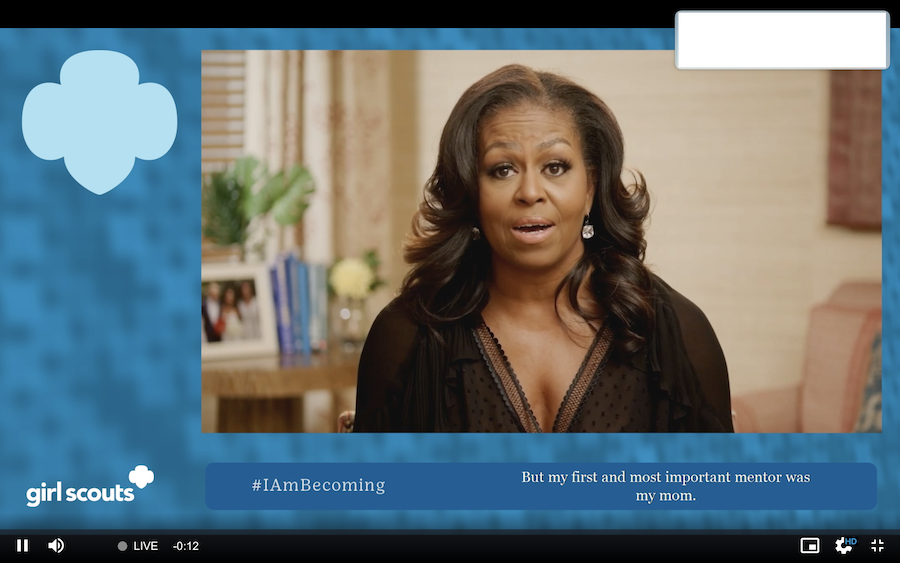 Okrem tohto online programu sa Kike podarilo ísť aj na jedno osobné stretnutie s družinou, do ktorej bude patriť od septembra a trochu sa zoznámiť. Prišla odtiaľ spokojná, vedúce vyzerajú priateľské (a zdravo nefanatické a príčetné), dievčatá taký mix. Ideme s nimi o pár týždňov ešte na turistický výlet. Vyzerá to dobre.
Ak sa bude dať, tak Kiku ešte na jeseň prihlásime na školský cezpoľný beh (hýbať sa treba) a siedmaci a siedmačky v Summite majú zadarmo členstvo v miestnej YMCA, kde bývajú všeliake aj športové aj nešportové aktivity, hádam si z toho niečo vyskladá.