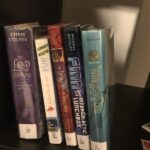 Ani nepíšem, že v poslednej dobe, lebo už je to celkom dlho, odkedy som sem naposledy dávala takýto zoznam. Určite niečo zabudnem, ale nevadí. Nech sa páči na inšpiráciu:
Paul Fleischman: Seedfolks – Kika mala na čítanie v škole. Celkom dobré debaty k tomu boli.
Linda Park: A long walk to water – ďalšie Kikine povinné čítanie. Dlhšie jej trvalo vyvrobiť k nej plagát, ako prečítať ju.
Gita Varadarajan a Sarah Weeks: Save me a seat – aj Kubko má povinné čítanie, ale keď prišlo na túto knihu, tak zistil, že to sme už spolu čítali minulý rok. Nevadilo mu to a dal si ju ešte raz. Dobre napísané z dvoch rôznych perspektív.
Lois Ruby: Steal away home – ďalšia Kubkova školská. Túto čítal sám, takže neviem k nej povedať viac len to, že sa mu páči.
Kate Klimo: The Dragon Series – Kubo je na štvrtej knižke, Kika na tretej a veľmi ich to baví.
Joanne Rowling: Harry Potter Series – Kika si povedala, že si znovu prečíta, tentokrát po anglicky. Zatiaľ stihla prvé tri knižky.
Stuart Gibbs: Spy School Series – Prvú zo série si Kubo vybral minulý rok za odmenu za letný čítací program. A potom sme kopu (ani neviem, koľko ich je) postupne popožičiavali z knižnice. Našťastie veľmi nenadväzujú, takže až tak nezáleží na poradí, lebo sú dosť populárne a v knižnici sa vyskytujú len občas.
Sharon Draper: Out of my mind – Kika zlupla za dva dni, tak som si ju zobrala aj ja, že čo je to zač. Dievča, ktoré má mozgovú obrnu a nemôže hovoriť, ale nakoniec sa jej s pomocou rodiny a priateľov podarí lepšie komunikovať. Veľmi dobrá. Snažím sa ešte ukecať Kuba, aby si aj on prečítal, len zatiaľ sa mi nedarí.
Victoria Jamieson: Roller girl a All's faire in middle school- Obe sú komixové knihy, ale fajn. A deti zhltli veľmi rýchlo.
Michelle Obama: Becoming, adapted for young readers – Začali sme s Kikou čítať po tom, čo bola na skautskom live meetingu s Michelle Obama a zaujalo ju to. Bola som prekvapená, že aj Kubo sa pridal a baví ho to. Sme asi v štvrtine.
Michael Buckley: Finn and the intergalactic lunchbox – pokus o detské sci-fi. Rozbehli sme sa, vyzeralo to nádejne, ale prerušila to Michelle Obama. Snáď sa vrátime.
Chris Colfer: The Land of Stories – celá séria. Kika skúsila, po prvej zanechala, nezaujalo ju to, ale Kuba baví.
Dan Gutman: Mummies, myths, and mysteries, Dinosaurs, dodos, and wooly mammoths, Explorers, presidents, and toilets – zatial sme mali tieto tri, ale je ich viac a určite požičiame všetko, čo knižnica má. Non-fiction, rozhovor chlapca a dievčaťa na dané témy. Dievča veľmi vážne, chlapec do toho motá toaletný humor a všelijaké rýpavé poznámky. Dobrý formát, deťom sa veľmi páči a všeličo sa dozvedia.
Dan Gutman: The homework machine – Gutman píše aj príbehy. Stroj na domáce úlohy je veľmi vďačná a aktuálna téma, takže samozrejme sme spoločne s veľkým záujmom prečítali.
Jon Scieszka: Knights of the kitchen table – kratučká, Kuba pobavila.
Lemony Snicket: The bad beginning – prvá zo série. Kubovi ju odporučili v knižnici, tak sme skúsili, ale ďalšie si už nepožičiame. Nejako sme sa prehrýzli a celý čas čakali, že ako to dopadne, ale boli sme sklamaní a nikoho nenadchla.
Gordon Korman: Ungifted a pokračovanie Supergifted – čítali sme spoločne, deti veľmi bavilo. Dobre porozprávané z viacerých perspektív rozlične nadaných detí aj "obyčajného" chlapca.
Gordon Korman: Swindle – osvedčený autor, tak sme skúsili aj niečo iné a tiež to bolo fajn. Podarený heist, deti v napätí, ale nie až tak, aby sa báli, úplne akurát.
David Walliams: Grandpa's great escape – už sme od neho čítali zubársku knižku, tak Kubo si požičal aj toto a bol spokojný.
Kathryn Lasky: The librarian who measured the earth a The man who made time travel – Dobre napísané a pekne ilustrované non-fiction knižky. Deťom sa páčili.
Liesl Shurtliff: Red: the true story of Red Riding Hood, Rump: the true story of Rumpelstiltskin, Grump: the (fairly) true tale of Snow White and the seven dwarves – známe rozprávky, ako sa "skutočne" stali. Rumpa sme čítali spolu, ostatné čítali sami, ale všetky odporúčame.
Jarrett Lerner: EngiNerds – čítal iba Kubo, hovoril, že vtipnná.
Lynda Barry: What it is – na toto som niekde videla výbornú recenziu, tak sme skúsili, ale nepáčila sa ani jednému z nás. Mala by byť inšpiratívna ku vlastnému písaniu, ale nás všetkých dosť odpudzovala.
George, Jean Craighead: Julie of the wolves – príbeh eskimáckeho dievčaťa, ktoré samo prežije v divočine. Náročnejšia, ale všetci sme so zvedavosťou chceli vedieť, ako to dopadne. Disclaimer: Julie vydávajú ako trinásťročnú a nemá práve dobrú skúsenosť so svojím nastávajúcim, takže radšej čítať s deťmi, nech sa dá o tom rozprávať, ako im to nechať čítať samým. Ale opísané je to primerane, netreba sa toho báť.
Nancy Farmer: A girl named Disaster – keďže sme čítali Julie of the wolves, tak nám knižnica odporučila túto. Skúsili sme, ale deti po prvej kapitole vzdali. Afrika asi už bola príliš survival? Možno neskôr.
Olivia Coolidge: Greek myths – pri nejakom rozhovore sme natrafili na Medúzu a vtedy som zistila, že deti nemajú ani šajnu, čo sa týka gréckych bájí. Tak sme si museli doplniť klasické vzdelanie. Niektoré sme prečítali spolu a Kuba bavili natoľko, že dočítal sám aj zvyšné, ale Kiku to nechytilo. Ale aspoň už vie, že Medúzu pozorovať len na odraze na štíte…
Ashley Poston: Among the beasts & briars – Kike odporučila knižnica. Vôbec ju nechcela čítať, neviem prečo, nepovedala. Ja som si prečítala, nič svetoborné, ale ok. Neviem, čím Kiku tak odpudila.
Karen Ruelle: Surprising spies and unexpected heroes of World War II – neprečítali sme všetko, len vybrané kapitoly, ktoré deti chceli, ale bolo to fajn.
Ben Grossblatt: 100 crazy questions: creatures – Selektívne asi tretinu.
Vojtech Matocha: Prašina – Ešte posledný kus, čo sme si doniesli so sebou zo Slovenska a nečítali. Celkom fajn, ale deti mali komentáre, že to nie je veľmi vierohodné. Trochu pripomína Foglarovky, ale niečo jej chýba.