Ráno bolo síce krásne, ale zobudila som sa celá otlačená. My s Mišom máme už 15-ročné nafukovacie karimatky (Therm-a-rest, vrelo odporúčam), ale pre deti sme nemali, tak sme im na jar kúpili takéto (čudné, ale ľahučké a oproti našim veľmi spratné). Tento výlet boli použité prvý raz a Kubo sa ráno vo Fruite sťažoval, že mal vyfučanú. Dúfali sme, že to bolo tým, že len zle zavrel uzavér, tak som si s ním na prvú noc v Arches karimatku vymenila, že otestujem. On spal ako bábätko, ja po dvoch hodinách prakticky na zemi. Dierku nebolo vidno.
Ale nechali sme karimatku karimatkou, že to budeme riešiť neskôr. A hneď ráno sme išli na výlet. Začiatok chodníka do Devil's Garden bol asi 2km od miesta, kde sme táborili, tak Mišo nás tam zaviezol autom, nech deťom ušetríme trochu síl na začiatku. My sme začali kráčať a on ešte odparkoval auto naspäť v kempe a dobehol za nami. (Nechceli sme blokovať miesto na parkovisku pri chodníku, lebo tam vraj zvykne byť plno.)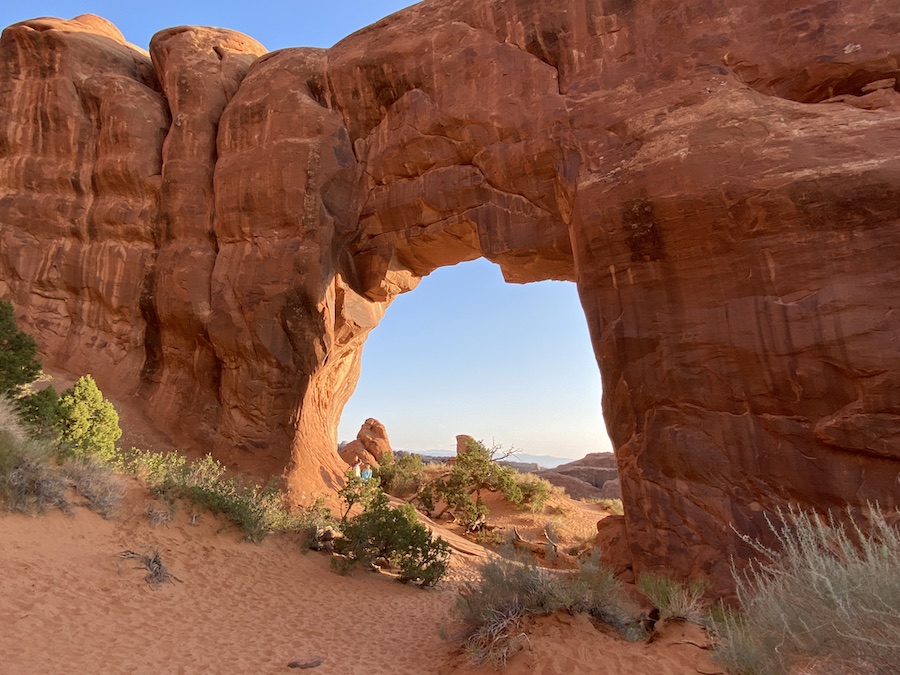 Landscape arch – jeden z najväčších:
Tešíme sa z ranného tieňa: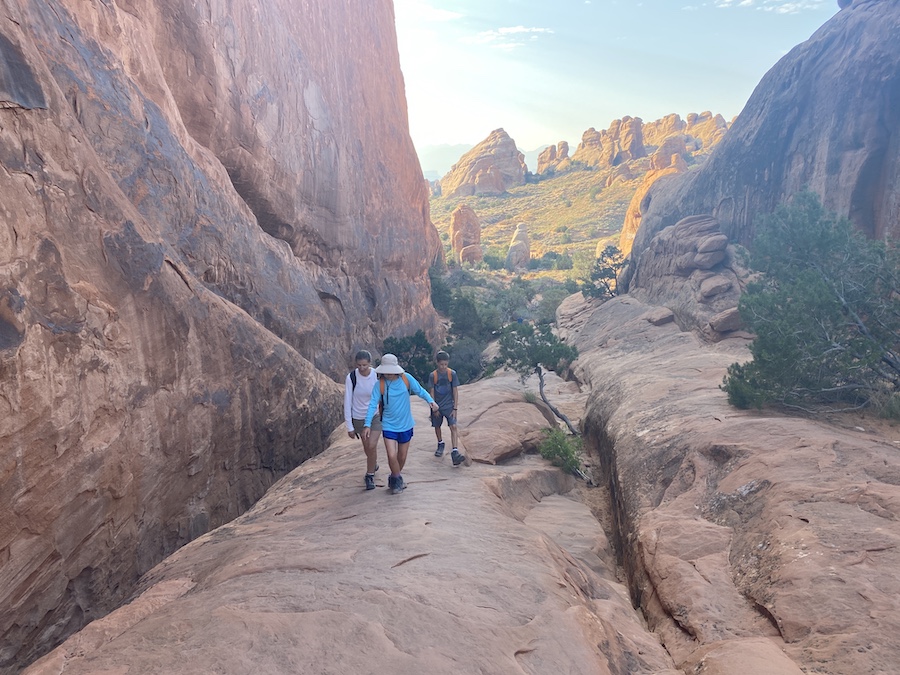 Hore na pieskovcových útesoch, v ktorých zvetrávaním vznikajú oblúky, už tieň nebol.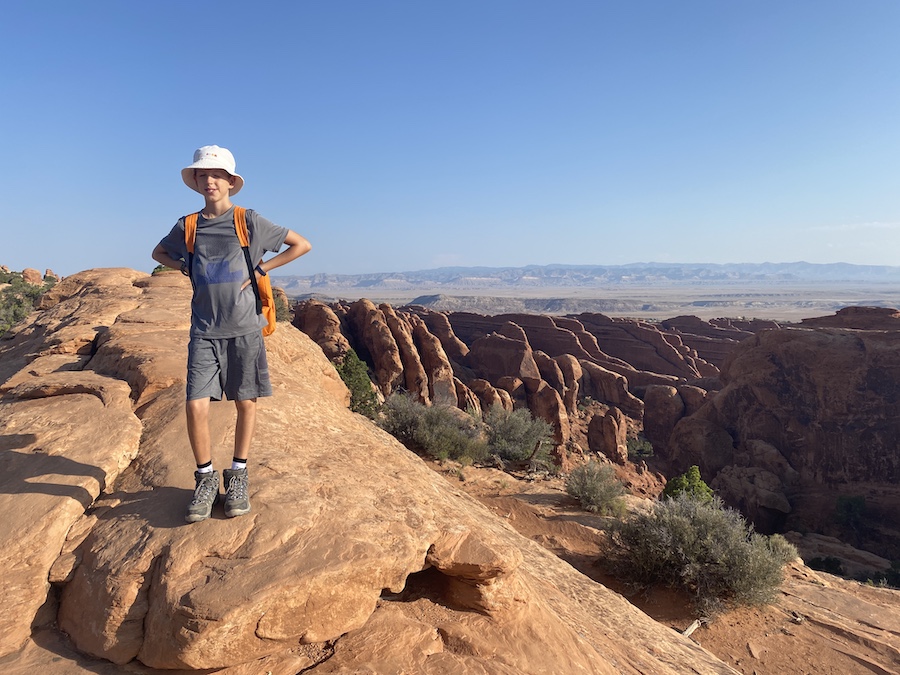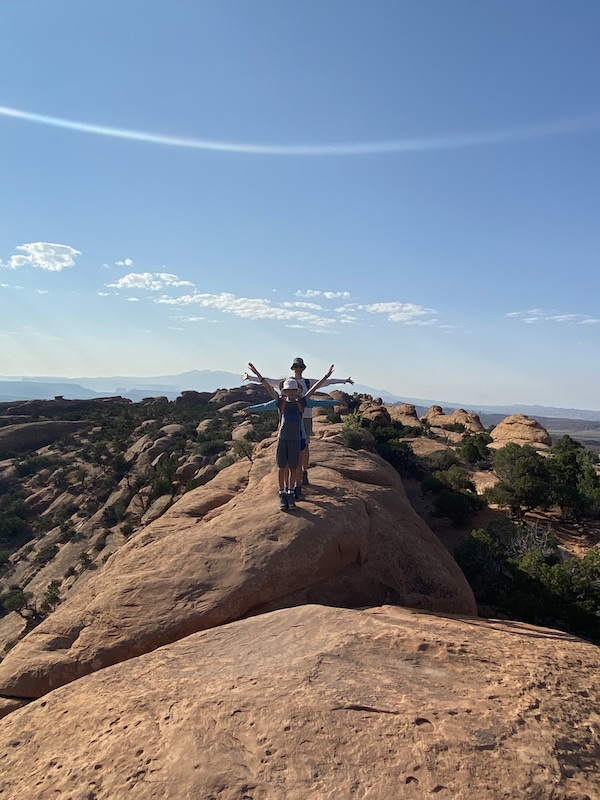 Dvojitý oblúk:
Chodník sa dal v pohode nájsť, ale miestami bolo treba liezť a čuduj sa svete, na jednom mieste aj brodiť (v hustej veľkej kaluži hlbokej asi pol metra, ale tú sme sa nakoniec rozhodli "obliezť" po boku. To, že mala pol metra sme nezistili ani vizuálne ani experimentálne, ale tak, že za nami idúci pán s dieťaťom v nosiči nechcel riskovať lezenie po strmej skale dookola).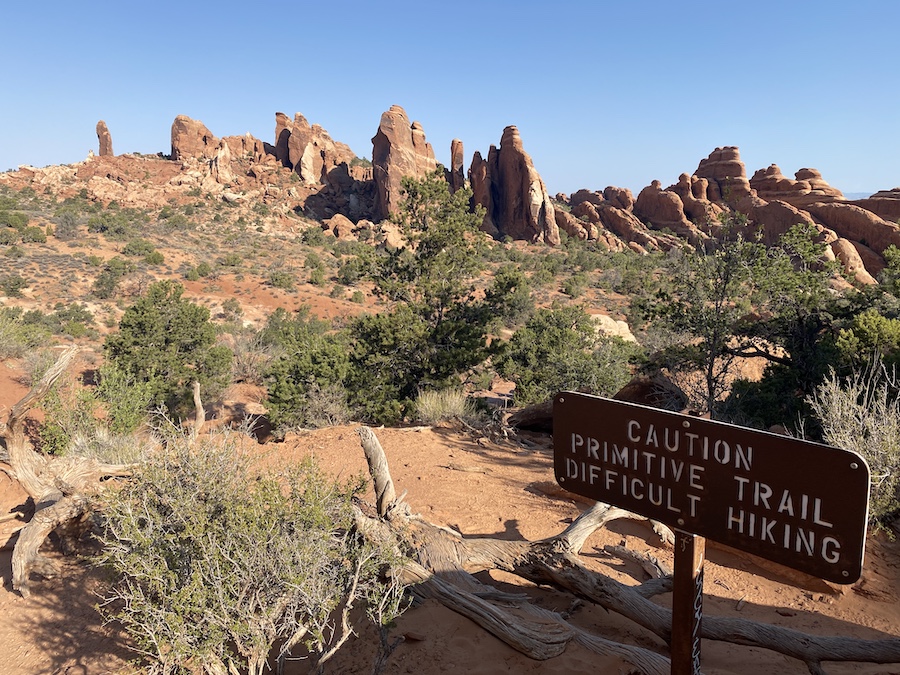 Private arch. Tento bol naozaj súkromný. Zliezali sme po skale zľava a až kým sme sa neobzreli "za roh", tak sme nevideli, kde ten oblúk je.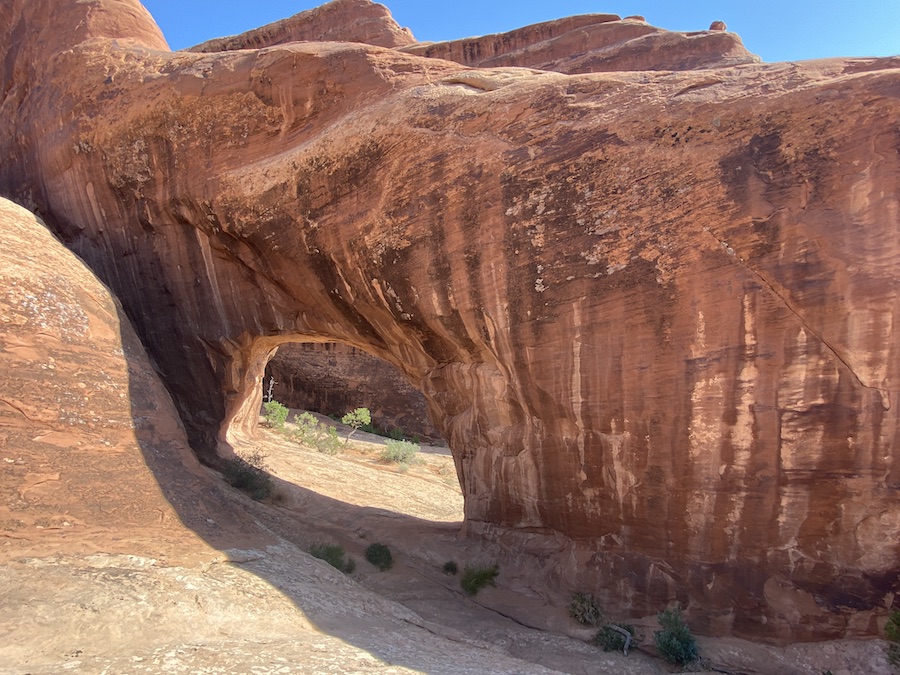 Private arch z druhej strany.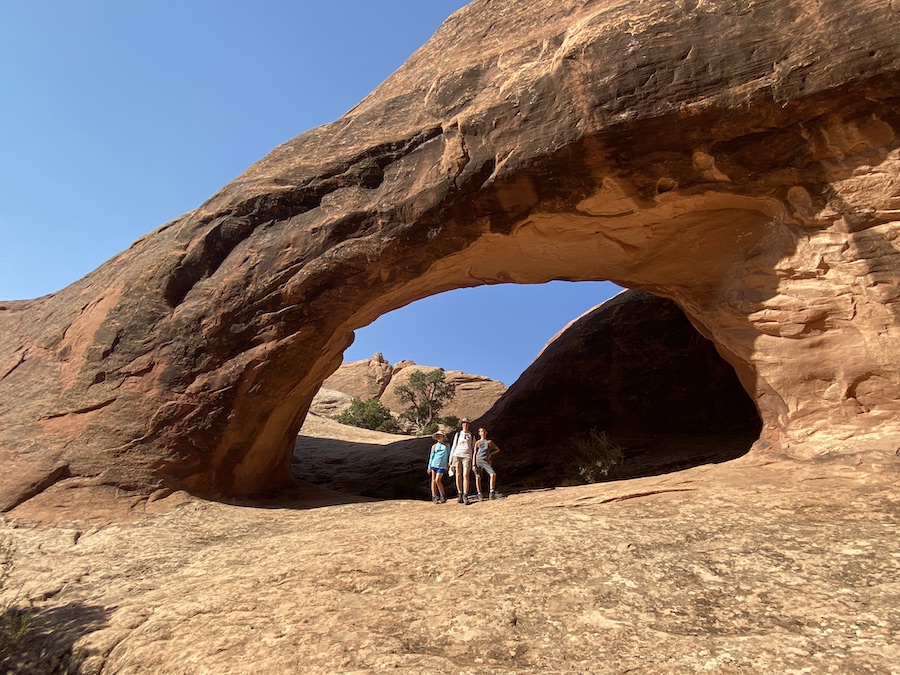 Lezenia bolo dosť.
Naša trasa mala tvar lízatka (s malými odbočkami ku skrytým oblúkom). Najprv sme šli po paličke, potom ohruh a potom po paličke naspäť. Ale na začiatku okruhu sme nechtiac minuli dve odbočky k oblúkom. Dúfala som, že cestou naspäť, ešte niekoho ukecám, aby sme ich išli pozrieť, ale nikomu sa nechcelo (vraj príliš teplo). Tak sa vrátili "po paličke" na parkovisko, že ma tam počkajú a ja som mala Partition Arch a Navajo Arch iba pre seba.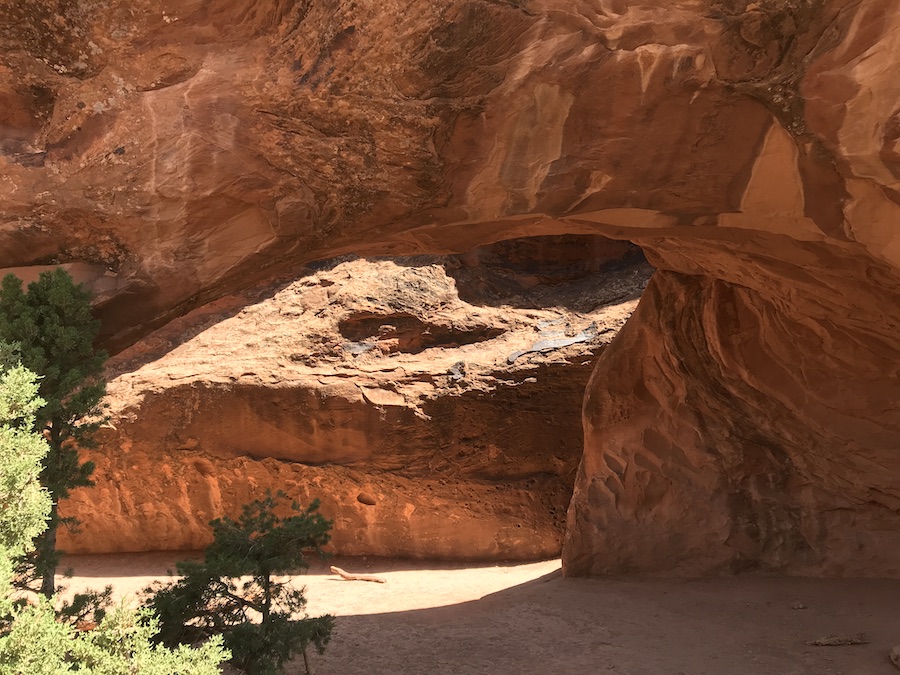 Oddýchnutí, kým na mňa čakali, potom všetci došlapali do kempu po svojich a nebolo treba záverečný odvoz. Poobedie sme strávili s Osadníkmi (spratná kartová verzia):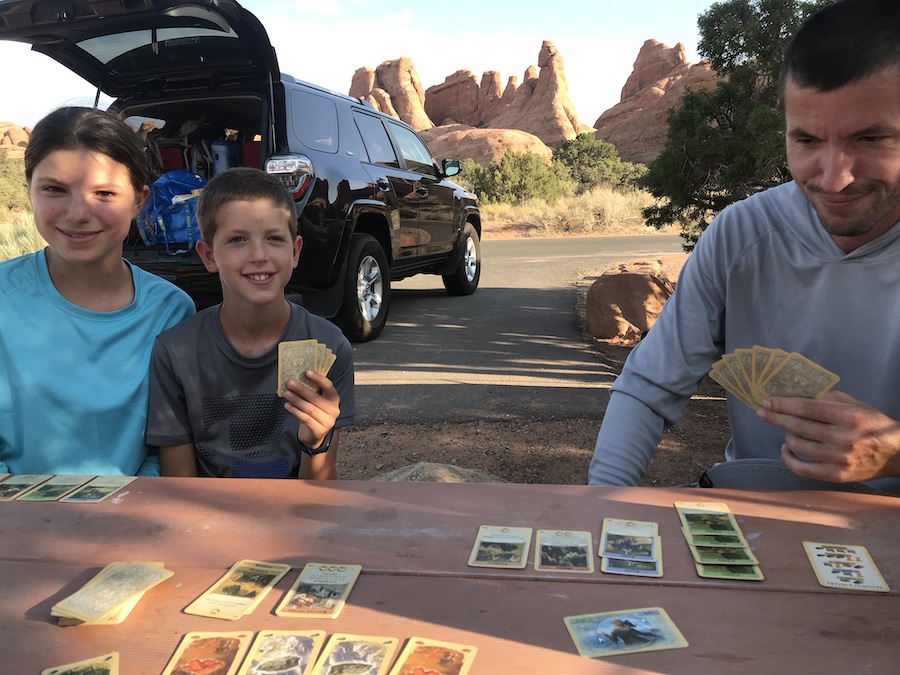 a s Junior Ranger knižkami. Dobré boli pohľadnice, ktoré v nich mali deti vypísať: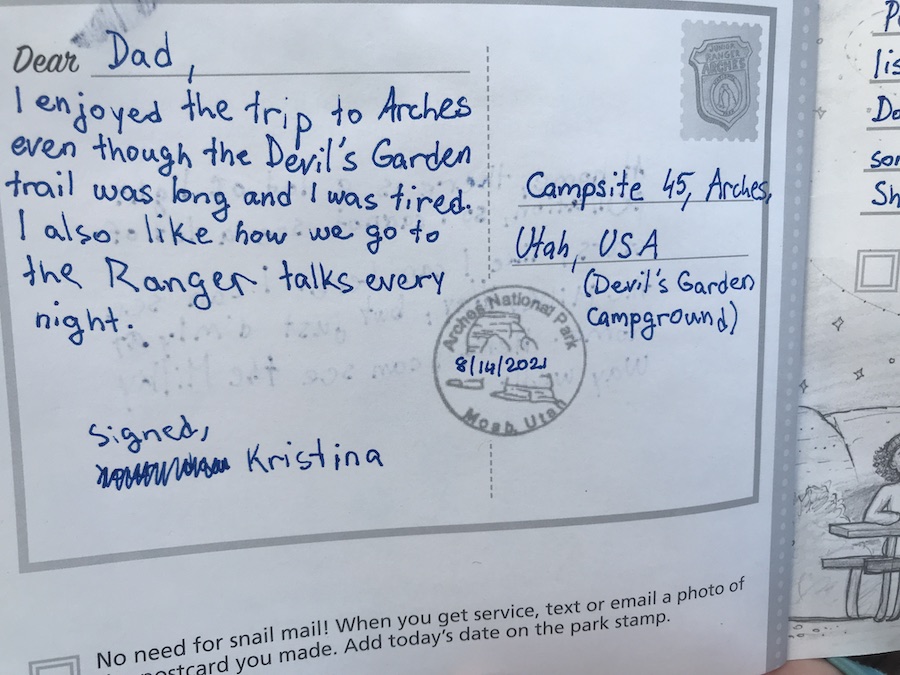 Večerný ranger talk bol o sondách Voyager a odkazoch pre mimozemské civilizácie.
Fučiacu karimatku si zobral pre zmenu Mišo.