O pol tretej ráno sme sa zobudili na to, že na nás začína pršať. (Fotka je ešte z večera, keď sme sa ukladali spať.)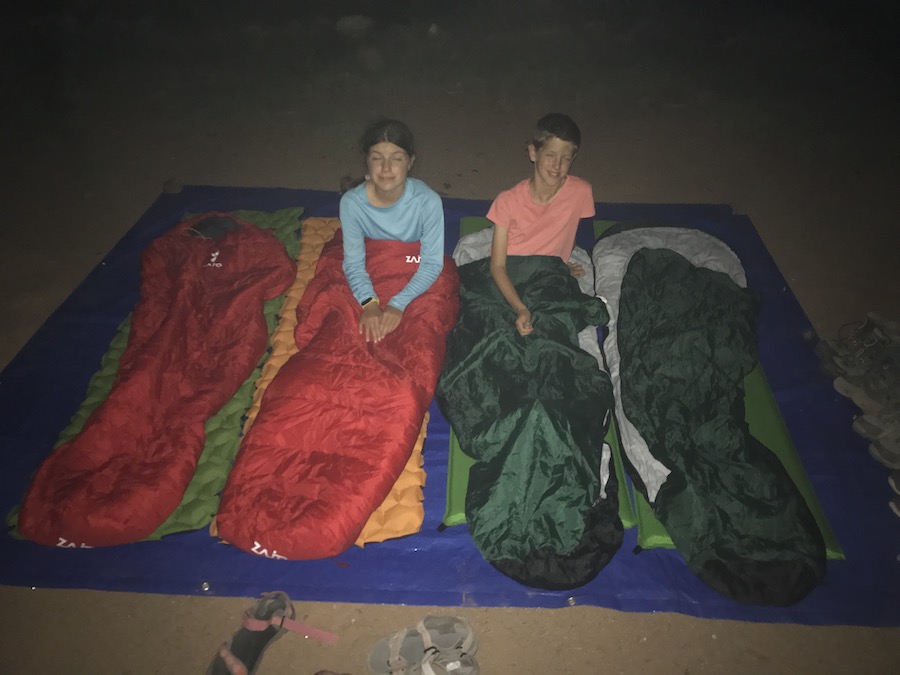 Mali sme ešte jeden tarp, tak sme sa prikryli zhora a chvíľu pozorovali, či to prejde, ale keď neprechádzalo, tak sme sa rozhodli to zabaliť. Deti sa obliekli a obuli pod igelitom a Mišo ich odviedol pod striešku, nech tam počkajú. Ja som zatiaľ balila spacáky a karimatky, nakladala jedlo z kovovej krabice do batohov… Pod strieškou (jedno prázdne skupinové kempovacie miesto má aj taký prístrešok) sme to ešte trochu upratali a prebalili a rozmýšľali, čo ďalej. Zhodnotili sme, že nemá zmysel sa v mokrom snažiť ešte spať pod strieškou, obzvlášť keď sme plánovali zavčasu ráno vyrážať, tak sme niečo zjedli, ešte chvíľu počkali a okolo pol piatej vyrazili pri svetlách dvoch čeloviek. Jednu som mala ja vpredu, za mnou išiel Kubo, potom Kika s čelovkou a pochod uzatváral Mišo. Niekedy vtedy prestalo pršať, asi po pol hodine začalo svitať a na rímse popri Colorade sme už išli bez svietenia.
Mali sme gatorádové prášky, tie Kuba bavili každú prestávku na pitie rozrábať do vody. Druhé raňajky sme dali v Indian Gardens okolo ôsmej. Na dĺžku je to zhruba na polceste, na výšku tak v tretine stúpania. Mišovi sa tam veľmi páčili kaktusové plody.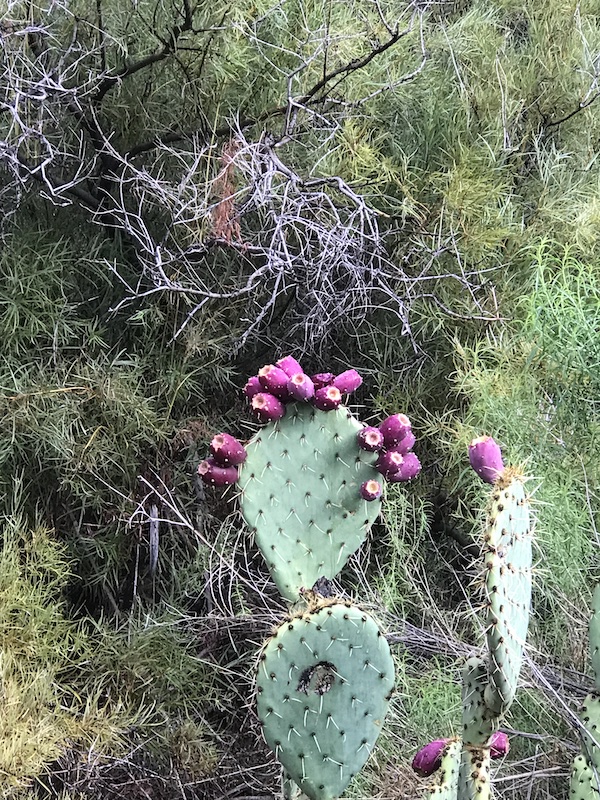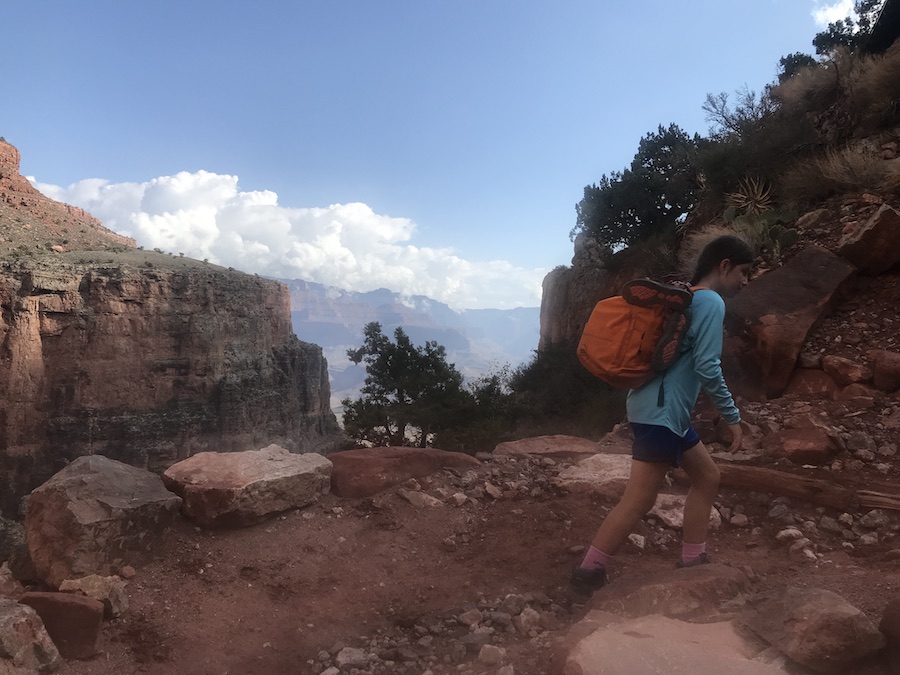 Celkovo treba povedať, že sme mali šťastie. Takmer celú cestu sme išli v tieni. Boli oblaky, nebolo horúco, nemuseli sme si namáčať tričká a klobúky (ako sme si pamätali z predchádzajúcich výstupov), nemuseli sme niesť so sebou až toľko vody.
Kika nefrfľala vôbec. Mišo od nej dostal na narodeniny knižku s rôznymi kupónmi a jeden z nich bol, že výlet bez kňučania. Na začiatku tohto výstupu sa ho spýtala, či chce použiť kupón. On že hej. A ona proste išla, väčšinou na čele. Bola úžasná.
Kuba po počiatočnej eufórii a adrenalíne z nočnej turistiky a radosti z gatorády začali opúšťať sily. Dosť dlho nám vydržalo zabávať sa zadychčaným spievaním úryvkov z pesničiek, ktoré sa hodia na danú situáciu ("v nohách mám už tisíc mil…", "kdyby prase mělo křídla…"), ale potom prestalo fungovať aj to a koniec už bol dosť zúfalý.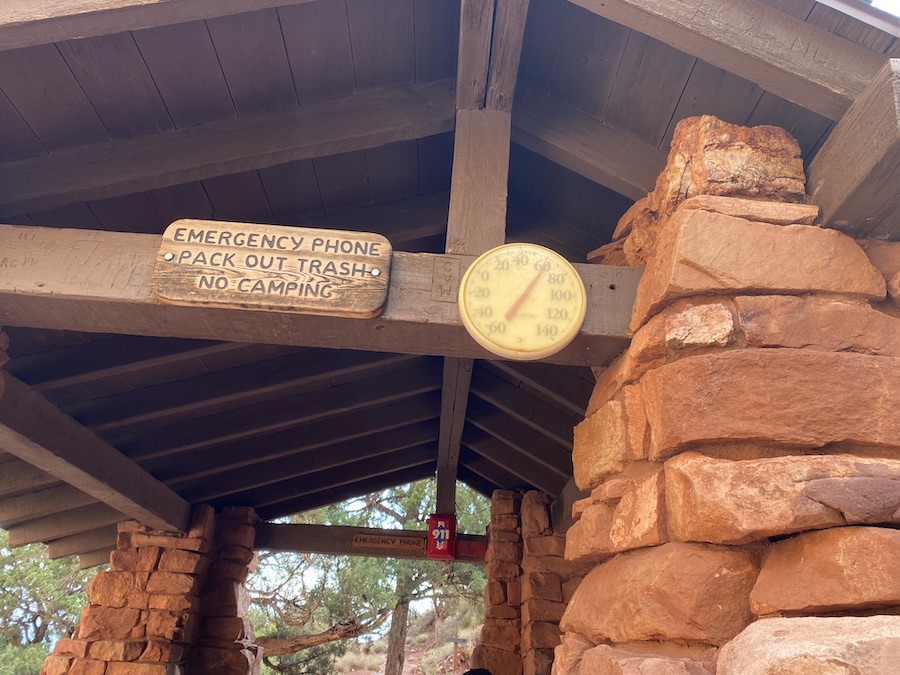 Dva mulicové vláčiky sme stretli aj cestou hore.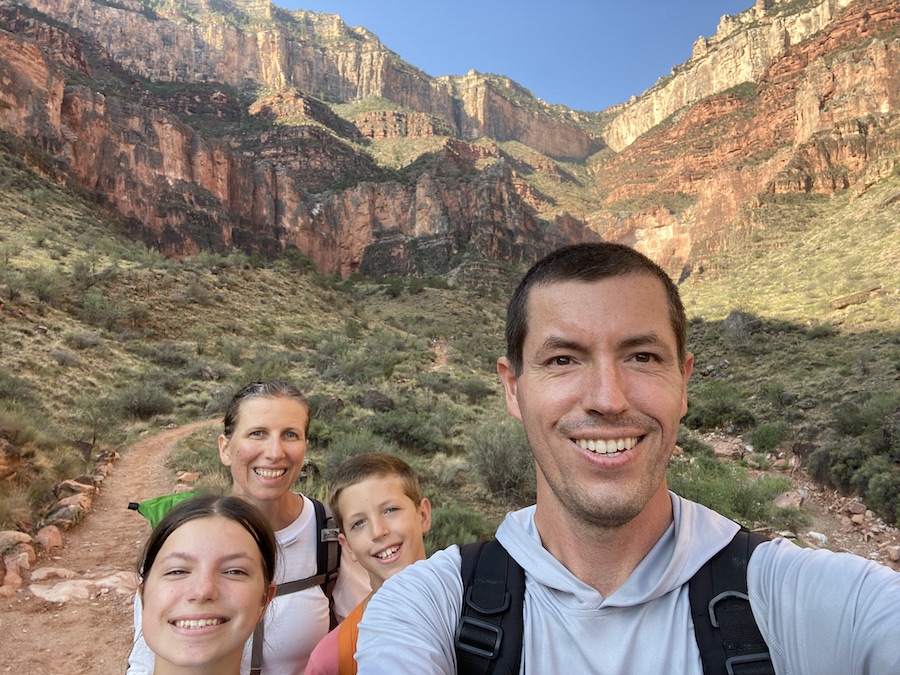 Kúsok pod vrcholom.
A toto už sme vyšťavení hore tesne pred poludním.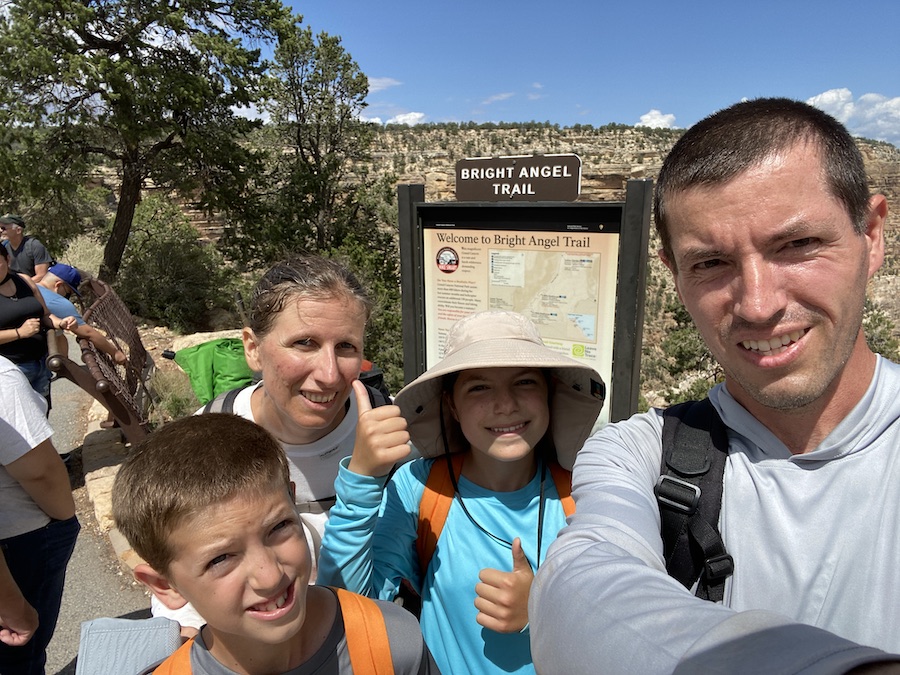 Shuttlom sme sa doviezli do kempu a ešte tesne stihli sprchy (posledný vstup majú o 12:45, vraj tiež kvôli tomu, že "nejsou lidi"). Nemuseli sme ani platiť, pani si nás premerala a zahlásila, že tí, čo prídu pešo z Phantom Ranchu majú sprchy zadarmo. Neviem, či je to oficiálne pravidlo, ale neprotestovali sme.
A potom kým som ja vybaľovala veci a dávala ich sušiť na slniečku aj na našom kempovacom mieste aj na susednom voľnom, Mišo s deťmi to na dvakrát otočili do potravín. Na prvýkrát doniesli guláš a na druhý kýblik zmrzliny.
Do večera sme už len oddychovali a večer išli na ranger talk, kde sme unavení podriemkávali (ale ani nebol až tak pútavý).