Aj keď sme mali nastavený budík, nejako sme sa ráno šuchtali a nestihli shuttle o 5. Tak sme raňajkovali na zastávke a viezli sa až 5:30. O 5:45 sme už kráčali po Bright Angel Trail dolu.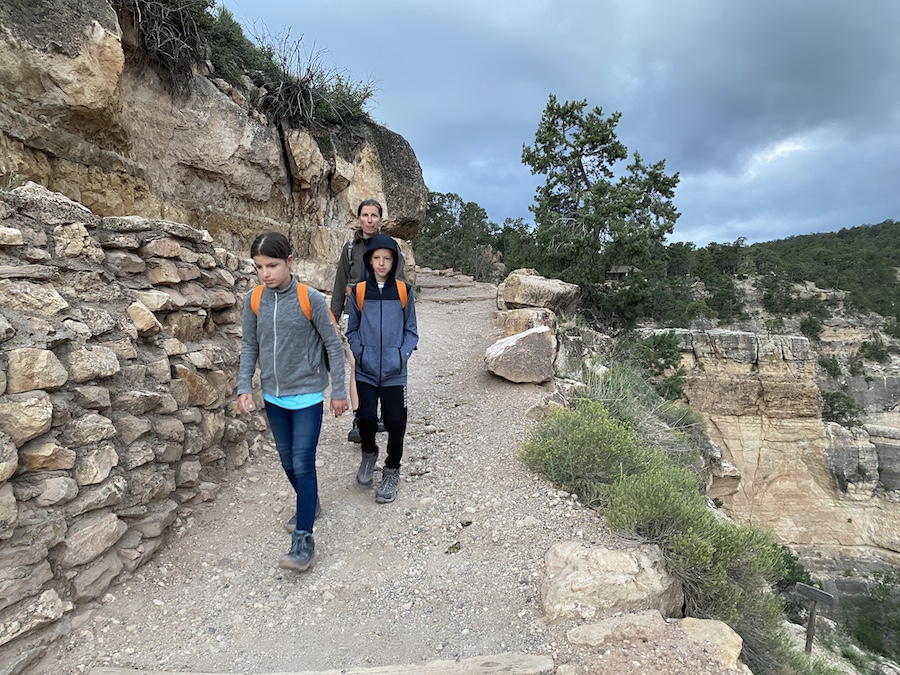 Resthouses sme si síce obzreli, ale zastavovali sme len na chvíľku, lebo sme veľmi nepotrebovali. Tie budú dôležitejšie pri ceste naspäť.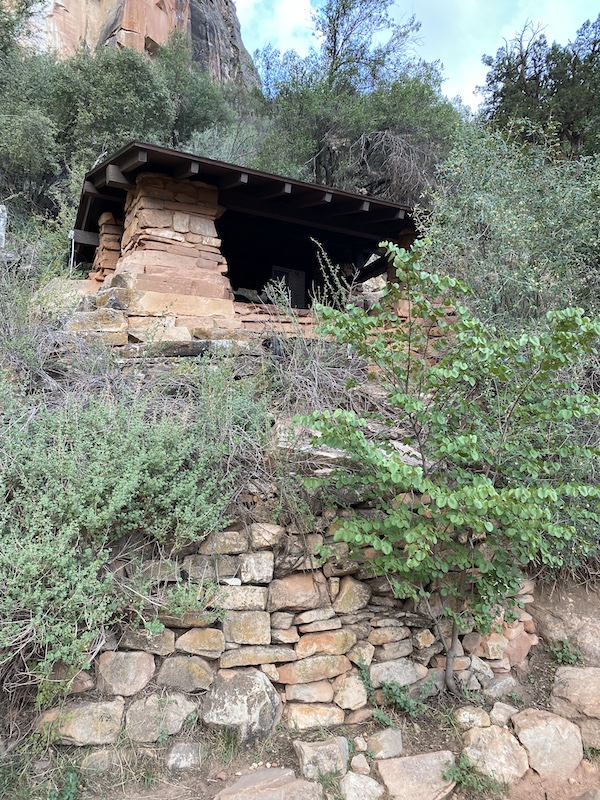 Na chodníku okrem nás ešte dvaja vychechtaní chalani, ktorí mali plán ísť v ten deň k rieke a naspäť. (Jednému z nich som asi na polceste dávala leukoplast na otlaky.) Inak pokoj a kozy rohaté.
Počasie tak akurát, ani zima, ani teplo. Takmer som si to vychutnávala. Jediné, čo vrhalo tiene na dokonalosť, bola vedomosť, že toto pôjdeme s deťmi zajtra hore. Že každý krok, ktorý teraz spravíme, každý z tých vyše 1300 výškových metrov, ktoré dnes ideme dolu, budú musieť zajtra vyšlapať hore. Že nie je žiadny plán B, ak ma Kika (zase raz) zajtra niekde na polceste bude informovať, že toto je najhorší výlet ever, a že ona už nikam ďalej nejde. Fyzicky sme na to všetci mali, ale nebolo vôbec jasné, ako to pôjde zajtra.
Deti vedeli do čoho idú, rozprávali sme sa o tom dosť. Realisticky plus trochu málo strašenia. Vedeli, že ak povedia nie, tak spravíme menší (jednodňový) výlet. A povedali, že chcú ísť. Akurát my sme vedeli, že nemajú úplne predstavu, čo ich čaká.
Niesli si každý svoj spacák, fľašu s vodou, sandále a niečo na jedenie.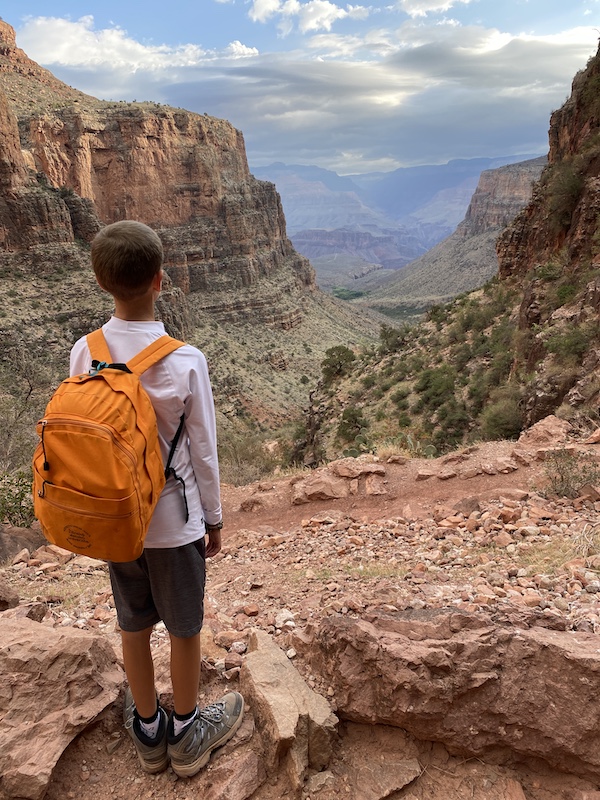 Značka pri 3-mile restouse:
Kúsok od Indian Gardens sme stretli aj mulice. Aj tých bolo menej, než sme si pamätali z predchádzajúcich razov na tomto chodníku.
A keď sme zišli dolu, tak sme našli husté blatisté Colorado. Vôbec sa nepodobalo na to modrozelené, ktoré sme videli z Horseshoe Bend pred pár dňami.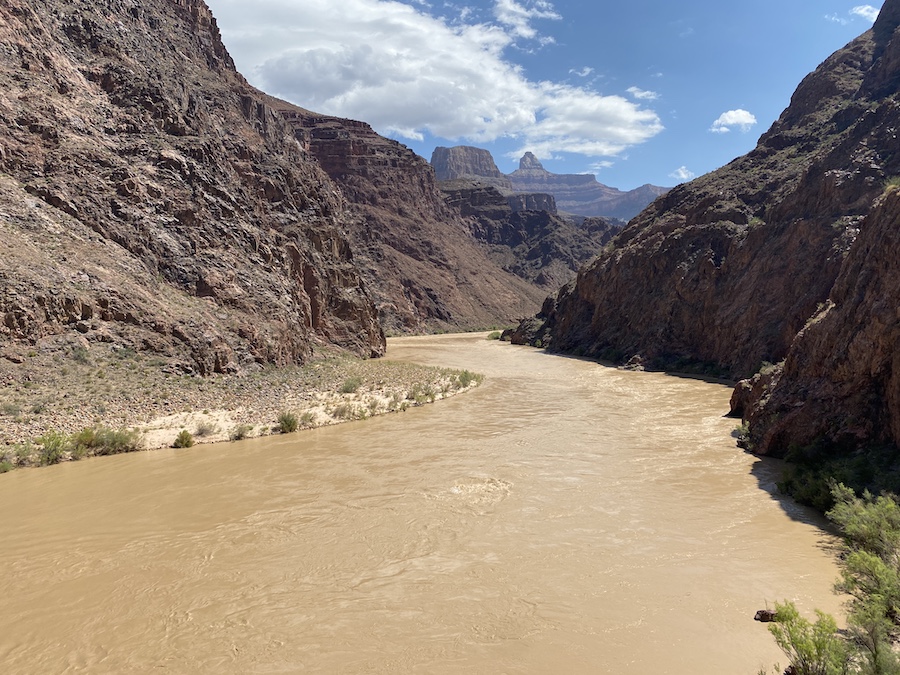 Chvíľu ešte po rímse popri rieke, potom cez most a do Bright Angel Campground.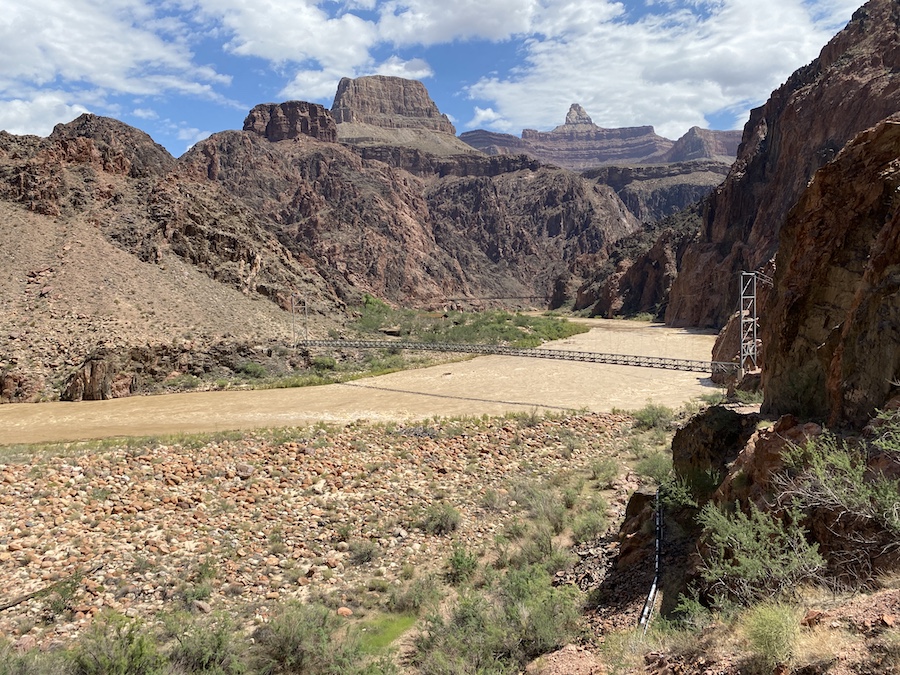 Chladivá voda (Bright Angel Creek, ktorý sa vlieva do Colorada) je výborná na ubolené nohy.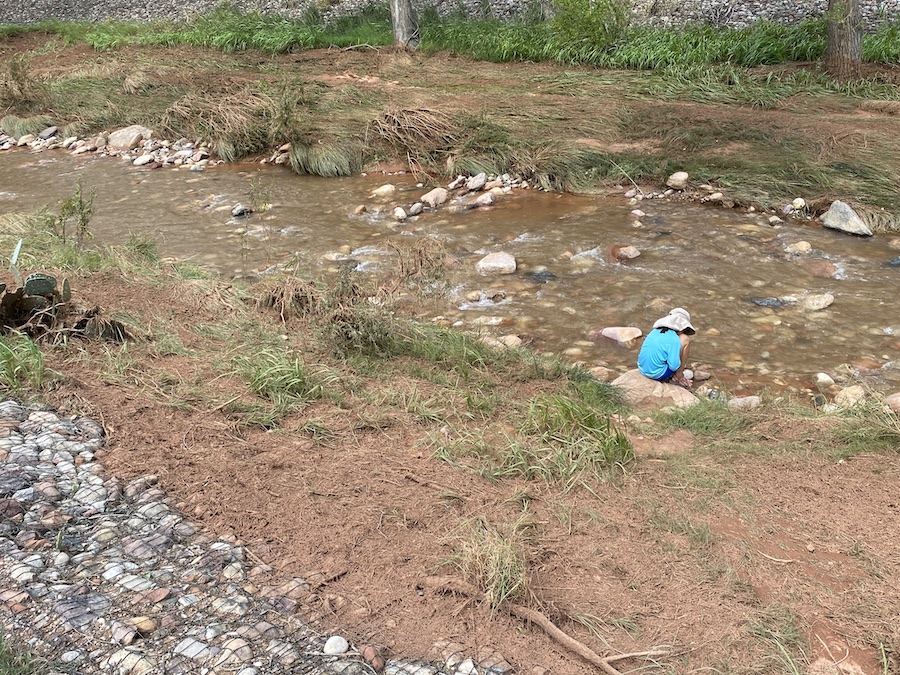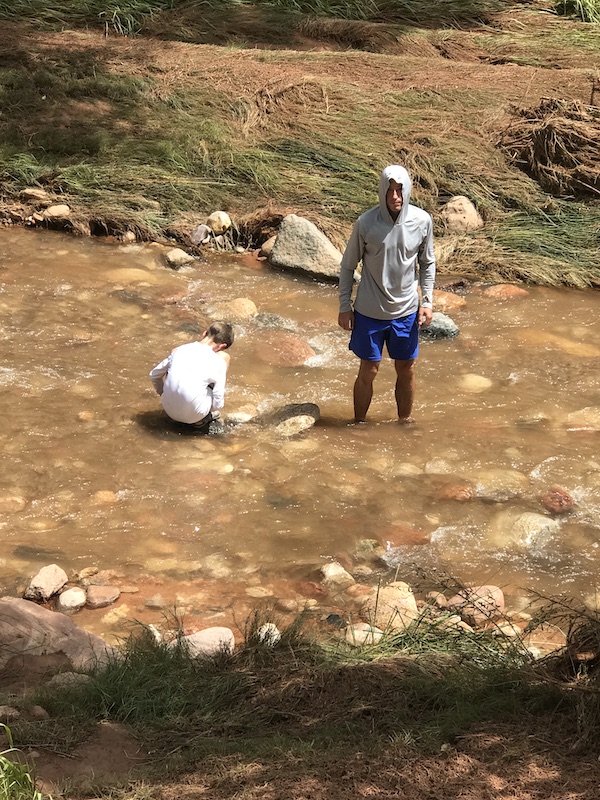 Potok bol taký, ako sme si ho pamätali, ale po oboch stranách bolo vidno, pokiaľ tiekla voda pred dvoma dňami po búrke. Rangerka hovorila, že veľká hučiaca voda išla až večer potme, takže to úplne dobre nevideli, ale že takéto niečo tu za posledných 10 rokov nemali.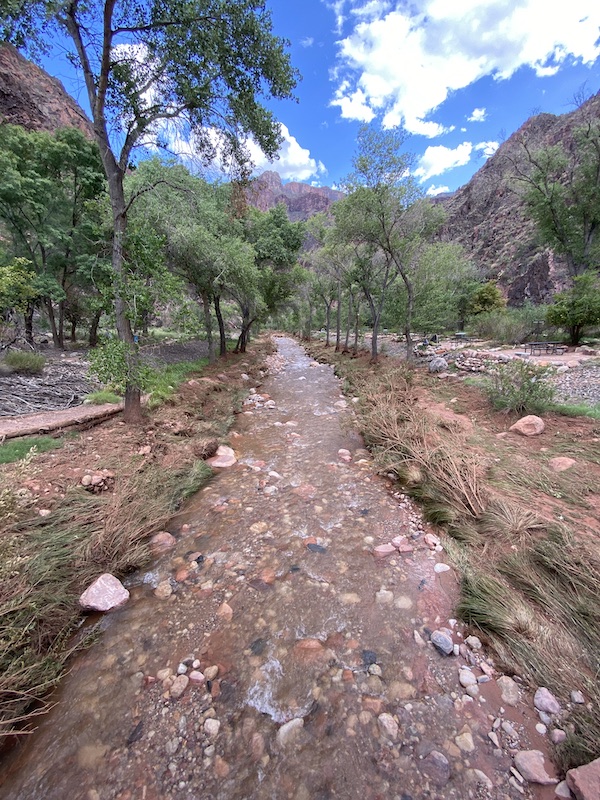 Na pláne sme nemali už nič iné, tak sme len odpočívali.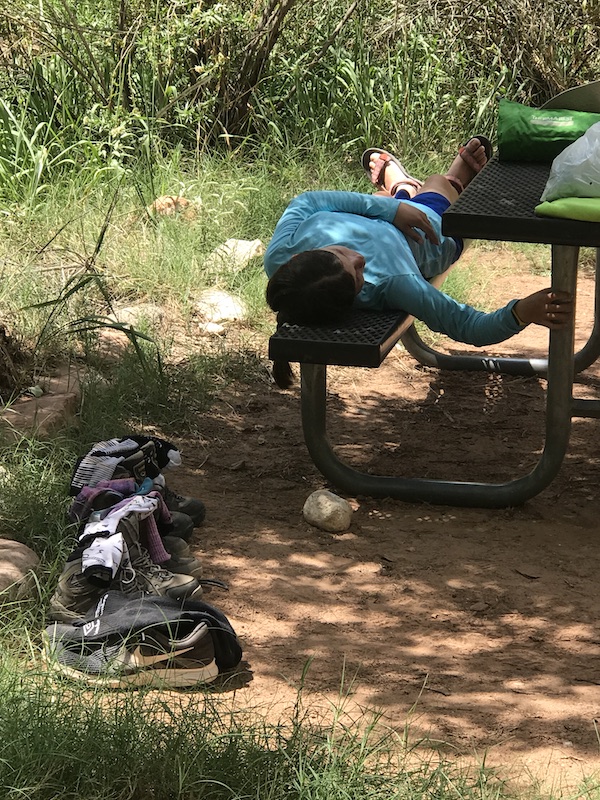 Kubko sa učil pískať na tráve: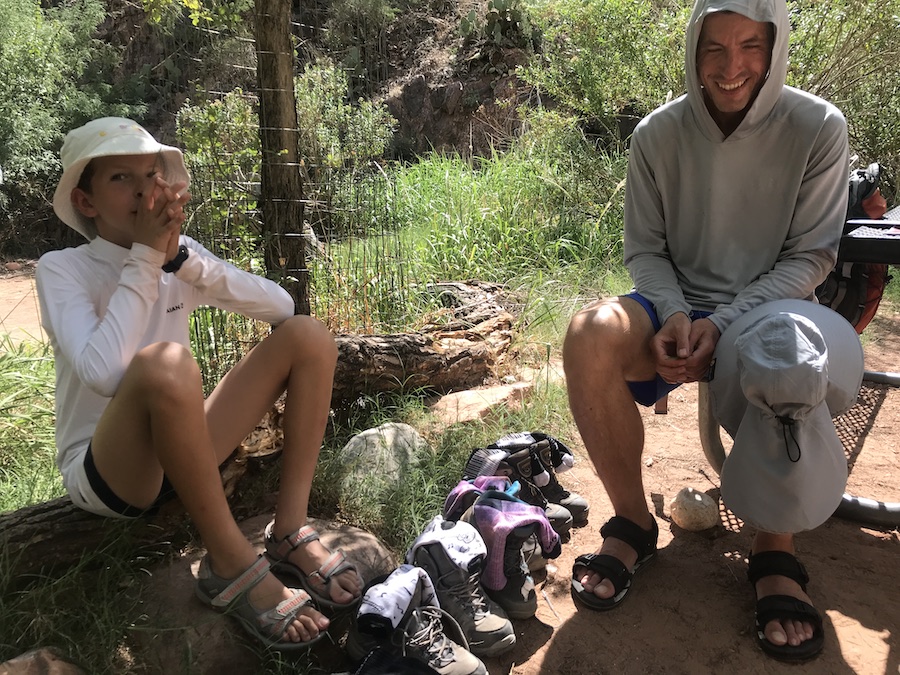 Ja som sa išla ešte pozrieť ku rieke (nikomu sa nechcelo ísť so mnou). Ale teda aj konzistencia aj vodné víry odrádzali od fyzického kontaktu.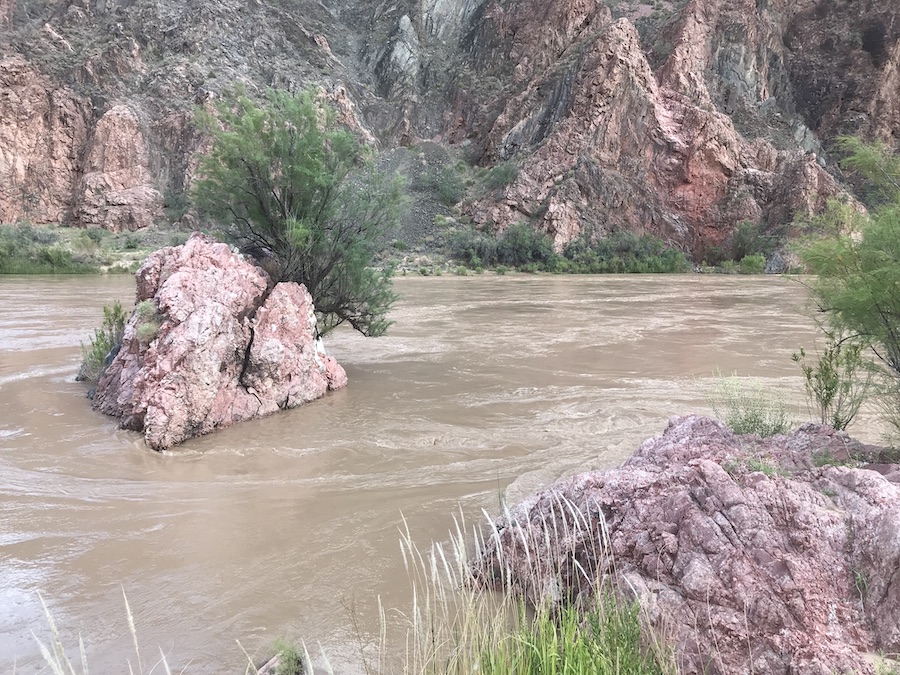 Druhý most, ktorým sa ide na South Kaibab trail. Ten je trochu kratší ako Bright Angel a má parádne výhľady, lebo ide "po hrebeni", ale nemá vodu.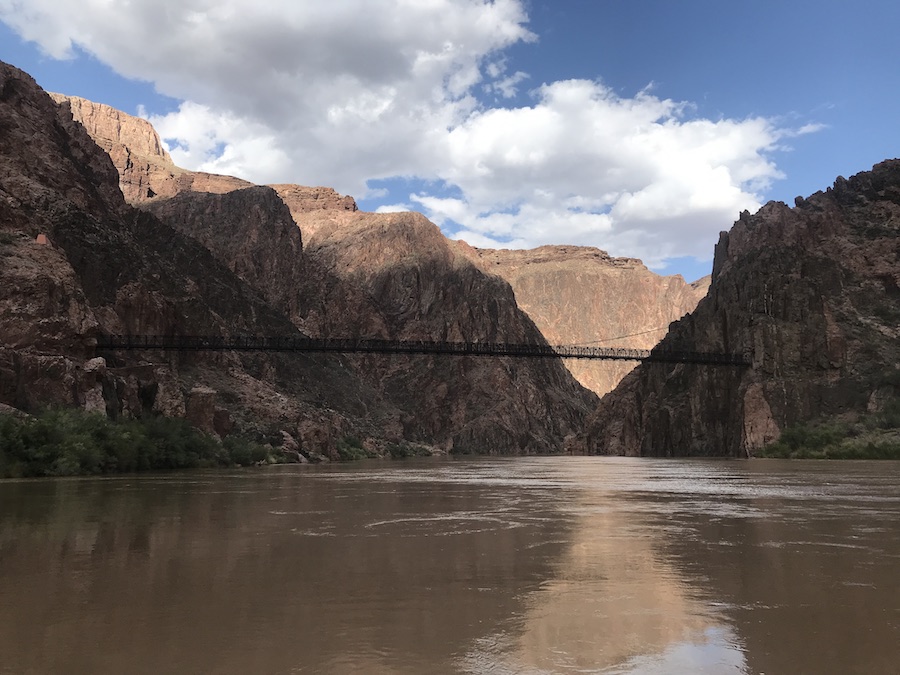 Voda. Krátko po tom, ako sme prišli, sa s nami prišiel porozprávať ranger, že voda, ktorá v kempe tečie, možno nie je pitná. Že majú problém so stanicou pri prameni a že či máme so sebou filter alebo nejaké tabletky. Nemali sme. Tak nám požičal bombu, varič a hrniec, že si máme prevárať. (Naša kuchyna ostala hore v základnom tábore, lebo sme chceli ísť čo najviac naľahko.) To bolo od neho veľmi pekné, ale keď je vonku 40 stupňov, pijeme ako dúhy a máme litrový hrniec vriacej vody… niečo sme prevarili a potom chladili v potoku, ale na druhý deň sme vyrážali s fľašami naplnenými rovno z kohútika. Zhodnotili sme, že dehydratácia by nás zložila rýchlejšie ako nedostatočne nachlórovaná voda z prameňa mimo civilizácie.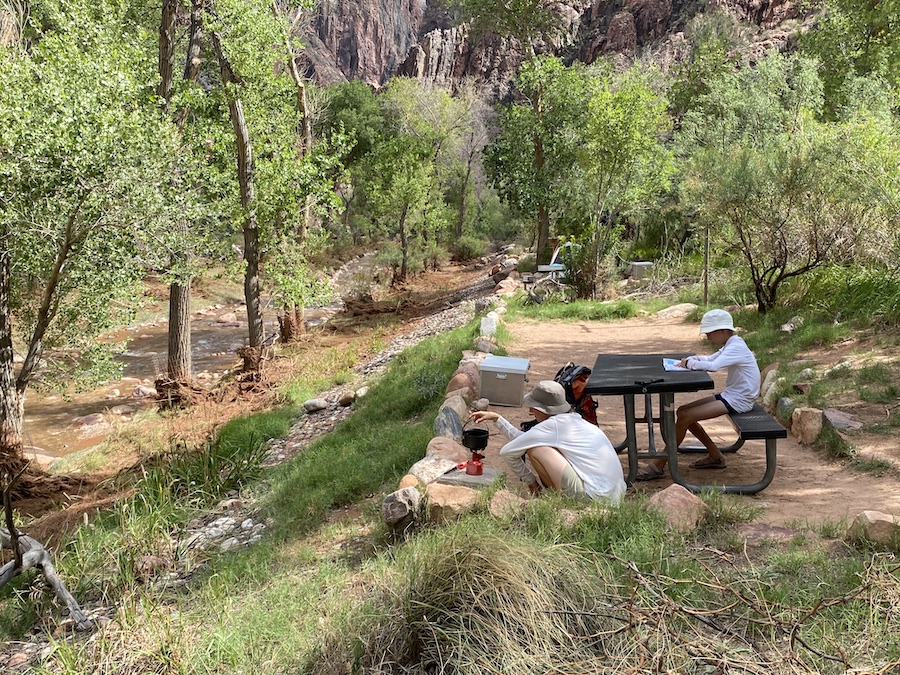 Deti chvíľku pracovali na Junior Ranger pracovných zošitoch, ktoré tam dostali a ja som si potom otvorila masážny salón.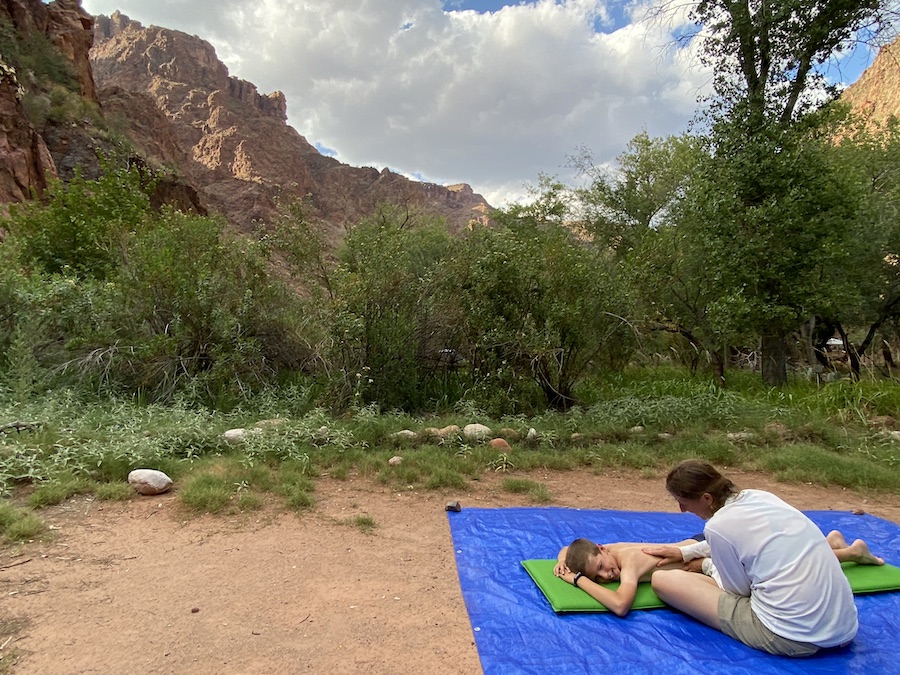 Obdivovali sme strom s granátovými jabkami, ktorý rástol priamo v kempe. Rangerka povedala, že to nie je iná odroda, že aj tieto budú časom fialovo-červené, ale že nezrelé sú dosť nechutné. Niekde tam sú vraj aj figovníky, ale tie sme si nevšimli.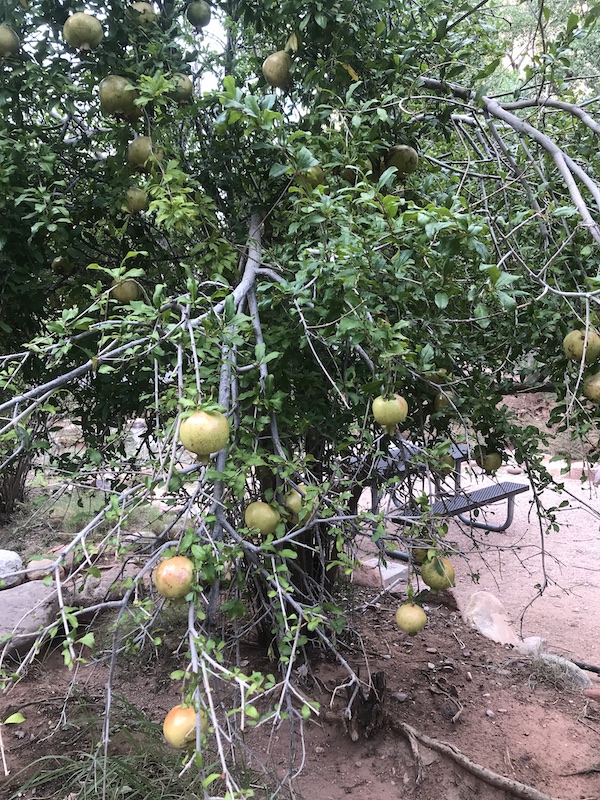 Boli sme si obzrieť aj Phantom Ranch, ale dnu smeli ísť len ubytovaní hostia a to, čo ponúkali cez okienko, nás neoslovilo. Večer sme išli vrátiť ešte do rangerskej stanice kuchynské náčinie. Už sme vedeli, že večerný talk v amfiteátri nebude (vraj majú také nariadenie kvôli covidu, ale ranger s tým vyzeral podobne nespokojný ako my), ale chceli sme aspoň poprosiť, nech nám ukáže škorpiónov pod UV lampou. (Tých sme boli pozerať obidva razy pred rokmi, keď sme tu kempovali.) Ale zjavne sme prišli už po záverečnej, nikto neotváral, tak sme tam nechali hrniec a ostatné veci a uložili sa spať pod hviezdami. (V rámci znižovania záťaže a po predošlých skúsenostiach so spaním v kaňone, sme si stany ani nedoniesli.)