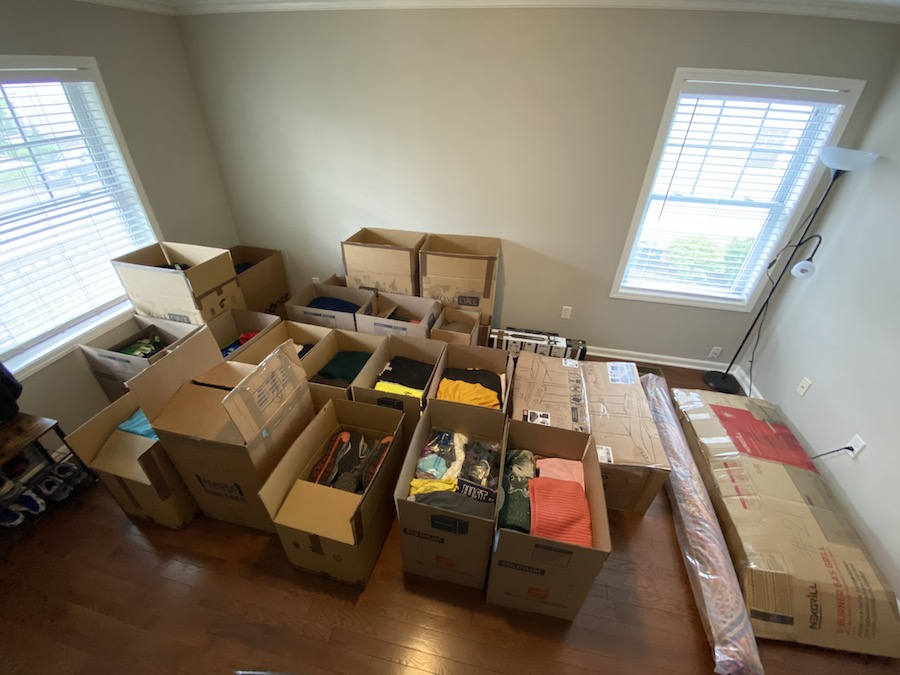 Tentokrát to vyšlo na 27 krabíc (a snáď 4 kufre, to sa ešte uvidí). Sú už na ceste a dúfam, že sa s nimi na druhej strane Atlantiku časom uvidíme. Cestou sem išli lietadlom, ale to tentokrát cenovo vôbec nebola prijateľná možnosť, takže pocestujú loďou a aj keď odchádzajú kus pred nami, dôjdu až kus po nás.
My sme opäť na matracoch, lebo rámy postelí boli jedny z prvých vecí, ktoré sa nám podarilo predať. Zbaviť sa potrebujeme prakticky všetkeho nábytku a vecí v domácnosti a keďže nebolo jasné, čo pôjde ako rýchlo, tak sme postupne začali ponúkať to, bez čoho sme vedeli fungovať. Mňa to ale stále neprestáva fascinovať… napríklad o použitý matrac alebo modrý kôš na recyklovanie je záujem, tie išli bleskovo. Ale starý iMac s veľkou obrazovkou a 1TB pamäte, ktorý sme už nechceli brať naspať, ale ktorý sa stále dá použiť pre deti, na light prácu, zálohovanie fotiek alebo na pozeranie Netflixu, nikto nechcel. Nakoniec ho niekto kúpil, ale nebolo to za oveľa viac než za ten použitý matrac. Divné.
Oproti sťahovaniu pred vyše desiatimi rokmi je zmena v tom, že predtým sa všetko predávalo na craigslist-e. Tam je teraz takmer mŕtvo a všetci sú na Facebook marketplace. Druhý rozdiel je, že celý ten proces je teraz oveľa frustrujúcejší, pretože okrem normálnych záujemcov je na marketplace aj zhruba štyrikrát toľko podvodníkov. Tí sú rôzne šikovní, niektorých človek odfiltruje hneď, ale niektorí sú celkom sofistikovaní, tvária sa seriózne a už len udržiavať toľko konverzácií je vyčerpávajúce.
Zvyšok vecí sme rozdali cez freemarket v našom mestečku. Tam ľudia zoberú všetko: zašlý čajník, z ktorého trochu tečie, plyšové medvede s policajným logom… Ale tiež je to časovo náročné, lebo väčšina vecí sa predáva po jednom, na každú sa prihlási viac ľudí, každý môže prísť vyzdvihnúť inokedy… Takže naše tretrisovanie bolo nielen priestorové – ako veci čo najlepšie naukladať do krabíc – ale aj časové, ako to celé vyskladať, aby to vyšlo akurát.
Čo ešte ostáva? Auto – to sme tentokrát našťastie nemuseli predávať, lebo sme ho cielene zobrali na leasing a vrátime ho deň pred odchodom. Jedálenský stôl so stoličkami – o ten prejavila záujem pani, ktorá kúpila našu obývačkovú sedačku a dohodli sme sa, že si preň príde "na poslednú chvíľu". To je fajn, lebo aspoň môžme normálne jesť. Sušiak na prádlo, jedna Kallax polica, ale tie sa predávajú rýchlo, takže tam máme ešte veci a inzeráty vyvesíme tiež tesne pred. Matrace – tie vyvesíme kúsok dopredu s konkrétnym dňom vyzdvihnutia a budeme dúfať, že to vyjde. Ak nie, tak niekoho poprosíme, nech ich vyhodí. Zbytky kuchyne (hardware aj poživeň) a drogérie dostanú susedia a nejaké drobnosti ešte rozdáme (sprchový záves s mapou sveta, neamerický vysávač, metla, stojatá lampa…) A potom už naozaj len dúfať, že ten zvyšok sa nám zmestí do kufrov.