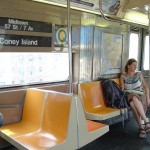 Metro v New Yorku je iné ako v Prahe alebo vo Viedni. To, že je rozsiahlejšie sa dalo čakať. Aj to, že sú zastávky, kde by som večer sama nevystupovala. To, že keď sa človek pozorne zahľadí, vidí, ako cez koľajnice prebehujú potkany, už trochu menej. Ale to, že sa môže stať, že nastúpite do správneho vlaku, ale ten zrazu nestojí tam, kde má, alebo, čo je ešte zaujímavejšie, úplne zmení trasu, človekom, ktorý sa ponáhľa, môže trochu zamávať.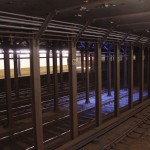 Napriek tomu, že sa volá subway, asi 40% vedie nad zemou (prípadne na mostoch nad vodou). Má 23 liniek, 3 prípojné (shuttle) a vyše 460 zastávok. Vlaky sú v zásade dvoch druhov – expres alebo local. Ako hovoria už názvy, local je lokálny a stojí na každej zastávke, expres je rýchly a stojí len na niektorých. Potiaľto ľahké. Lenže vlaky sú väčšinou časť svojej cesty local a časť expres. Napríklad metro môže na Manhattane stáť všade, ale akonáhle príde do Queens, už stojí len na každej piatej zastávke. Navyše to, či (a kde) sú expres alebo local závisí aj od hodiny dňa alebo dňa v týždni.
A aj keď už máte úplne jasno v tom, že ako by sa v danej chvíli dané metro malo správať, vôbec nie je rarita, že zrazu sa len z reproduktorov ozve, že meníme route, namiesto pôvodnej trasy ideme inou. V tom lepšom prípade hláseniu rozumiete a ste schopní vydedukovať, či je výhodnejšie prestúpiť alebo či sa predsa len oplatí cestovať ďalej touto linkou. V tom horšom prípade sa vám prihovára napríklad černoška s takým brutálnym južanským prízvukom, že v jej prejave zachytávate len stopové prvky angličtiny a môžete akurát s napätím očakávať, kde najbližšie zastanete.
Nie je to však až také tragické, lebo v každom vozni je mapa so všetkými linkami a zastávky sú dobre značené, takže sa dá pomerne rýchlo zistiť, či človek ide dobre alebo nie. Navyše cestovné platí aj na prestupy, takže väčšinou nie je problém aj s prípadným vracaním sa o kúsok naspäť, ak to prešvihnete s expresom. Väčšinou preto, že niektoré malé zastávky vás predsa len najprv vyvedú na ulicu, keď sa snažíte prestúpiť na opačný smer a to znamená ďalší prechod cez turnikety. Opačným extrémom je napríklad Times Square, kde sa stretáva tuším 12 liniek a prestup môže byť pre nepripravenú dušu veľmi zaujímavý.
U nás je na metro – ako inak – najväčším odborníkom Mišo. Dokonca v práci absolvoval povinné školenie správania sa v prípade, že by sa musel pohybovať po koľajniciach. Školenie zahŕňalo nácvik vtláčania brucha v 30 centimetrových záchranných výklenkoch, keď okolo fičí metro a spodok dverí má na úrovni tváre stojaceho človeka. (Keby som to vedela dopredu, tak ho na to školenie asi ani nepustím.) Čo našťastie nezahŕňalo, ale čo funguje, je záchrana pod vlakom. V niektorých staniciach sú totiž koľajnice spravené špeciálnym spôsobom (vidno to aj na obrázku vpravo), tak, aby sa do jamy medzi pražcami zmestil človek, ak by už nestíhal ujsť pred prichádzajúcim vlakom. Že to funguje, sa Newyorčania presvedčili pomerne nedávno, keď na koľajnice spadol muž, ktorý mal pravdepodobne záchvat. Druhý muž ho zachránil tým, že ho priľahol a obidvaja prežili, aj keď ponad nich prešlo metro – už nestihlo zabrzdiť.
Nedávnou novinkou je, že po 60tich rokoch sa bude stavať nová linka – T. Má ísť popod druhú avenue a predpokladaný čas stavby je 13 rokov. Obyvatelia druhej avenue sa môžu tešiť, že budú mať blízko zastávky, ale zase na druhej strane práce na povrchu sú povolené od siedmej ráno do desiatej večer a tunel v hĺbke zhruba 25 metrov sa bude raziť 24/7, takže v najbližších rokoch tam budú mať pomerne rušno. Túto linku už dvakrát začali stavať, ale neúspešne (v rokoch 1925 a 1972), tak snáď im to do tretice vyjde.
Aj keď metro (najmä v lete) smrdí, aj keď je na nástupištiach v lete na nevydržanie teplo (vozne sú klimatizované), aj keď je niekedy preplnené (v roku 2006 premerne 5 miliónov pasažierov denne), stále je to najdostupnejší a v drvivej väčšine prípadov aj najrýchlejší spôsob prepravy v New Yorku.