V rámci rozširovania obzorov a ochutnávania národných kuchýň sme sa raz s Mišom vybrali na sushi. Japonských reštaurácií je tu ako maku a sushi sa teší veľkej obľube, takže naše očakávania boli asi väčšie než mali byť.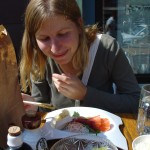 Aby sme mohli aj porovnávať, objednali sme si jeden tanier sushi a jeden sashimi. Človek neznalý veci si pomyslí, surová ryba ako surová ryba. Ale nie je to tak. Technicky vzaté, ani sushi nie je surová ryba. Sushi je vlastne pomenovanie pre octovú ryžu. A na nej už môže byť naukladané čokoľvek od surovej ryby cez chobotničky, zeleninu alebo mäso. Naopak sashimi je práve tá surová ryba, ku ktorej vám už ryžu nedonesú – iba wasabi (superštipľavý zelený chren, ktorý má vyštípať všetky prípadné baktérie v surovej rybe) a takú zvláštnu nastrúhanú reďkovku.
A také nám veru aj doniesli. No čo vám budem rozprávať. Aj sme to skoro zjedli, ale zhodli sme sa na tom, že už sa asi nevrátime. Ryby máme síce obidvaja radi, ale výrazne viac nám chutia tepelne upravené.