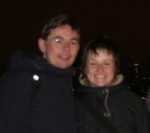 Máme hneď dva typy noviniek. Tie prvé sú o tom, čo sa u nás dialo za posledné dva týždne – a bolo veru rušno – a tie druhé sú o tom, že aj keď sme už v Amerike čistého času o dosť viac než rok, stále narážame na veci, ktoré nás prekvapujú. Ale pekne poporiadku.
Minulý týždeň u nás strávili pár dní Katka a Jarda. Dali si rande v New Yorku – Katka priletela z Prahy, Jarda došoféroval z Chicaga. Popozerali hlavné turistické miesta, ktoré v New Yorku treba vidieť a pochválili, že máme pekný výhľad. Škoda je len to, že sme sa im veľmi nemohli venovať, lebo sme už obidvaja pracujúci, ale zase na druhej strane, nevideli sa už nejakú dobu a myslím, že im bolo dobre aj bez nás. Najbližšia návšteva budú Mišovi rodičia v máji a sme zvedaví, ako sa bude páčiť im.
Ako je to s mojou prácou? Robím s dátami. Áno, ja viem, že to je trochu všeobecné, takže bližšie. Predstavte si súdny proces ohľadom autorských práv, v ktorom figuruje nejaká spoločnosť. Súčasťou dôkazových materiálov sú napríklad e-mailové archívy zamestnancov tejto spoločnosti za posledných niekoľko rokov. A právnik chce teraz zistiť, či niektorý zo zamstnancov v niektorom zo svojich e-mailov (prípadne v prílohe niektorého e-mailu) nepísal niečo o daných autorských právach. Nevie, kto by to mohol byť, nevie, kedy to mohlo byť, nie je šanca, aby pozrel všetky e-maily a ich prílohy, niektoré môžu byť dokonca zaheslované. Doručí e-mailové archívy môjmu zamestnávateľovi. Naspať dostane databázu, v ktorej sú všetky e-maily a aj prílohy a môže v nej vyhľadávať podľa kľúčových slov a aj iných kritérií. Databáza obsahuje aj texty získané z .pdf súborov, z excelu, z wordu a podobne. Spoločnosť, pre ktorú robím ponúka aj všeličo iné, ale toto je príklad toho, čím sa zaoberá náš tím.
Dostanem do rúk harddisk, dvdčka, alebo ftp adresu, kde je zdoj dát a výstupom je databáza. Nie, neprepisujeme to ručne, ani nerobíme ctrl c, ctrl v. Prvý týždeň som mala nalieváreň, aby som sa naučila základy o softwéroch, ktoré teraz používam – stále mám množstvo hlúpych otázok. Neviem presne, na koľkých počítačoch robíme, ale na hlavu sú to desiatky. A tak sa učím o linuxe a databázach a presúvam a spracovávam gigabyty dát. Spýtajte sa neskôr, po prvých dvoch týždňoch to asi lepšie nevysvetlím.
Nevýhodou je, že robím od druhej poobede do jedenástej večer. Keď k tomu prirátam ešte dochádzanie, tak z voľného času mi značne ubudlo. Ale pozitívne je, že stále môžem chodiť plávať ráno, keď je bazén prázdny. Okrem toho, je to našťastie v bezpečnej časti Manhattanu, blízko zástavky metra do Hobokenu, ktoré chodí celú noc, takže sa mám ako dostať domov. Predsalen to nie je ideál, ale čo už. Darovanej práci na zuby nepozeraj, do konca júla nie je ďaleko, v auguste prázdniny a od septembra do školy.
O škole napíšem nabudúce, ale teraz ešte k tým druhým novinkám. Na účet mi prišla prvá výplata. Ale predtým trochu poblúdila. Keď som totiž vypisovala na príslušnom formulári číslo účtu, uviedla som (správne) moje číslo účtu, ale 9-miestny "kód banky" som opísala z Mišovej šekovej knižky (vlastnú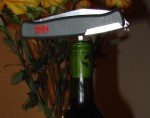 nemám, načo? a na výpise z účtu sa ten kód nepíše). Banku máme predsa rovnakú. Ale výplata nechodila. Zisťujem, čo sa deje. No čo by sa dialo? Zamestnávateľ poslal výplatu presne, kam som kázala. Ale "kód banky" pre Mišov účet nie je taký istý ako pre môj. Každý deň sa človek dozvie niečo nové. (Ešte šťastie, že sa tá výplata vrátila nedoručená. Keby pristála na cudzom účte, ktovie, či by som z nej niečo videla.)
Problém s výplatou sa poriešil. Problém s vínom nie. Jarda u nás v chladničke zabudol fľašu vína. Tak snáď ju nenecháme pokaziť. Dnes boli na večeru cestoviny = vhodná príležitosť. Nie sme zrovna nejakí pijani, ale skúsenosti s otváraním vína by boli. Nepomohlo. Mišo sa snažil asi 15 minút a fľaša odolala. Zátka sa ani nepohla. Tak neviem, či je to nejaká finta. Fľaša čaká neotvorená na svojho dobyvateľa. (Pili sme Becherovku s tonikom.)