Warning
: Illegal string offset 'src' in
/data/3/a/3a7e1bc0-13d6-4f23-9dab-d8a2a009ce43/jancigovci.com/web/public_html/wp-content/plugins/vipers-video-quicktags-migrator/vipers-video-quicktags-migrator.php
on line
322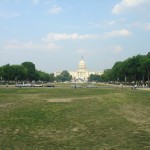 Po Niagarských vodopádoch sme sa vybrali do Washingtonu. Tentokrát už nie autom, lebo s parkovanim by to bolo asi komplikované, ale autobusom. Po Washingtone sme sa prepravovali metrom, ktoré bolo po New Yorkských kobkách príjemnou zmenou. Trochu sme to neodhadli s bývaním, lebo sme sa ubytovali na konečnej modrého metra (to je už Virginia), čím sme si pripravili dosť dlhé dochádzanie, ale zvládli sme to.
Washington ako taký nás trochu prekvapil. Tak nejako európsky sme očakávali niečo trávnaté, zakvitnuté, čisté a načančané. Namiesto toho sme našli mesto, ktoré sa síce pasuje za hlavné mesto sveta, ale trávniky majú do anglických ďaleko a jazierka plné rias sa síce páčia húfom husí a kačiek, ale návštevníkom už menej (dnes by veru aj tá Forrestova Gumpova kočka zaváhala, či skočí do Reflection Pool). Husi a kačky navyše štedro značkujú aj priľahlé oblasti, takže niekedy to bol slalom.
Svojím podielom prispejú aj ľudia. Tak nejako to vyšlo, že sme vo Washingtone boli na Memorial Day, čo je sviatok amerických padlých. Cez mesto sa prehnali veteráni na motorkách. (Tu sa bavíme o desiatkach tisícov motorkárov patriacich do združenia Rolling Thunder, ktorí takýmto spôsobom už 20 rokov upozorňujú na problém POW/MIA = prisoners of war/missing in action.) K tomu problém nájsť o deviatej večer reštauráciu, ktorá nie je ani zatvorená, ani príliš drahá (áno, priznávam, už sme rozmaznaní New Yorkom kde metro jazdí celú noc a najesť za prijateľnú cenu sa dá aj o tretej ráno). Celkový dojem bol rozpačitý.
Pozreli sme si Pentagon (samozrejme len zvonku a fotiť sa aj tak nesmelo – tú dieru po lietadle zamurovali, ale vidno, kde bola), Capitol (tiež len zvonku, lebo vzhľadom na sviatok neboli tento víkend turistické prehliadky), Washington Monument, Reflection Pool (to je ten bazénik, kam skočila Gumpova kočka), Lincolnov pamätník, Biely dom a Arlingtonský cintorín (tam majú pochovaných skoro 300,000 padlých vojakov a veteránov, vyše 20 pribúda každý deň). Krátke video "plávajúcej" čestnej stráže pri pomníku neznámeho vojaka:
Čo sa ale vo Washingtone naozaj oplatí vidieť sú múzeá, ktoré patria do Smithsonian Institution. Lemujú po obidvoch stranách National Mall. My sme sa vybrali do National Air and Space Museum (múzeum letectva a vesmíru), kde sme si pozreli všeličo od pôvodného lietadla bratov Wrigtovcov a Gagarinovho skafandra, cez ruské záchody pre kozmonautov (pre dievčatá a pre chlapcov) a lunárny modul po Imax 3D o ISS (a bolo to naozaj 3D) a Enterprise. Druhá polovica tohto múzea je pri letisku Dullus, kde majú aj lietadlové aj vesmírne hangáre. Tu mladý Picard videl prvýkrát nadsvetelnú loď. Vidím to tak, že ešte prídeme, lebo sme nestihli ani len toto jedno múzeum pozrieť poriadne, čaká nás ešte to na Dullus aj niektoré ďalšie na National Mall.
Ak niekoho zaujíma vstupné – neplatí sa (iba za ten Imax). Je to preto, že Smithsonian Institution bola založená z dedičstva britského vedca Jamesa Smithsona (ktorý mimochodom v Amerike nikdy nebol), aby "zvyšovala a šírila poznanie medzi ľuďmi". Dnes si čiastočne na seba zarába sama (obchody, časopis) a čiastočne ju financuje americká vláda.
Neodolali sme ani botanicke záhradej – niektoré pekné obrázky tu – a odtiaľ rovno na stanicu a naspäť do New Yorku. Mišo to zhodnotil celkom výstižne: Washington je mesto úradníkov, pamätníkov a múzeí; v New Yorku to žije.