Warning
: Illegal string offset 'src' in
/data/3/a/3a7e1bc0-13d6-4f23-9dab-d8a2a009ce43/jancigovci.com/web/public_html/wp-content/plugins/vipers-video-quicktags-migrator/vipers-video-quicktags-migrator.php
on line
322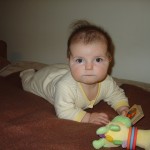 … alebo spím ako bábätko.
Vrtuľa je nová Kikina prezývka, lebo sa nám pred týždňom naučila točiť už aj z bruška na chrbát. Teraz je jej najobľúbenejšou činnosťou prevaľovať sa tam a naspäť. Potiaľto fajn. Ale vedľajší účinok je ten, že sa to snaží trénovať aj v noci, keď sa zobudí v postieľke. To už nie je až tak fajn.
Je totiž pravda, že spím ako bábätko – presne ako to naše bábätko. Ale ono až tak dobre nespí.
Pred štyrmi mesiacmi som sa tešila, aké je to super zase môcť spať celú noc. Táto fáza u nás trvala 3 týždne. Potom sme sa zase začali budiť raz, potom dvakrát, potom tri a pomedzi to bolo zopár nocí, keď sme boli hore toľkokrát, že som prestala počítať. To sú tie noci, keď Kika končí u nás v posteli, lebo od určitého momentu idú výchovné stratégie bokom a jediný cieľ je maximalizovať celkový objem spánku našej rodiny.
Nevieme, čím to je, ale teórií máme niekoľko.
Jedna je práve to točenie. Od samej radosti ju to zamestnáva viac ako spánok a nevie sa ukľudniť natoľko, aby pokojne chrnela? Druhá sú zuby. To je naša teória vždy, keď už nevieme, že čo… ale tentokrát už asi naozaj (jasné), lebo keď Kika nájde nejaký prst – je jedno či svoj alebo niečí iný – tak ho začne ohrýzať (a nie cucať ako bývalo zvykom). Tretia je, že sme ju naučili zaspávať pri cucaní…
Nechať ju ukričať sa do spánku neprichádza do úvahy. A tak som si objednala a prečítala knižku no-cry sleep solution. Review bude, keď budem vedieť, či pomohla alebo nie. Zatiaľ som zistila, že veľa vecí, ktoré radí autorka, už robíme. Tie zvyšné začíname testovať dnes v noci.