Od včera rána sneží bez prestávky. Vonku je 40 cm snehu, Kikine jasle zavreli už včera na obed, moju školu dnes ráno. Vyzerá to tak, akoby Perinbaba vedela, že dnes nie som schopná fungovať a poskytla všeobecne akceptovateľný dôvod, prečo ostať zašitá doma.
O pol druhej v noci prišla správa, že zomrela moja starká. Nebolo to úplné prekvapenie, lebo som vedela, že sa nemá dobre, ale pripravená som na to nebola. Najviac mi je ľúto, že to je ďalší človek, ktorého som "zmeškala". Keď sme prišli na Slovensko cez Vianoce, chceli sme za ňou aj s Kikou ísť, tešila sa na prvé pravnúča, ale kým sme mali iné návštevy, dostala porážku a išla som za ňou už bez Kiky na JISku. A tak sa teraz snažím na ňu striedavo aj myslieť aj nemyslieť. Bolí to a pritom viem, že tam je niekto, koho to bolí ešte viac.
A nemám jej ani čo povedať na útechu, lebo sama viem, že nič z toho nepomôže. A že to bude bolieť dlho. A že neviem, či to niekedy prestane…
Keď táto správa prišla, tak som bola hore. Chcela som spať, ale nedalo sa. V stredu som totiž po 18-mesačných prázdninách (ak nerátam čas po pôrode) dostala znovu menštruáciu – ak sa to tak dá nazvať, lebo na to, čo som mávala predtým sa to veľmi nepodobá. Kŕče, miestami boli porovnateľné s pôrodnými kontrakciami… a veľa krvi. Viem, že sa hovorí, že skutočný objem stratenej krvi pri menštruácii je menší ako sa pocitovo alebo na pohľad zdá, ale toto je prvý raz, keď naozaj viem, koľko tej krvi je.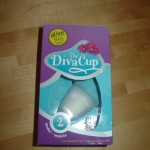 Už keď som hľadala alternatívy k umelým plienkam, našla som aj alternatívy k umelým vložkám a tampónom. Látkové vložky narazili na podobnú bariéru ako látkové plienky, ale čo ma oslovilo, bol menštruačný pohárik – Divacup. A tak som pred pár týždňami jeden kúpila, lebo mi bolo jasné, že ako Kika rastie, kolobeh hormónov na seba nedá dlho čakať. Návod na použitie a internet hovoria svorne, že priemerná žena ho za 12 hodín naplní zhruba do polovice. Ja som vylievala plný každé dve až tri hodiny. A keď už nestačil ani pohárik s vložkou, použila som Kikinu plienku.
Teraz už je trochu lepšie. Ale stále sneží a aj krv aj slzy stále tečú…