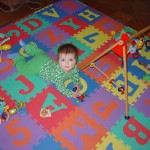 To je niečo, čo sme zaviedli u nás doma. V záujme toho, aby sme si nezapratali všetok životný priestor, keď má pribudnúť nejaký nový krám, aspoň jeden starý musí preč.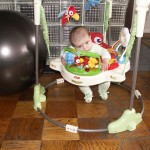 Už nejaký čas sa pokúšame Kiku motivovať, aby viac lozila. Väčšinou sme ju nechali na rozloženej sedačke v obývačke, ale to musel vždy niekto dávať pozor, aby sa neskotúľala dolu a predsa len tam nemala až tak veľa miesta. Len tak na zem sme ju dávať nechceli, lebo tam máme zimu a keď sme jej prestreli deku, tak sa jej tam nedalo dobre loziť, lebo sa jej šmýkalo. A tak sme sa rozhodli kúpiť penovú abecedu.
Preč išiel skákač. Jednak z neho už vyrástla – aj keď bol v najvyššej polohe, tak naň už bola príliš vysoká – a druhak, aj tak ho používala inak, ako bol myslený – rada sa v ňom hrala a krútila dookola ale nenaskákala v ňom ani zďaleka toľko, koľko sme čakali. Pozitívne je, že sa mi ho podarilo predať za toľko, za koľko sme ho kúpili. Ale teda peniaze sa dlho neohriali, lebo rovno poputovali na abecedu.