Warning
: Illegal string offset 'src' in
/data/3/a/3a7e1bc0-13d6-4f23-9dab-d8a2a009ce43/jancigovci.com/web/public_html/wp-content/plugins/vipers-video-quicktags-migrator/vipers-video-quicktags-migrator.php
on line
322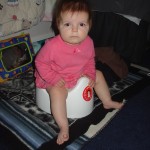 Dnes má naše mláďa desať mesiacov! Takže, čo má nové… so spaním sme na tom celkom dobre. Bez nejakých veľkých protestov chodí spávať o pol ôsmej, v noci sa vä荹inou zobudí raz okolo druhej/tretej na desať minút a trochu mlieka a potom už definitívne okolo pol šiestej (ak máme veľké šťastie ako dnes ráno, tak sa nám ju podarí ešte uspať a môžeme si schrupnúť do siedmej!). Cez týždeň spí cez deň trikrát – v aute cestou do školy, cez obed v jasliach, keď tam majú zhasnuté, a poobede v aute cestou zo školy. Cez víkend spí cez deň dva razy – doobeda a poobede.
Jedáva už všeličo – vä荹inou ráno a večer s nami pri stole a okrem toho dvakrát v jasliach. Ale sú dni, keď neviem, čo robiť, lebo zje porciu ako zvyčajne, potom ešte druhú a ďalej sa obzerá, že čo by si tak ešte dala. Vtedy jej už vä荹inou ďalšiu nedám a doplníme to mliekom. Nie, že by som jej nedopriala trochu jedla, ale nechcem, aby ju bolelo bruško… A pije sama z pohárika so zobákom.
Bľaboce nám čím ďalej tým viac a vymýšľa rôzne nové zvuky. Hovorí aj "mama", ale je jej jedno na koho a znamená to skôr "zober si ma".
Loziť sa jej zatiaľ stále nechce, ale plazí sa vcelku svižne, ako vidno na videu:

Niekedy sa zdvihne na kolená a ruky a začne sa tak hojdať, ale zatiaľ neprišla na to, že aj takto sa dá pohybovať.
Veľa vecí jej je smiešnych – keď ju šteklíme na brušku, alebo keď kývame hlavou áno alebo nie… a najobľúbenejšia hra je schovávačka pod plienkou alebo uterákom. Schová si tvár, počká, kým poviem "Kde je Kika?" a potom ju odokryje. A ide sa popukať, keď sa občas nespýtam kde je, ale zdvihnem rožtek plienky a nakuknem.
Dostala nočník, tak ju občas dávame sedieť (keď sa zobudí a pred kúpaním). Zatiaľ sa nám darí celkom triafať, že nám väčšinou aj niečo vysedí (pred kúpaním takmer vždy). Ale teda nerobíme si ilúzie… toto je ešte na dlho a aj keď ju po výkone pochválime a ukážeme, že čo to tam je, tak ešte jej nedošlo, že kvôli tomu tam vlastne sedí…
Jasle. Lepšie. Už tam spí, je, bľaboce, hrá sa. Mali sme už párkrát, keď neplakala, keď som odchádzala a vä荹inou kým vyjdem von a nakuknem cez okno, tak už je ok. Stále (okrem asi dvoch razov) sa rozplače, keď prichádzam – asi sa bojí, že odídem bez nej.
Jááj a ešte tlieskanie. Baví ju pozerať sa, keď ja robím ťap, ťap, ťapušky. Jej sa s prázdnymi rukami nechce, ale dajte jej kocku do každej ruky a bude nimi udierať do zbláznenia…