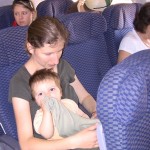 Keď som 
minule písala o lietaní s bábätkom
 (vtedy mala Kika sedem mesiacov), tak som ani netušila, aký to bude mať úspech. Ale tento mesiac nám google poslal kopu návštevníkov, ktorých táto téma zaujíma (poznať, že je čas letných dovoleniek…), tak som si povedala, že doplním ešte nové skúsenosti, ktoré sme nadobudli cestou 
do/z Mexika
 (to mala práve rok).
Väčšina toho, čo som písala minule, platí aj pre staršie bábo – podľa možnosti nechať vyblázniť v hale, nastupovať medzi poslednými, prebaliť tesne pred nástupom a dúfať, že nebude treba znovu až do vystúpenia… ale tu je zopár komentárov navyše:
sedadlá – začína byť na zváženie, či dieťaťu kúpiť vlastné sedadlo alebo nie. Proti hovorí cena (lietadlá neponúkajú detské lístky, ak má dieťa svoje sedadlo), za hovorí bezpečnosť a pohodlie. My sme mali Kiku ešte stále na kolenách. Jeden trik, ktorý sa však dá urobiť, ak lietadlo nie je úplne plné, je ten, že rodičia si kúpia lístky jeden ku oknu a druhý do uličky (väčšina lietadiel je tu 3+3). Pokiaľ lietadlo nie je úplne plné, tak je šanca, že sedadlo medzi nimi ostane prázdne, lebo "stredné" sedadlá sa vypredávajú posledné, a dieťa tým pádom dostane vlastné miesto bez extra platenia. Pokiaľ je lietadlo plné, tak tomu strednému ponúknu sedadlo pri okne, ak letia s malým dieťaťom (výhľad ho nezaujíma, ale dôležitý je prístup do uličky), alebo sedadlo pri uličke, ak letia s väčším dieťaťom (výhľad z okna je cenná atrakcia).
jedlo – kojenie stále pomáha pri vzlietaní, pristávaní a na ukľudnenie, ale treba už zobrať aj niečo iné. V žiadnom prípade sa nedá spoľahnúť na to, že k detskému lístku patrí detská porcia jedla, ktoré vaše dieťa aj bude ochotné jesť. Aj tie aerolinky, ktoré ešte jedlo dávajú, vám príliš nepomôžu. Takže pribaľte niečo, o čom viete, že to dieťa bude jesť, nedá sa z toho príliš zababrať a dlho trvá, kým sa tým nakŕmi (každá "zábavka" je v lietadle vítaná) – my sme mali presnidávku (o tej vieme, že Kika zje) a cheerios* (kým sa nimi po jednom nakŕmi, tak je pol letu za nami). A berte aj do rezervy – neplánované zdržania, prestupy, náhle záchvaty žravosti – hladné dieťa v lietadle nie je sranda.
hračky – treba, ale nepodceňujte silu vecí každodenných. Kika sa hodnú chvíľu zabávala vyberaním časopisov z vrecka sedadla, študovala evakuačné inštrukcie, hrala sa s plastovým pohárikom a kľúčenkou, ktorú jej dala spolucestujúca sediaca vedľa…
dvd prehrávač/iPad – zatiaľ nemáme, ale už teraz ho vidím ako cenného spoločníka na cestovanie pre 2-až-?-ročné dieťa (a obzvlášť také, ktoré doma telku vôbec nepozerá). Sesame Street, rozprávky, … len aby nebol problém potom vôbec vystúpiť.
Toľko teda naše nové poznatky. Cestovanie s malými deťmi asi nikdy nebude úplne príjemné, lebo predsalen, dlho to trvá, je tam málo miesta, nuda, divný vzduch a tlak, kopa nových ľudí – nie je veľa nepriaznivejších kombinácií. Ale s trochou plánovania a humoru sa to dá zvládnuť a keď dôjde k najhoršiemu (= dieťa reve alebo škrieka z plných pľúc a všetci sa na vás pozerajú, že prečo už niečo neurobíte a vy viete že už ste skúsili všetko – áno, boli sme už aj v tejto situácii), tak to nevzdávajte, skúšajte prísť na to, čo je momentálne problém a ostatných ľudí si nevšímajte (tí, čo takto leteli, vedia, že robíte, čo sa dá a aj tak to nemusí pomôcť a tým, čo neleteli alebo vôbec nemajú deti, to aj tak nevysvetlíte).
* voláme ich síce cheerios, ale sú to ovsené kolieska inej značky. Nestlé výrobkom sa snažíme vyhýbať.