Warning
: Illegal string offset 'src' in
/data/3/a/3a7e1bc0-13d6-4f23-9dab-d8a2a009ce43/jancigovci.com/web/public_html/wp-content/plugins/vipers-video-quicktags-migrator/vipers-video-quicktags-migrator.php
on line
322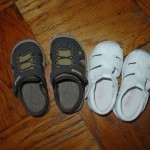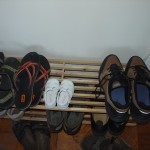 V sobotu sme boli Kike kúpiť topánky. My sme si už s Mišom zvykli nakupovať takmer všetko cez internet (vrátane takých vecí ako topánky a plavky), ale sandále, ktoré som takto vybrala Kike (tie vľavo), sú jej ešte veľké. Aby som sa vyhla ďalším iteráciám, som sa rozhodla druhý pokus spraviť priamo v obchode (tie prvé som jej nechala, veď do nich dorastie).
Ukazuje sa, že Kiku (zatiaľ) nakupovanie topánok nebaví a neobišlo sa to bez plaču. Ale nechceli sme to ďalej odkladať, lebo aj keď sme ju doteraz nechávali bosú a ešte pár mesiacov bude dosť teplo, aby tak v pohode mohla byť, začína sa stavať a učiť chodiť. Takže už prišiel čas sa po niečom na obutie poobzerať.
Cestou z obchodu už bola v pohode (lebo dostala na hranie krabicu od topánok), ale bolo zlaté pozorovať, ako sa tu a tam pokúšala ich dať dole (na rozdiel od klobúčika sa jej to nepodarilo).
A za tie dva dni si na ne už trochu zvykla a tak trénujeme: