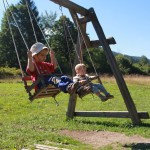 Nenadarmo sa hovorí, že začiatky bývajú ťažké. Tak aj u nás. Prišiel september a s ním sa nám doma objavili traja prváčikovia. A každého niečo trápi.
Kubko začal chodiť do jaslí. Prvý týždeň tam bol každý deň približne od ôsmej zhruba do pol tretej. Povedali mi, že ho tam mám nechať hneď od začiatku aj na spanie a ak bude spať, že nemá zmysel prísť skôr ako o tej pol tretej, lebo že do druhej spávajú a potom majú olovrant. Že keby bola veľká kríza, tak zavolajú. Nevolali. Prvý deň mal poobede dosť opuchnuté oči, takže plaču zrejme nebolo málo. Vo štvrtok mi však už povedali, že sa na nich aj usmieval. Stále však protestoval ráno, keď som odchádzala.
V nedeľu ho zrejme premohli miestne bacily, lebo mu vyskočila teplota a rádovo sa zvýšil faktor kňučavosti, tak som s ním v pondelok ostala doma, že počkám, ako sa to vyvinie. S dvoma čerstvými zubami v ústach ale vyzerajúceho celkom spokojne som ho v utorok ráno doviezla do jaslí. V škole som akurát prečítala maily, keď mi volali, že si poňho mám prísť. Tak sme z jaslí išli rovno k doktorke, tá pozrela a povedala, že bez antibiotík to nepôjde a odvtedy sme doma. Na katedrovú schôdzu som sa síce dostavila, ale keďže Mišo bol tento týždeň v Bukurešti (obrázky budú) a ocino v Prahe, musela ma zachrániť mladá kočka s ktorou som vybartrovala babysitting za bianco šek na doučovanie z matiky.
Dnes sme boli na kontrole a lekárka odporučila, že do jaslí až od stredy, tak dúfam, že sa mladý poriadne vylieči a že chvíľku to zase potiahneme bez chorôb. Ak nerátam ten kvázi zápal močových ciest, na ktorý ho liečili ešte v Amerike, tak toto je prvý raz, čo bol chorý. A keď je chorý, tak s ním vôbec nie je zábava.
S jaslami ako takými to tiež nie je úplne ideálne. Sú opačnom konci mesta, jedna známa mi porozpravála nedobré skúsenosti, ktoré s nimi mala, ukázalo sa, že je šanca dostať sa aj do štátnych, ale nevieme, či máme robiť Kubovi chaos skôr, ako sme týmto dali šancu (v cene rozdiel nie je). Takže nad týmto ešte dumáme.
Škôlka. Škôlka vyzerá dobre. Kika sa do nej prvé dva dni tešila. Potom prišla kríza, keď jej docvaklo, že to už je teraz "nafurt". Tú minulú stredu v ich triede ráno všetci revali. Okrem pani učiteľky teda, tá hovorila, že sa to časom spraví a snažila sa ich zaujať. Odvtedy Kika síce protestuje každé ráno, ale už sa nehádže o zem, ako v tú stredu, pomôže keď ju nechám zazvoniť, aby nám otvorili a prečítam na jedálnom lístku, čo bude na obed. Keď po ňu okolo tretej prídem, vykrikuje, aby som sa tam s ňou ešte 5 minút hrala. (To má frázu odo mňa. Keď viem, že niečo, čo má rada bude za chvíľu končiť – napríklad má sa prestať hrať, alebo vyliezť z vane – tak jej dopredu poviem, že ešte 5 minút, aby bola pripravená a nebojovala, keď už naozaj treba.) Doma potom zarecituje básničku alebo ukáže, čo cvičili na rozcvičke, alebo porozpráva, ako Adamko skočil zo stola. A zatiaľ je aj napriek chorému bratovi doma zdravá. Takže toto síce tiež chce ešte trochu času, ale myslím, že škôlka je fajn.
Akurát dve veci, s ktorými sme sa stretli, sú pocikávanie a štrajk. Majú tam detské záchody, s ktorými si vie sama poradiť, ale pár dní trvalo, kým si na to zvykla. To som chodila domov s balíčkami vecí na opranie. Jeden deň dokonca nestačili náhradné veci, ktoré som jej ja nechala v skrinke, a okrem našich teplákov a nohavičiek som prala ešte aj dvoje cudzie. Vtedy som sa uchýlila k úplatkom a dohodla som sa s Kikou, že keď pre ňu prídem a nebudú ma tam čakať žiadne pocikané veci, pôjdeme potom na zmrzlinu do stánku, ktorý je kúsok od škôlky. Zdá sa, že to zafungovalo a hovorím si, že stánok čoskoro aj tak na zimu zavrú.
A štrajk, ako vieme, bol včera. Pridala sa k nemu aj naša škôlka. Mne to až tak nevadilo, lebo Kubo bol aj tak doma a keby aj nebol chorý, tak by som ho na ten deň jednoducho odhlásila z jaslí, ale rodičom, ktorí nemajú takú flexibilitu ako ja, nezávidím. Keby to celé aspoň malo nejaký zmysel, ale situácia učiteľov sa tým nijako neporiešila, len sa tým skomplikoval život kope ľudí.
Nuž a moja škola. Pôvodne som si myslela, že budem na fakultu chodiť na bicykli, dokonca som si vybavila aj kľúčik od bicyklárne. Ale vzhľadom na to, že robím aj ranný rozvoz aj poobedné zvážanie, zatiaľ som bola iba autom a asi si vypýtam na kartu aj prístup na oficiálne fakultné parkovisko (zatiaľ parkujem krížom cez cestu). A keď už o karte – keď sa mi ju na tretí pokus podarilo vybaviť (prvýkrát tam bola rada na tri hodiny, v ktorej som odmietla stáť, druhýkrát ma nemali v databáze a museli to vytelefonovať a ja počkať do druhého dňa, kým sa to preleje cez databázy), zaplatila som za ňu 35 euro a dostala ISIC napriek tomu, že onedlho budem mať 30, lebo na Slovensku platí zákon, že každý študent denného štúdia ju má mať. Na dopravu mi nepomôže, ale na zľavu pri nákupe som ju už použila.
V kancelárii sedíme štyria, aj keď sme sa tam zatiaľ ešte nevyskytli všetci naraz. Čo sa týka dochádzky, pravidlá hovoria, že 18 hodín za týždeň. Tie som tento týždeň nacvakala tak všelijako, ale pomáha, že mám školiteľku, ktorej nejde o prezenčku ale o výsledky (teraz sa len postarať, aby časom boli). Už som zistila, ako si objednať obed v jedálni, ako sa (teoreticky, ešte to musím v pondelok vyskúšať) dostať do wifi siete a s pomocou rozbehala simulačný program, v ktorom budem robiť.
Okrem toho som čas, kedy nemám na starosti krpcov, využila na návštevu doktorky a ukazuje sa, že predsalen to fučanie cestou na Gerlach, krútenie sa hlavy pri korčuľovaní na hrádzi a celková únava majú aj objektívnu príčinu. Zase vystrkuje rožky môj starý problém s nedostatkom železa, takže znovu dopujem a chystám sa na pár ďalších, nie práve príjemných vyšetrení. Keď si predstavím, že by som teraz namiesto doktorandského štúdia začínala prácu niekde v súkromnej sfére, tak naozaj neviem, ako. Oneskorený začiatok semestra (v porovnaní so začiatkom škôlky a jaslí) a časová flexibilita sú na nezaplatenie.
Taký bol teda náš začiatok školského roka.
PS Jedna vec, ktorú sme nezvládli: ani jeden z našich prváčikov nedoniesol v prvý deň pani opatrovateľke/učiteľke/školiteľke kvetiny. To budeme musieť niekedy napraviť…