Neviem, ako to bude s týmito receptami. Už vyše roka si tu každý týždeň jeden značím, niektoré staré osvedčené, niektoré nové experimenty, ktoré nám pochutili. Ale teraz od septembra začínam zase v škole, Kika v škôlke, Kubko v jasliach (o tom, ako to nám to všetkým ide, hádam niekedy neskôr tento týždeň) a každý z nás má obedy tam. Takže to vyzerá na varenie viac-menej iba cez víkend a aj to dúfam, že veľa víkendov bude výletových (ako napríklad aj tento posledný), keď sa jedlo rieši operatívne.
Z toho mi vychádza, že z tejto pravidelnej rubriky sa stane rubrika občasná. Uvidíme, ako to pôjde.
A teraz k veci. Čo s jablkami, keď už bolo mriežkovníkov priveľa a nemáte práve lístkové cesto na jednoduchý jablkový závin? Spravte si svoje vlastné. Akurát nie lístkové, lebo to by trvalo kus dlhšie.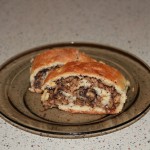 na cesto:
250g hladkej múky
250g polohrubej múky
1 prášok do pečiva
100g Hery
150g cukru
1 vanilkový cukor
2 vajcia
1 a 1/2 dl mlieka
na plnku:
1kg postrúhaných jabĺk
100 g cukru
1 čajová lyžička mletej škorice
150g maku
hrozienka
Vymiesime cesto, rozdelíme na tri časti. Rozmiešame jablká s cukrom, škoricou, umytými hrozienkami a mletým makom. Tretiny cesta postupne vyvaľkáme, naplníme, zavinieme a ukladáme na plech vystlaný papierom na pečenie – aby nebolo veľa umývania, ak náhodou záviny prasknú a niečo z nich potečie. Potrieme buď žĺtkom alebo mliekom a pečieme na 180C asi 30 minút.