Keď som bola 4 mesiace tehotná s Kikou a boli sme na návšteve, kde mali približne 4-mesačného chlapčeka, jeho mama mi povedala, že keď sa mladý pán pototo, tak ho rovno poumýva v umývadle/sprche. Potom sa nám narodila Kika a ja som tomu celkom nerozumela, lebo Kika nakladala postupne do niekoľkých plienok denne, my sme ju priebežne utierali pri prebaľovaní a večer okúpali. Americké sprchy sú také, aké sú (bez hadice, iba hlavica trčiaca zo steny) a umývadlo sme tiež nemali nič moc, takže predstava, že by som tam manévrovala s bábom niekoľkokrát denne, sa mi veľmi nepozdávala.
No a potom prišiel Kubo.
Prvých pár týždňov to bolo ako s Kikou, ale časom sa intervaly medzi pokakanými plienkami začali predlžovať a momentálne sme na 5-6 dňoch. Asi už začína byť jasné, kam tým mierim (a toto je aj vhodný okamih prestať čítať, pokiaľ práve niečo jete). Ono keď to príde, tak Kubo to má aj za ušami – nie, toto nie je metafora. Ešte látkové plienky to ako-tak udržia vo vnútri, ale ak náhodou má práve na sebe papierovú plienku, tak sa žltá horčica valí všetkými smermi.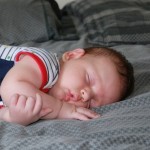 Situácia sa nedá riešiť inak ako v kúpeľni. V umývadle vyzlečieme, čo má na sebe, poumývame z najhoršieho a potom ho dáme ešte na druhé kolo do vane. Nie je nezvyčajné, že sa musí prezliecť aj jeden dospelý. Mláďa sa pritom tvári akože ja nič, ja muzikant a do piatich minút po kúpeli s blaženým úsmevom zaspáva.
Celé je to dosť vtipné, avšak keď ideme na ten piaty deň von, tak ja som značne nervózna. Zatiaľ nás takouto akciou neprekvapil v autosedačke alebo v kočíku alebo v šatke na prechádzke, ale predpokladám, že je to len otázka času a čo budeme robiť potom, to mi nie je celkom jasné.
V každom prípade, teraz už rozumiem tomu, že prečo niektoré deti treba celé poumývať, keď spravia nálož do plienky.