Ťažko. Alebo aspoň ja neviem, ako na to.
Poslala som totiž kamarátke (tu v USA) balík so zopár tehotenskými vecami, ktoré sa jej momentálne zídu viac ako mne (ak jej budú dobré; ale mohli by byť). Po pár dňoch mi písala, že zatiaľ nič nedošlo, ale mňa to neznepokojovalo, lebo doteraz sme mali s americkou poštou len pozitívne skúsenosti.
Lenže potom sa nám pred dverami zjavilo toto: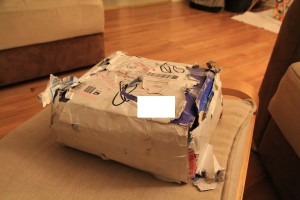 Krabica pomačkaná, papier, do ktorého som ju obalila, potrhaný a provizórne prichytený páskou, miestami čmárance čiernu fixkou a červené pečiatky "nedostatočná adresa". Z cieľovej adresy totiž ostalo iba meno a smerové číslo (hlavne, že moja adresa bola kompletná).
A tak som ju dnes zobrala znovu na poštu a snažila sa ukecať pani pri prepážke, že kúpim od nej novú krabicu, ale nech ju pošle v rámci pôvodného poštovného, lebo som nedostala službu, za ktorú som zaplatila. Neúspešne. Nie je to vraj ich chyba, lebo som to zle zabalila – papier sa vraj asi zachytil v triediacom stroji a môžem byť rada, že sa mi balík vrátil a nestratil úplne. Tak to ja som, ale stále sa mi zdá, že tento balík nebol zabalený o nič horšie ako iné, ktoré som posielala (a ktoré úspešne dorazili) a ani chlapík, ktorý ho ten prvý raz prijímal, nemal žiadne výhrady. Ale táto pani bola neoblomná a tak som balík posielala úplne nanovo. Dúfam, že tentokrát už dojde.
Len by ma zaujímalo, či je možné nejako reklamovať služby pošty (bez toho, aby mal človek extra poistenie alebo posielal doporučene)? Keď sa posielaná vec stratí, tak zjavne smola. Ale v prípade ako je tento?