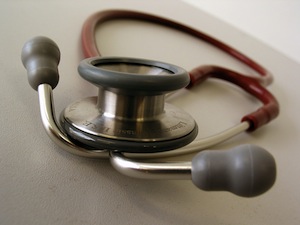 Kika má dnes dva roky a dva mesiace a za ten čas sme s ňou boli u všeliakých doktorov. Kombinácia toho, že je prvé dieťa a toho, že sa narodila s niekoľkými zvláštnosťami, mala za následok, že nás jeden lekár odporučil k ďalšiemu, ten k ďalšiemu,… Okrem štandardných návštev u detskej lekárky sme boli
u genetičky – tá si ju poobzerala, porozprávali sme sa, ale netestovala nič, lebo že testy, ktoré sú k dispozícii, sú na potvrdenie alebo vyvrátenie konkrétnej diagnózy, ale nie je všeobecný test, ktorého výsledkom by bola odpoveď "o toto sa jedná"; a podozrenie nemala na nič
u detského kardiológa – tam nás poslali kvôli šelestu na srdci pri narodení; povedal, že to je úplne normálne a že sa to do roka stratí; stratilo sa
u maxilofaciálneho chiruga (tvár a sánka) – kvôli dvom zárezom v dolných ďasnách a rozštiepenému jazyku
u detského plastického chirurga – pracuje spolu s tým predchádzajúcim
u ušno-nosno-krčného doktora – šéfuje tým predchádzajúcim dvom chirurgom a kontroloval, či okrem jazyka a ďasien nie je problém aj inde; nie je
v cranio technologies – kam nás poslali kvôli šišatej hlave; nakoniec sme sa rozhodli prilbu Kike nedať a hlava je v poriadku
u detskej zubárky – tam majú chodiť všetky deti, ale nám kázali dávať hlavne pozor na zuby v/pri zárezoch v ďasnách
u detského ortopéda – keď Kika nie a nie chodiť; skonštatoval, že z jeho pohľadu všetko ok a ak nezačne chodiť do 18 mesiacov, tak máme ísť k neurológovi; začala kúsok po 18tich
chodila k nám fyzioterapeutka – po pár týždňoch sme ju zrušili, lebo sa nám zdalo, že nepomáha a začali sme radšej chodiť do telocvične
u dvoch rôznych detských očných lekárov – ten prvý bol špecialista na dermoidy (Kika jeden má v ľavom oku, ale zrak má v poriadku); Pri druhej návšteve som ho upozornila, ako jej oči spomalene reagujú, keď prudko pohne hlavou (obvlášť výrazné je to, keď beží a snaží sa zmeniť smer). Povedal, že to sa časom stratí. Ale na cez vianoce na to poukázalo niekoľko rodinných príslušníkov a známych a tým mi nasadili chrobáka do hlavy. Takže keď sme sa vrátili naspäť, tak som ju objednala k inému očnému, že čo si o tom bude myslieť on. Povedal to isté, že sa to časom spraví samo, ale že pre istotu máme ísť k neurológovi.
u neurologičky (pred dvoma týždňami; po troch mesiacoch čakania) – keď odporúčal ortopéd aj očný, tak naša detská lekárka nás vyslala, aj napriek pochybnostiam, ktoré sme vyslovili; bolo to síce jedno z najpríjemnejších vyšetrení, aké sme absolvovali, ale namiesto výsledkov prinieslo len ďalšie dve odporúčania – aby sme išli k inej genetičke a k neuro-očnému špecialistovi… do Philadelphie…
Toto je moment, kedy sme si povedali že dosť. (Aj vám sa zdá, že sa tie odporúčania začali akosi zacyklovať?) Možno niekto iný by to zabalil o kus skôr. Možno niekto iný by si povedal, že dve hoďky autom k špecialistom do Philadelphie nie je až tak veľa a čo keď práve títo povedia niečo zmysluplné? My sme striedavo oscilovali medzi túžbou nebyť tí rodičia, ktorí sa snažia za každú cenu dieťaťu niečo "prišiť", a snahou dozvedieť sa o všetkom čo najviac, aby sme mohli čo najskôr pomôcť, ak treba. Tieto dve veci sú pomerne dosť nezlúčiteľné. A momentálne nás to preklopilo k tej prvej. Máme dosť chodenia po ambulanciách, kde každý pokýve hlavou, aké zaujímavé, povie že z jeho pohľadu všetko v poriadku, nech sa ideme ukázať ešte inde a necháme mu poslať výsledky.
Kika je zdravé dieťa. Možno všetky tie malé veci spolu súvisia, možno nie. Možno na ne nejaký lekár má meno, možno nie. Nám sa to za tie dva roky nepodarilo zistiť. Akurát sme u nej vybudovali nechuť (ja viem, eufemizmus) k návštevám u doktorov. A tak s tým končíme. (Pravdepodobne nie definitívne, lebo očakávame, že časom ona sama bude chcieť nejaké úpravy v ústach, ale nateraz.)
PS S Kubkom sme okrem detskej doktorky boli iba na vyšetrení uší (jeden zo štandardných testov, ktoré robia v nemocnici po narodení, aby v prípade potreby mohli začať intervencie, čo najskôr, aby dieťa nemalo problémy naučiť sa hovoriť). Všetko ok, ale keď nám prišli domov výsledky, tak som sa dozvedala, že Kubo je "produkt pôrodu doma". Nevyšetrili dieťa, ktoré sa narodilo doma, ale "product of a home birth who did not receive hearing screening at the time of birth". Ak nič iné, tak toto podľa mňa ilustruje, tunajší prístup k pacientom. Nie sú to ľudia, ale objekty, na ktorých si každá špecializácia pozrie to svoje a nikto sa nezamyslí nad celkovým obrazom.