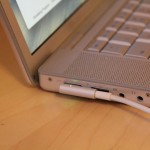 Netuším, ako (ste) to robili.
Dieťa má zápal močových ciest spôsobený e. coli? Šup na internet, aké sú príznaky, aké je to vážne, čo sa s tým dá robiť, ako sa tomu nabudúce vyhnúť? (Konzultácia s lekárom má pre mňa stále ďaleko väčšiu váhu, ale na získanie základných informácii a naformulovanie otázok to stačí.)
Ostala mi v chladničke trocha listového špenátu, pár šampiónov a baklažán, ktorý som kúpila bez nejakého kuchárskeho zámeru, jednoducho len preto, že bol v akcii a farebne sa mi hodil do košíka? Kamarát google ponúkne rýchly recept.
Niekto podpálil "naše" detské ihrisko? Rýchla konzultácia s počítačom nás nasmeruje do neďalekého parku, o ktorého existencii sme nemali ani tušenia.
Chcem novú sukňu, lebo aj keď som po dvoch tehotenstvách naspäť na pôvodnej váhe, tvar sa akosi zmenil, boky sú širšie, moje staré veci už nesedia ako kedysi, ale nemám šancu sa dostať do vhodného obchodu bez doprovodu? Amazon pomôže.
Čítania sa nevzdávam, ale preč sú dni, keď som mohla v pohodičke prezerať police v knižnici, ležérne nakuknúť do nových kníh a na mieste si vybrať čo budem čítať nasledujúcich pár týždňov. Dnes je to večerná priprava s online katalógom a na druhý deň šprint s papierikom v jednej ruke, s autosedačkou s dieťaťom č. 2 v druhej, uisťujúc dieťa č. 1 tmoliace sa mi pod nohami, že len vyberiem svoje knihy a hneď ideme hore do detského oddelenia.
Tento blog.
To je len zopár mojich príkladov z posledných dní, som si istá, že je aj kopa iných. Aké sú tie vaše?