Tento graf inšpiroval tieto komentáre. Moja ďalšia odpoveď bola príliš dlhá, a preto je tu:
Existuje ešte stále diskriminácia žien v zamestnaní?
V správe, z ktorej pochádza spomínaný graf, píšu:
V priemere, ženy, ktoré robia celoročne a na plný úväzok, zarábajú o 25 percent menej ako muži, aj keď majú rovnakú úroveň vzdelania.
Kľúčové tu je "v priemere". Otázka ostáva, či rovnako kvalifikovaná žena a muž majú rovnakú šancu dostať to isté miesto a následne rovnaký plat. To sa zisťuje ťažko, keďže takáto diskriminácia je ilegálna. Na čo sa však môžeme pozrieť je to, ako sa darí čerstvým absolventom – tí by teoreticky mali mať rovnaké šance. Ale zdá sa, že nemajú:
čerství lekári –  "Autori tvrdia, že rozdiely v plate sú aj keď sú dáta kontrolované vzhľadom na pracovný čas, špecializáciu, pôsobisko a ďalšie faktory. Potenciálne dôvody, ktoré nemožno vylúčiť zahŕňajú diskrimináciu podľa pohlavia a fakt, že ženy si nevedia vyjednať plat tak dobre ako muži." Či už je to "obyčajná" diskriminácia alebo ostych zapýtať si vyšší plat, z obidvoch týchto problémov viním patriarchát (aj keď riešenia sú odlišné).
absolventi 1 a 10 rokov po ukončení školy – "… sa pozerá na rozdiel v platoch absolventov. Jeden rok po ukončení college, ženy pracujúce na plný úväzok zarábajú iba 80 percent toho, čo ich mužskí kolegovia. Desať rokov po skončení, ženy zaostávajú ešte viac zarábajúc iba 69 percent toho čo muži. Aj keď kontrolujeme dáta vzhľadom na pracovnú dobu, zamestnanie, rodičovstvo a iné faktory zvyčajne asociované s platom, vysokoškolsky vzdelané ženy stále zarábajú menej… V tejto analýze, rozdiel, ktorý ostáva nevysvetlený aj keď zvážime všetky tieto faktory, je 5 percent rok po skončení školy a 12 percent 10 rokov po skončení školy. Tieto nevysvetlené rozdiely potvrdzujú diskrimináciu, ktorá je stále problémom pracujúcich žien."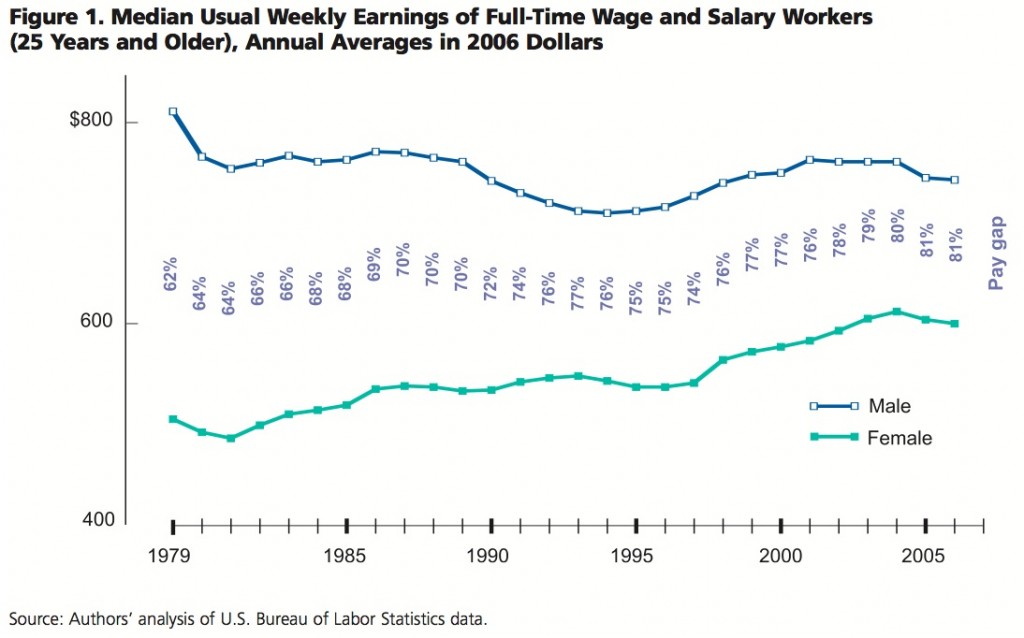 a ešte iný uhol pohľadu: Lilli Ledbetter Fair Pay Act – prvý bill, ktorý podpísal prezident Obama po nástupe do funkcie. To, že vôbec sa takýmito zákonmi ešte v dnešnej dobe musíme zaoberať, podľa mňa o niečom svedčí. Paycheck Fairness Act zatiaľ neprešiel.
Prečo nie je fér to, že ženy si typicky vyberajú nižšie platené povolania/miesta a "platia daň" za materstvo (Katkine selection a maternity)?
Zamestnania, v ktorých prevažujú ženy (učiteľky, zdravotné sestry, sekretárky, pokladníčky) majú nižšie platy ako tie, kde prevažujú muži. Netvrdím, že by bolo fér, aby pokladníčka zarábala toľko ako neurochirurg, ale zdá sa mi nefér, že historicky, keď ženy ešte len začínali pracovať mimo domu, tak sa dostali len do "pre ženy vhodných" povolaní a až postupne sa prepracovali do iných. V tých časoch nikomu nepripadalo divné, že žena zarobí menej, a tým pádom tieto povolania sa postupne stali nižšie platenými. A zvyšky toho pretrvávajú dodnes. (Kategória sama o sebe je, že si ako spoločnosť viac ceníme korporátne zarábanie peňazí ako napríklad výchovu novej generácie a kým sa to nezmení, tak učitelia sa zrejme nejakého veľkého zvyšovania platov – ktoré by určite prilákalo aj kopu uchádzačov z mužských radov – asi nedočkajú.)
Okrem toho to, že ženy si možno vyberú pozíciu, kde možno nezarobia až toľko, ale majú benefity ohľadom napríklad materskej alebo flexibilného pracovného času, nemusí byť nutne "slobodná voľba". Pokiaľ zarábajú menej ako partner (a štatisticky je to pravdepodobné) a prihliadnuc na fakt, aký drahý je (najmä v US) childcare (jasle, opatrovateľky), je to jednoducho zdravý rozum. Ale nezdá sa mi spravodlivé, keď v existujúcom systéme je takýmto spôsobom limitované rozhodovanie jednej skupiny ľudí. To nazývam diskriminácia.
A ešte jedna myšlienka. Aj keby platové rozdiely boli len dôsledok osobných rozhodnutí, tak pokiaľ veľa žien spraví rovnaké rozhodnutia, je predpoklad, že v danom povolaní mzdy pôjdu smerom dolu. To sa mi tiež nezdá v poriadku.
Čo by sa s tým dalo robiť?
Nuž, v prvom rade si priznať, že takýto problém existuje.
A potom to bude chcieť komplexné riešenie. Nepomôžu zákony, ktoré naozaj teoreticky odstránia diskrimináciu na pracovisku, pokiaľ nebude dostupná platená rodičovská dovolenka, kvalitný a cenovo prístupný childcare a to nielen v prvých rokoch, ale aj vo forme poškolských aktivít pre staršie deti (tie družiny, do ktorých sme my chodili, mali niečo do seba). Ponúknutie toho všetko spolu by malo ďaleko väčší dopad ako len súčet jednotlivých výsledkov.
A nepomôže dívať sa len na ženy. Pokiaľ bude zodpovednosť za starostlivosť či už o deti alebo o starých ľudí hlavne zodpovednosťou žien, tak rozdiely v mzde ostanú. Ale v súčasnej situácii aj keby sa muž chcel viac zapojiť, tak sa to rodine "neoplatí", lebo je predpoklad, že partnerka nezarobí toľko ako on.
Chcelo by to, aby sme si viac vážili rodiny.