Zavrite oči a počúvajte: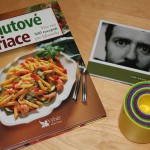 Istá rodina v Neratoviciach má talent na vyberanie darčekov, ktoré sa u nás tešia veľkej obľube (ďakujeme!), či už sú to Kikine kelímky (kúpu sa s ňou skoro každý deň a boli s nami na všetkých plážach, na ktorých sme boli, odkedy ich máme), cdčko The Swell Season (z ktorého sú aj skladby vyššie) a kuchárska kniha Minutové variace.
Asi je už jasné z názvu, že recepty v nej sú pomerne rýchle a jednoduché (čo sú okrem chuti momentálne u nás dve hlavné kritériá). Jeden z nich, aj keď trochu upravený (ako inak…), je tu:
3 polievkové lyžice múky (hladkej/all purpose)
1/2 čajovej lyžičky soli
1/4 čajovej lyžičky čierneho korenia
asi 3/4 kg kuracích pŕs
trochu olivovového oleja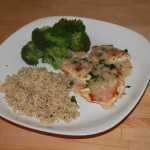 1 stredne veľká cibuľa
1 polievková lyžica masla
sušený tymián (podľa chuti, ja som sala asi 1 čajovú lyžičku)
1 šálka kuracieho vývaru (alebo bujón rozpustený vo vode)
šťava z polovice citróna alebo limetky
petržlenová vňať (nemusí byť)
V malej miske pomiešame múku, soľ a korenie. Polovicu odložíme na neskôr a vo zvyšku obalíme kuracie prsia. Opečieme ich na panvici na oleji a vyberieme na taniere. Potom do tej panvice dáme maslo a opečieme na ňom nakrájanú cibuľu. Pridáme tymián, zvyšok múčnej zmesi a postupne prilievame kurací vývar a citrónovú šťavu. Necháme prevariť a miešame, kým to trochu nezhustne. Polejeme tým kura a ak máme nasekanú petržlenovú vňať (čerstvú alebo mrazenú), tak to môžme po vrchu posypať.
Ako prílohu sme mali hnedú ryžu a naparenú brokolicu.