Poznáte tých ľudí, čo napríklad zjedia pizzu, ale nechajú kôrky? A pritom tie sú podľa mňa z nej najlepšie. (Aj keď to možno hovorí len moja láska k chlebu). Ale podobným spôsobom sa ja staviam k mäsu na šťave – naberám si ho v zásade bez šťavy (viď ilustračné foto). Ale varím ho – pekne po správnosti – so šťavou.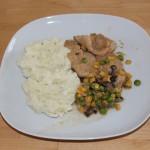 (približne) 1kg bravčového mäsa*
(olivový) olej
2 cibuľe
mrazený hrášok, kukurica, čerstvé šampióny
soľ
čierne korenie
sladká červená paprika
bujón/vegeta/kari korenie
Mäso nakrájame na malé plátky a zľahka naklepeme. Na oleji opečieme nadrobno nakrájanú cibuľu. Potom vložíme plátky mäsa a poopekáme z obidvoch strán. Štedro posypeme červenou paprikou, posolíme, pokoreníme, premiešame a trošku podlejeme vodou. Pridáme kocku bujónu alebo vegetu alebo kari korenie.
Ja väčšinou používam aspoň dve prísady z trojice hrach/kukurica/huby a v tomto momente jednu z nich pridám do hrnca. Ak mám huby a niečo, tak pridám huby. Ak mám kukuricu a hrach, tak je to asi jedno, ale väčšinou ide hrach. To, čo pridám takto na začiatku, sa totiž uvarí úplne domäkka, lebo nasleduje približne hodinové dusenie, a dodá chuť šťave. Počas tej hodiny treba mäso občas pomiešať a prípadne doliať vodu.
Ale v snahe mať tam niečo, čo aspoň trochu pripomína živú zeleninu, keď už je mäso úplne mäkké, pridám tú zvyšnú prísadu – kukuricu alebo hrach alebo oboje. Povarím pár minút, aby len trošku zmäkli (zatiaľ ešte dochutím, ak treba) a vypnem.
Najlepšia je k tomu zemiaková kaša.
* Tu kupujem boneless roast, čo je po slovensky karé bez kosti? Sviečkovica? Do tajov umenia, ako sa krája prasa, sa mi zatiaľ nepodarilo preniknúť.