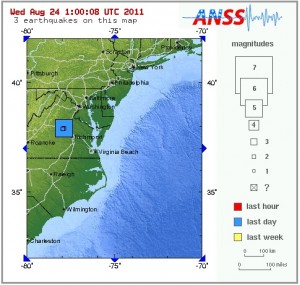 ja 2:04pm:
subject: trochu odveci otázka
text: nebolo pred chvíľou zemetrasenie?
Mišo 2:06pm:
neviem, mne sa trochu triasla stolicka ..a pri tom som sa ani nepohol…sa mi zdalo, ze uz blbnem..ale teoreticky to mohlo byt aj zemetrasenie. ty si mala co?
ja 2:08pm:
hmm, tak internet tvrdi, ze to bolo vo virginii, 5.8 stupna
mne sa triaslo kreslo v spalni a som sa divala, ako sa vesiaky kyvu v tvojom satniku
Veľmi zaujímavý pocit. Ak ste to ešte nečítali/nevideli v správach, tak nejaké info tu.
Obrázok je odtiaľto.
PS Cez víkend čakáme (hurikán) Irenu.