Tvoje objatia. Tie sú úplne najlepšie. A to, ako pritom hovoríš "Moja, moja."
Zdá sa mi, že si po mne zdedila zdedila úchylku – čítanie. Vždy sa tešíš, keď ideme do knižnice alebo keď Ti doma poviem, aby si si išla vybrať knižku, že si ideme niečo prečítať.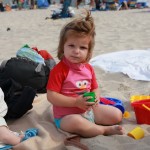 Veľa rozprávaš. Pravdupovediac, neviem, koľko rozpráva priemerné dieťa Tvojho veku, ale tých pár, čo poznáme, nerozpráva toľko. Obzvlášť skvelé sú Tvoje monológy pred spaním. Ešte si celkom neprišla na to, že rozmýšľať sa dá aj v hlave a tak si pred spaním nahlas rozprávaš, čo sa cez deň stalo, alebo čo na Teba urobilo dojem. Neraz s tatom chichotajúc počúvame pri dverách.
Že nežiarliš na Kuba. Áno, občas si netrpezlivá, kým ho prebalím alebo nakŕmim, ale ani raz som nevidela, že by si mu vedome chcela spraviť zle. Trochu sme sa toho báli, lebo predsalen to pre Teba bola veľká zmena, ale sme radi, že si to zobrala v pohode.
Keď ma prekvapíš niečím novým, čo si sa naučila. Preč sú tie časy, keď sme nejaký pohyb alebo slovo veľakrát trénovali, Teraz to vyzerá, akoby si sa nové veci učila úplne mimochodom. Hovoríš mi v správnom kontexte slová, ktoré si nepamätám, že by som Ti niekedy povedala – zrejme si ich pochytila z rozhovorov, ktoré si počula.
Zvedavosť. Možno príde čas, keď si budem priať, aby si bola menej zvedavá. Ale som veľmi rada, že si.
Ako opakuješ detské riekanky. Či už anglické alebo slovenské, je to veľmi zlaté.
Tvoju jemnú kožu. Nie je už úplne dokonale hladká ako Kubova, lebo predsalen už sa Ti pritrafilo pár škrabancov a odrenín, ale stále je to paráda sa o ňu lícom pošúchať.
Že si už vieš niekedy sama pomôcť – dotlačiť stoličku, keď nedočiahneš; ukázať mi, kde Ťa tlačí topánka; povedať niečo opisom, keď Ti na prvý pokus nerozumiem; …
Oči. Tie máš po tatovi.
… ale nie je to všetko takéto ružové.