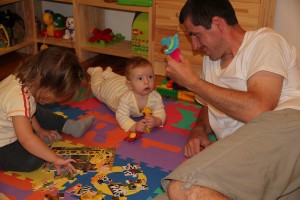 Sú dni, keď večer zistím, že som sa s Kikou takmer vôbec nehrala. Trochu sa hrala sama, trochu sme boli vonku, trochu obskakovala okolo mňa, keď som niečo robila (A "pomáhala". Dva-a-štvrťročné deti vedia úžasne pomáhať, hlavne, keď majú pritom do činenia s múkou alebo s vodou alebo s kopou prádla alebo s metlou…).
Zdá sa mi, že mama nemá byť hlavný organizátor programu a že je dobre, keď sa niekedy deti aj nudia, lebo ich to donúti vymyslieť si vlastnú zábavu, ale asi to platí hlavne na staršie deti. Lebo či už si Kika niečo vymyslí sama alebo s aktivitou prídem ja, takmer vždy chce, aby sme to robili spolu.
Takže keď potom večer zistím, že takejto spoločnej hry veľa nedostala (či už je to stavanie lega, lepenie papiera, kreslenie, "nakupovane"…), trochu ma to mrzí. Ale hovorím si, že to aj tak nevadí, lebo keď sa zamyslím nad svojimi najlepšími spomienkami z detstva (aj keď žiadna nejde naspäť až do Kikinho veku), tak nie sú na koberci v detskej izbe hrajúc sa s rodičmi. Tie, ktoré sú s rodičmi, sú väčšinou vonku (kúpanie v Štiavnici na jazerách, výlety na huby a na černice, …). A väčšina je bez rodičov – buď som niečo robila sama alebo s bratmi alebo s kamarátkami.
Čo mi z toho vychádza? Ak chcem Kike a Kubovi dopriať spomienky, ako sú tie moje, tak by sme mali robiť hlavne spoločné aktivity vonku a zariadiť veľa času s rovesníkmi, časom bez dozoru. (Tá druhá časť je ďalší argument, prečo sa odtiaľto odsťahovať. Tu si akosi neviem predstaviť tlupu 5-6-ročných detí naháňajúc sa bez dospelákov na sídlisku/medzi domami…)
Aké sú vaše najlepšie spomienky z detstva? Sú tiež vonku/bez rodičov?