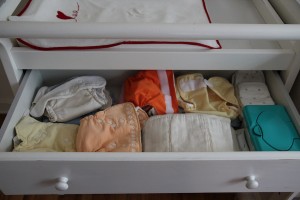 Látkové plienky som kúpila ešte predtým, ako sa Kika narodila. Aj sme ich trochu používali, ale bolo to dosť komplikované, lebo náš predchádzajúci byt nemal práčku, prvé dva mesiace jej držal pupok, v ôsmych mesiacoch začala trochu chodiť do jaslí… a ja som to vzdala.
Fast-forward dva roky.
Teraz mám práčku asi 5 krokov od prebaľovacieho pultíka, Kubovi pupok odpadol na štvrtý deň, jasle sú v nedohľadne, a tak veselo látkujeme. Toto je článok o tom, ako to vyzerá v praxi. Vhodný čas prestať čítať, ak vás vylučovanie bábätiek a veci okolo toho (momentálne) nezaujímajú.
Okrem toho, že látkové plienky sú pekné a nejdú do peňazí a objemu v skládkach, tak ako jednorazové, nie sú ani také náročné na používanie, ako sa môže na prvý pohľad zdať (a hovorí sa, že je jednoduchšie z nich deti odplienkovať).
Ja som kúpila (tu; na Slovensku odporúčam tu) fitované a obdĺžnikové plienky s nepremokavými nohavičkami (kvôli sušeniu som nechcela all-in-one). A kúpila som ich veľa, keďže sme nemali práčku a nerátala som s každodenným praním. Ani s praním každý druhý deň. Viac sa nám osvedčili tie fitované, takže teraz, keď už práčku máme, som obdĺžnikové predala (nechala som si akurát pár na iné účely) a zostalo mi 15 fitovaných, čo by v pohode stačilo na pranie každý druhý deň. Okrem toho, na noc dávame papierovú plienku (takúto; kupujem ich s 30% zľavou cez Amazon Subscribe and Save + Amazon Mom program). Takže by to vychádzalo na pranie tak každý druhý-tretí deň.
Ale periem skoro každodenne, lebo máme aj dieťa, ktoré už je síce bez plienok, ale predsalen sa ešte občas pritrafí niečo do nohavíc (a občas aj do postele), tak radšej nech sa to všetko spolu operie, ako to skladovať.
Keď som už pri skladovaní. Začala som s nepremokavým vrecom (z rovnakého materiálu, ako tie nepremokavé nohavičky na plienky), do ktorého som plienky hádzala a potom to všetko vysypala do práčky (vrátane vreca). Ale leto bolo horúce a aj pri častom praní to v spálni práve nevoňalo a nechcelo sa mi zakladať na to ešte nejakú extra nádobu, tak to teraz hádžem rovno do práčky. Aj tie čo sú len mokré, aj tie… druhé. Pokiaľ sú príliš špinavé, trochu ich predtým opláchnem silným prúdom studenej vody.
Periem s bio-práškom (týmto; a nielen plienky ale aj všetko ostatné), bez aviváže, ale občas prisypem sódu bikarbónu, keď sa mi zdá, že mám obzvlášť zaváňajúcu várku. Okrem jedného razu, keď bolo niečo cítiť aj po opraní (spustila som to vtedy ešte raz), vychádzajú čisté. Nevoňajú – ako sa píše na prášku, ak chcete kvety, choďte si ich natrhať – ale ani nesmrdia. Sú jednoducho bez vône. A toto zvláda americká práčka, ktorá perie hodinu na max 54C (dlhší alebo teplejší cyklus sa na tejto mojej nedá nastaviť). Plienky potom suším v sušičke a nohavičky voľne v kúpeľni.
Občas sa stane, že na plienke ostane žlto-oranžový fľak (pre tých, čo nevedia, bábätká, ktoré sú čisto kojené, produkujú oranžový! "jogurt"). Tú potom nedám do sušičky (aby sa tam fľak "nezapiekol"), ale nechám usušiť voľne niekde pri okne. Ak mám šťastie a svieti slnko, tak zmizne. Tá predchádzajúca veta nie je vtip, je to mágia a skutočne to funguje.
Kike sme natierali zadok skoro pri každej výmene plienky. Kubovi vôbec. Zatiaľ nemal žiadne vyrážky, červené, nič. Mali sme jeden zápal močových ciest, ale myslím (a aj doktorka myslí), že to s plienkami nesúvisí (a keby sme nepoužívali látkové, tak sa naň ani nepríde).
Čo sa týka výbuchov, látkové jednoznačne v Kubovom prípade menej pretekajú ako papierové. Vo vnútri je to síce plné, ale aspoň netreba (väčšinou) meniť aj oblečenie.
Prečo teda dávame papierovú na noc? Lebo v nej necíti vlhkosť a netreba ho potom v noci prebaľovať. Papierovú dávame aj keď ideme na dlhšie von, lebo sme príliš pohodlní na to, aby sme so sebou nosili použité látkové plienky. Ale ak idem len na dve hodiny na prechádzku, dám mu látkovú.
Tieto naše plienky sú nastaviteľné, takže "rastú" s dieťaťom, ale sama som zvedavá, či nám vydržia až do odplienkovania, keďže Kubo je už teraz veľký ako priemerné ročné dieťa.
Toľko moja óda na látkové plienky.