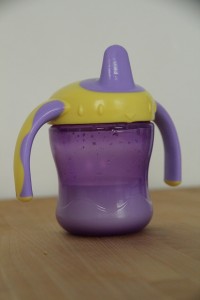 Hrozné, hrozné. Dnes už štrajkuje hocikto, vrátane tých najmenších. Náš mladý si včera zmyslel, že nebude piť. Nacucal sa u mňa ráno o pol ôsmej a potom až večer o pol ôsmej. A nebolo to tým, že by som mu neponúkala…
Doobeda sme boli vonku a vcelku zaneprázdnení, takže som sa nad tým veľmi nepozastavovala, veď keď bude hladný, tak sa ozve. Ale potom zaspal na obed zase bez mlieka a to už mi to začalo byť trochu podozrivé (a okrem toho sa mi prsia začínali nafukovať). Tak som trochu mlieka odstriekala do pohárika a hneď ako sa zobudil, som ho zobrala, že nech sa napije. A on len reval a krútil sa preč. Tak sme skúsili pohárik a mlieko za chvíľu zmizlo.
(Potvora malá ušatá! Ako sa takéto niečo neberie osobne?)
Celý tento cirkus sme v priebehu poobedia zopakovali ešte niekoľkokrát, ja za postupne sa zvyšujúceho nepohodlia na hrudníku. Pumpu doma momentálne nemám a ručné odstriekávanie je pomalé a nie príliš efektívne. A hoci som sa predtým sťažovala, že je cez deň málo, predsalen troška niekoľkokrát denne je iná vec ako nič celý deň. Ale našťastie predtým, ako včera večer zaspal, sa poriadne najedol.
Dnes už bolo lepšie (aj keď sme ešte raz pohárikovali a stále mám prsia ako tri dni po pôrode) a veľmi dúfam, že tým štrajk skončil a že si ho už nezopakujeme… aj keď, ak mi najbližšie oznámi, že chce referendum o odpustení polovice dlhu, veľmi ma neprekvapí…
——————————————————-
Ľudia, ktorí vedia, čo hovoria (La Leche League, kellymom), hovoria, že takýto štrajk môže byť spôsobený napríklad
zmenou kozmetiky (nie náš prípad)
zmenou v živote – sťahovanie, cestovanie, mama ide do práce, … (nie náš prípad)
chorobou (nie náš prípad, pokiaľ viem)
rastom zubov – kojenie vraj môže byť pre dieťa v takomto prípade aj bolestivé (teoreticky by mohol byť náš prípad, ale veľmi sa mi to nezdá, lebo prvé dva zuby vyšli už pred vyše týždňom, keď sme ešte problém nemali a teraz sa žiadne ďalšie netvária, že by sa im chcelo von)
silnou reakciou na pohryzenie (dúfam, že nie náš prípad; pohrýzol ma síce párkrát, aj do krvi, aj reakcia bola, ale nezdal sa byť nejako vystrašený a bolo to tiež pár dní dozadu)
ale aj kadečím iným (ako nápomocný je tento riadok?)
Čo robiť?
Prvá priorita je, aby sa bábo najedlo a keďže mlieka je v tomto prípade dosť, tak mu ho treba jednoducho dať iným spôsobom (podľa veku dieťaťa kvapátkom, lyžičkou, z fľaše, z pohárika)… celé toto predpokladá, že mláďa nebojkotuje mlieko úplne. Potom je dôležité si mlieko udržať – pravidelné odstriekávanie alebo odsávanie je nutnosťou, ak štrajk trvá pár dní. A snažiť sa znovu rozbehnúť dojčenie – chce to extra odpočinok, viac času s bábom, trpezlivosť a vytrvalosť. V tomto môžu pomôcť večerné a nočné kŕmenia, kedy je dieťa ospalé a je väčšia pravdepodobnosť, že sa naje.