Ako ("tvarohovo") voniaš, keď sa zobudíš.
Ako často sa smeješ a aké je ľahké Ťa rozosmiať. Stačí sa na Teba zasmiať a Ty sa hneď pridáš a tváriš sa, že si tiež pochopil vtip.
Nočné kojenie. Nie, neteší ma prerušovaný spánok, ale má to svoje čaro oproti kojeniu cez deň, keď musím dať pozor, či je Kika niekde zaujatá mimo dohľadu a keď sa Ty ponáhľaš, aby si niečo nezmeškal. V noci, potme, potichu, niekedy sa ani celkom nezobudíš, len so zavretými očami podvedome piješ. Niekedy pri tom zaspím aj ja a niekedy len počúvam, ako všetci odfukujú a nechám myšlienky poskakovať, ako sa im chce. Trochu ma to prekvapuje, lebo keď bola Kika približne rovnako stará, tak nočné kojenie určite nebola jedna z mojich obľúbených vecí, ale teraz si pri tom vychutnávam ten pokoj – luxus, ktorý si cez deň akosi nemôžem/neviem dovoliť.
Kúpanie. Z vody si stále unesený. (Mimochodom, zajtra ideš so mnou na plaváreň – chodievam tam už od októbra a nedávno mi prišli dve poukážky na vstup pre hostí podľa môjho výberu, tak ich treba využiť. Inak majú totiž vstup iba členovia a nedajú sa tam kupovať jednorazové lístky.).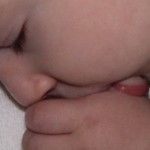 Ako si cucáš palec. Je dosť možné, že ma to časom nebude až tak nadchýňať, ale tento čas je ešte pekných pár rokov ďaleko. Teraz to vyzerá tak typicky bábätkovsky.
Bľabotanie. Bu-ua. Ai-ty. A rôzne kombinácie ba-ba, da-da.
To, ako sa pri Tebe cítim, ako "skúsený rodič". Niečo na tom bude, že prvé dieťa je také experimentálne.
S akým nadšením si sa pustil do tuhej stravy a pitia z pohárika. A aký si potom vždy zababraný až po uši.
Húsenicovanie. To nemá chybu. A ide Ti to už celkom rýchlo. Trochu sa Ti síce šmýka na parketách, ale už sa tu premávaš jedna radosť.
Keď Ťa mám na rukách alebo v šatke a Ty sa pritúliš a oprieš si hlavu o môj hrudník alebo plece.