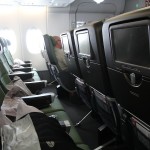 Tento článok sa pôvodne volal 'Sága pokračuje', ale našťastie sa nám všetko podarilo doviesť do úspešného konca (aj keď on hovorí, že neuverí, kým neodletíme), takže preto zmena nadpisu. A nebude vám dávať veľký zmysel, ak ste nečítali, ako sme kupovali naše posledné letenky z USA do Európy, takže šup, šup, najprv tam. Stručná rekapitulácia, v akom stave to tam skončilo: ja a on sme mali jednosmerné letenky za míle, Kika mala obojsmernú a Kubo nemal nič. Takže čo sa dialo potom…
Ja som telefonicky pridala Kuba ako lap child (okolo $300) a mysleli sme si, že týmto sme hotoví. Potom však začali chodiť e-maily, že máme okamžite kontaktovať Lufthansu, lebo že je problém s Kikinou letenkou. On tam teda volal a dozvedel sa, že Kikina rezervácia je presne to – len rezervácia, nie je to ešte letenka a ani nebude, pokiaľ ju nepriradia k nejakému dospelému, lebo nevydajú lístok pre trojročné dieťa letiace samo. Hm. Začína blikať žlté svetielko.
Tak na cestu tam pripojil Kiku ku svojej letenke a pani z Lufthansy na druhom konci prezradil, ze Kika uz naspäť nepoletí.
No ale v tom prípade si musí kúpiť jednosmernú letenku. (Len na pripomenutie obojsmerná bola $1100, jednosmerná medzitým $2900.)
Nie, už máme kúpenú obojsmernú, takže len tú cestu naspäť zrušíme.
Nie, nemáte, lístok ešte nebol vydaný, ak chcete jednosmernú, budete musieť zaplatiť cenu jednosmernej. Nedá sa kúpiť jednosmerná za cenu spiatočnej. (Ja medzitým rýchlo kontrolujem kreditnú kartu, peniaze si naozaj ešte nestrhli a nebolo to ani medzi pending charges.)
Tak nechcem jednosmernú, chcem obojsmernú.
Tak kto s ňou poletí naspäť?
Tu niekde to frustrovaný zložil, že si to rozmyslí a potom sa ozve.
To už blikalo červené svetielko.
Telefón som prebrala ja, volám naspäť do Lufthansy, že to pokojným hlasom skúsim s nejakou inou tetou. Vysvetlila som jej situáciu.
Jej je to ľúto, ale nemá mi ako pomôcť, jedine predať tú jednosmernú letenku.
A nedalo by sa ju priradiť k niekomu na ten spiatočný let?
Samozrejme, kto s ňou poletí?
No myslela som tak, že napríklad k susedovi, ktorý je na vedľajšom sedadle. Veď ona do toho lietadla aj tak nenastúpi, takže na tom nezáleži.
V telefóne najprv olovené ticho. Chcete, aby som urobila čo?
Bliká požiarny maják a ja "zachraňujem situáciu" – že sa len snažím vymyslieť nejaké riešenie, ako by to bolo pre ich systém v poriadku a zároveň nám umožnilo letieť s tým, čo už máme zarezervované.
Pani mi ľadovým hlasom hovorí, že to nie je možné, a že keby som sa rozprávala s ňou, keď som robila tú rezerváciu, tak že ona by mi ju nemohla spraviť, ak by vedela, že naspäť už Kika nepoletí.
Tak používam odpočutú čarovnú formulku, že si to ešte rozmyslím a potom zavolám naspäť.
Pozeráme sa na seba. Rozmýšľame, čo ďalej. Možnosti:
– Letieť bez Kiky s letenkami, ktoré už máme. (Dobre, dobre, nad touto sme neuvažovali…)
– Vykašlať sa na tie, čo už máme (cca -$500 a 60000 míľ) a kúpiť ten Air Berlin.
– Kúpiť ešte jednu spiatočnú, na ktorú nikto nepoletí (ďalších $1100 + cena Kikinej).
A potom dostávam geniálny nápad, ako okašlať systém. Pošlem ho skontrolovať, koľko by stálo kúpenie 30000 vernostných míľ. $1100. A tak zase volám, tentokrát Continental.
Poviem pani, že chcem kúpiť míle a hneď na to ich vymeniť za jednosmernú letenku pre dcéru, že či to je možné.
Samozrejme.
A zostane so mnou na linke, kým to všetko spravíme?
Samozrejme.
Tak ja online kupujem míle, ona zatiaľ chystá letenku. Keď som hotová, tak mi ju "predá". Akurát, že si mám tak hodinku počkať na potvrdzujúci e-mail.
Zatiaľ ruším Kikinu spiatočnú rezerváciu, v Lufhanse potvrdzujem, ze táto nová jednosmerná je priradená k mojej, takže Kika neletí "osamote". Nebola to síce hodina, ale na druhý deň som si našla aj e-mail a číslo Kikinho lístku, takže nakoniec môžme ísť všetci. Dokonca tým istým lietadlom.
Ponaučenie do ďalšieho života – veľký pozor na kúpu leteniek pre deti od 2 do 5 rokov. (Do 2 môžu letieť ako lap child, od 5 ako unaccompanied minor.)