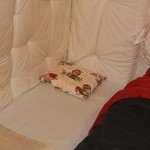 Nie, nechystáme sa na vojnu, ale na sťahovanie.
Predali sme Kubovu postieľku (a prebaľovací pultík). Je to síce trochu zavčasu, ale nemali sme predstavu, ako dlho nám to bude trvať, a rašej nech je rýchlo preč, ako by sme sa mali stresovať, či sa to stihne, a potom ju na poslednú chvíľu vyhodiť. Bola preč za menej ako 24 hodín, odkedy som dala inzerát.
Teraz trochu pozadia. Typické americké postele vyzerajú inak, ako sme boli zvyknutí. Naspodku je kovová konštrukcia, potom box spring – akýsi drevený rám potiahnutý látkou a navrchu matrac. Túto pomerne vysokú záležitosť Mišo kúpil takmer hneď po príchode do USA (bol to jediný kus nábytku, ktorý mal, keď som po pár mesiacoch prišla za ním…  do dnešného dňa sa neviem rozhodnúť, či to bola lenivosť alebo milá dobroprajnosť, nech si môžem ja vybrať nábytok, s ktorým budem nasledujúce roky bývať…). Moja druhá reakcia bola zbaviť sa kovového rámu. On nesúhlasil, nechcel mať posteľ priamo na zemi a časom sme z miesta pod posteľou spravili úložný priestor.
Fast forward 4 roky. Iný byt, jednoročné dieťa sa len pre pár týždňami naučilo zliezať nohami dolu z našej postele. Výsledkom bolo rozrazené obočie. Krvácalo to celkom dosť, Kika sa mykala a vrieskala a bolo nemožné v tom momente zistiť rozsah škôd. Na pohotovosť sme nešli, lebo som to odhadla, že zašívať hádam nebude treba a radšej jej nerobiť zbytočnú traumu. Počkali sme, krv zaschla, ukázalo sa, že to nebolo také strašné, zahojilo sa, akurát malá jazva ostala.
Ale pozitívnym vedľajším účinkom bolo, že vtedy aj on konečne súhlasil, že železný rám musí preč z domu.
A teraz sa k nám, dvom spáčom na matraci, pridal aj Kubo. Jeho matrac sme dali do rohu, takže z dvoch strán má stenu. (Aby mu nebola zima, trochu sme ju "zaizolovali" futonom, ktorý nám ostal z nášho prvého gauča.) Z tretej strany má našu posteľ a štvrtú sme zahradili kreslom, aby neutekal. Zobral to lepšie, ako som čakala, niekedy sa dokonca smeje, keď ho tam idem dať. Cez deň si väčšinou stiahne z môjho vankúša pyžamo, zachumle sa doňho a tak sa uloží spať. Dobré je aj to, že keď sa v noci zobudí, tak nemusím vôbec vstávať, lebo ho mám na dosah.
Teraz je na rade Kika.