Väčšinou si nepripadám staro, ale keď ma nejaké deti na ulici oslovia teta, tak sa napoly pobavene, napoly zhrozene zarazím. Alebo keď mi prijdú pod ruky alebo na myseľ nasledovné veci, tak sa nedá poprieť, že nám tu rastie ďalšia generačná diera (generation gap 🙂 ).
magnetofónové pásky – Jedny vianoce som dostala rádio/magnetofón. A nejeden večer som strávila nahrávaním pesničiek z rádia (dúfajúc, že moderátori sa nebudú príliš vykecávať na začiatku alebo na konci pesničiek, aby som ich nemala príliš odseknuté). Minule som svoje staré pásky našla a všetky okrem piatich vyhodila. Nie je mi jasné, či si tých päť (zhodou okolností sú to všetko kúpené originálky – Eva Henychová, Vivaldi, Ravel, Čajkovský a Kdyby prase mělo křídla) ešte niekedy vypočujem, ale zatiaľ som sa s nimi nevedela rozlúčiť. A nielen pásky, ale walkmany, diskmany… Kika a Kubo také niečo nikdy nebudú používať.
diskety – Diplomovku som si už zálohovala na usb kľúč a príloha tlačenej verzie bola na CDčku. Ale projekt na informatike na gymnáziu som odovzdávala ešte na diskete. Môj 5 rokov starý laptop už disketovú mechaniku nemá, ale pamätám si, že keď som ho kupovala, ešte mi to neprišlo úplne samozrejmé. Dnes už nielenže o disketových mechanikách nikto nechyruje, začítajú sa vytrácať aj CD mechaniky. A samotné diskety? Pre tých našich malých to naozaj budú akurát tak zaujímavé podložky pod poháre.
svet bez internetu – Internet aj mne už príde úplne samozrejmý, oni svet bez neho nebudú vôbec poznať. Nebudú vedieť, aké to bolo, keď som musela počkať, kým sa najbližšie dostanem do knižnice, aby som si mohla nájsť odpoveď na niečo, čo ma zaujímalo. Keď som namiesto netrpezlivého otvárania e-mailovej schránky malíčkami cez diery v schránkach zvedavo vyberala listy a kontrolovala, či náhodou nie je niektorý pre mňa. Oni budú mať odpovede na drvivú väčšinu svojich otázok dostupné na pár ťukov do klávesnice. A komunikácia pre nich nikdy nebude taká pomalá, ako kedysi pre nás.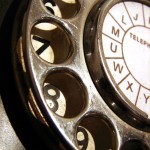 vytáčací telefón a telefónne búdky – Kika už vytáčací telefón (aj keď nefunkčný) videla. Aj spoznala, čo to je – podľa slúchadla. Ale nepredpokladám, že by také niečo niekedy používala. Pre ňu bude samozrejmosť mobil. Aj v telefónnej búdke už "telefonovala" – keď sme jednu našli v Senci a "volala" z nej tatovi, kedy už za nami príde. Ale nemyslím, že ju niekedy použije naozaj. A nebude poznať ani randenie bez mobilov.
písací stroj – Pravdepodobne by ho intuitívne vedeli používať – predsalen klávesnica je klávesnica – ale nepredpokladám, že by na nejakom niekedy niečo napísali.
počítanie, koľko obrázkov ešte zostáva z filmu, a prekvapenie, čo na nich bude, keď si ich dáte vyvolať – Môj prvý foťák som dostala, keď som išla do Ameriky na rok na výmenný pobyt na strednú školu. Samozrejme bol na film (dokonca som niekedy fotila na čierno-biely film, lebo som chcela zaujímavé obrázky). Krátko predtým, ako som odchádzala, sa pokazil a od hosťovskej rodiny som dostala nový. Ten starý som po návrate vymenila za dve jablká dvom dievčatám, ktoré si ho potom dali opraviť. Ten nový bol ešte stále na film. S prvým digitálnym som fotila zase až v Amerike, keď si ho tam Mišo kúpil na našom Work and Travel výlete. A odvtedy nemusím čakať na vyvolanie fotiek, nepočítam obrázky a toto bude pre moje deti samozrejmosť.
Napadajú vás ešte nejaké ďalšie?
obrázok odtiaľto