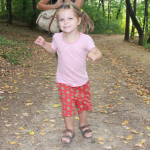 ako si sa nám "rozchodila" – Chce to motiváciu, ukecávanie a podobne, ale výsledok je taký, že si sama vyšla na Straník, na Lietavský hrad, na Studenovodské vodopády. Ešte dotrénujeme chodenie po kameňoch a bude z Teba turistka.
večerné čítanie a rozprávanie – V poslednej dobe si pred spaním viac čítame ako rozprávame. Rozprávame akurát, keď sme niekde na cestách, lebo vtedy spravidla spíme všetci spolu v jednej miestnosti, večer tam už je tma a nechcem svietiť na čítanie, aby sme nerušil zaspávajúceho Kubka. Doma máš svoju izbičku, tak tam si na chvíľu zasvietime. Tomu čítaniu som rada, lebo tieto letné mesiace sme boli takí rozlietaní, že sme si málokedy cez deň sadli s knižkou. Tak aspoň po večeroch. Stále striedame anglické a slovenské. Ale mali by sme už konečne rozbaliť posledné krabice, ktoré ešte čakajú v pivnici, lebo tam je schovaných ešte zopár knižiek, na ktoré si už možno aj zabudla.
ako ma držíš za ruku, keď sa prechádzame – Tvoja malá dlaň v tej mojej. Celkovo taký ten pocit, že mi úplne veríš. Keď Ťa niečo naľaká, tak utekáš ku mne. Keď sa niekde oškrieš, tak ideš za mnou. To že som pre Teba taká automatická istota. Nech to je čo najdlhšie.
že sa konečne začínaš priateliť s mojím otcom – Toto chvíľu trvalo. Keď sme sa prisťahovali, tak si s ním veľmi čas tráviť nechcela, na jeho pokusy o kontakt si buď nereagovala, alebo reagovala nie veľmi pozitívne. Ale už sa to mení. Už sa navzájom podpichujete, už s ním fúrikuješ trávu. Mám z toho radosť.
som s Tebou rada – Toto som spomínala už pred troma mesiacmi a stále to platí. Je mi s Tebou dobre a obzvlášť si to užívam, keď sme spolu iba my dve samy, lebo aj Ty si vtedy priateľskejšia, keď sa s nikým iným nemusíš prekrikovať o pozornosť.
ako kreslíš – Začína sa to už trošku podobať. Obľúbený motív sú motorky a panáčikmi s prilbami, potom Kubko v jasliach (taký panáčik v kruhu) a minule si nakrelila taký ovál so šiestimi farebnými krídlami a zahlásila, že to je von.
ako sa napchávaš malinami, slivkami a iným ovocím, ktoré máš rada – Je to skvelá zábava Ťa pri tom pozorovať.
slovné novotvary – Môj brat necvičí s činkami ale s cvičinkami. Perieme s Toyotovým práškom (lebo toto logo sa jej podobá na toto). A Ty sa voláš Kristínka Jančigová bez nezbedníka.
že sa tešíš do škôlky – Je mi jasné, že to nebude len ružové a že vlastne ešte vôbec nevieš, do čoho ideš. Ale myslím, že Ti bude fajn s inými deťmi, dúfam, že si rýchlo nájdeš kamarátov a podľa mňa sa Ti bude páčiť, čo všetko sa tam budete učiť.
ako počítaš na prstoch – Niekedy sa Ti nedarí vystrieť alebo schovať správny počet prštekov, tak si musíš pomáhať druhou rukou. A objavila si sčitovanie – ako inak, cez jedlo:
Mama, prosím si štyri palacinky.
Vieš čo, dám Ti dve a ak ich spapáš, tak potom si môžeš pýtať ďalšie.
Potom si dáš (= si dám) ešte dve, lebo dve a dve sú štyri.